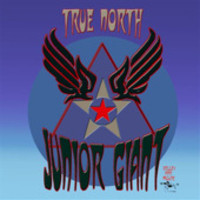 "Junior Giant" is a fitting moniker for Spencer Linsley, the 21 year-old front man for the Salt Lake City foursome of the same name. A professional skier since his early teens, Linsey now channels his courage in tackling some of the big mountains into the courage to tackle lead in his indie rock outfit. His lifelong love affair with music (first guitar at four; played first song at five) is apparent on Giant's sophomore 10-track album, True North. Blending an amalgam of styles, the album shows not only the exuberance of the fledgling outfit, but also their sense of versatility and confidence crossing genres.
The album opens to "Heyla", a guitar-driven rocker that sounds slightly reminiscent of a Killers tune laid over an almost Ska rhythm. JT Nebeker's bouncing bass line lies just under the vocals with the myriad of soundscapes all tied together by the lead guitar work of Brian Linsley (Spencer's father). The demure "True North" opens to Linsley's vocals laid over backing strings and plays out in the vein of "Norwegian Wood" meets Weezer. Tight technical acoustic work accompanies Linsley's upper range vocals. The track is replete with bright, anecdotal lyrical matter laid over chimey/chugging electric guitar. Rounding out the diversity and genre borrowing is "Sinner." The track opens to electric fuzz guitar over hip-hop style backing synth a la everything Dr. Dre has done since The Chronic. Lensley's lyrical delivery waxes and wanes between rapped verses and sung choruses while the musicality retreats to the background slightly on this track allowing the vocals to stand out.
True North has shiny moments and is rather good for a DIY effort. There is a very diggable amateurishness to the album as a whole and the vocals and musicality are certainly there. I think the only thing lacking may be a certain degree of polish on the final product but that in no way discounts the album's good, fun, approachable rock ethos.    
by Chris West – cwest@skopemagazine.com
[Rating: 3/5]