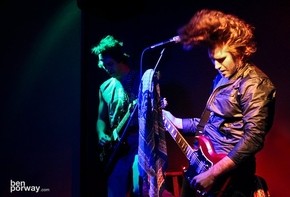 The "essence" of the band is to play honest, hard-driven, intense rock n' roll.  We have no reason to be cryptic with lyrics, obtuse with our fashion, or different in our methodology. Rock n' roll is a powerful force that seems to be lying dormant somewhere in both mainstream and indie-type audiences. We know it's needed, maybe even lusted after, which is clear through the reactions of our performances and live shows," says Ratner.
Who were your early influences and when did you start playing the guitar and singing?  
 
I started playing at the age of 8. For guitar, my earliest influences were Dickey Betts and Duane Allman. I was pretty obsessed with the Allman Brother's Live at the Fillmore East, to the point where I could play note for note all the guitar parts on that album at age 13.   Hendrix's Live at the Fillmore also had an enormous impact on me as well. I've always been more fond of Hendrix's Band of Gypsy's than the Experience. I felt like Jimi just let go completely with Buddy Miles and Billy Cox, and there was a raw channeling of his bluesy/funk oriented roots burning through it. Don't get me wrong, I love everything else he did.
As I grew older, I actually felt more of a kinship towards Pete Townshend more than any other player. He wasn't as much of a lead virtuoso as Hendrix or Slash (whom I also idolize) but it was his attention to rhythm and building guitar "parts" to the song that I'm nothing short of obsessed with. His playing on "Live at Leeds" is astounding and earth shattering. It's just ONE guy, and it sounds like 3. Pete was a frustrated man, and you can hear him wrenching out his emotions through his SG on that album. Unbelievable.
I only started singing a few years ago. I avoided it like the plague because my mom and brother have great voices, and I was afraid to even try! It wasn't until I was about 20, (I'm 23) that I really went for it, and it's been a journey, I'll tell you that much. I am fortunate enough to have one of the best vocal coaches in the business, Greg Drew, as my vocal coach and mentor. He's worked with Avril Lavigne, Lenny Kravitz, Corey Glover, the guys from Red Jump Suit Apparatus. He's got an A list of clients, so I feel the pressure!
[youtube TcZOaffcawQ nolink]
In terms of singers, you could say I idolize Roger Daltrey, Eddie Vedder, John Fogerty, Axl Rose, Bruce Springsteen, to name a few. All these guys portray very raw emotion in their singing. And to be honest, none of them have the "classic" notion of a great voice, but they are GREAT singers. To me, you don't need a great voice to sing rock n' roll effectively, it's more of being a great singer and performer that will help you emote with your audience. Look at Bob Dylan, he wouldn't make it past the first round of American Idol, but he's one of the greatest voices of rock n' roll, and we'd be lost without him.
 
How did the band meet and tell me a little about the band members?  
 
The current members of The Watchmen are Mark Adamski, Rob Morales, and Mike Lamagna. However, because we tour and gig so much, it's tough sometimes for certain members of the band to make every show, so the line up very well can change depending on the show, but as of now, it's those lovely gentlemen. Mark Adamski is the other guitar player in the group. I've known him since he was a kid, and we have the closest bond musically. We have very different styles of playing, but our tastes compliment each other very, very well. We both play lead, we both play rhythm, and he brings a distinct sound to the group. It's similar to the Tom Petty/Mike Campbell relationship, or at least, that's what we hope for! I met the other guys just from being in the musician's circuit of Western, MA.
 
How do you classify your music?
 
The music is rock n' roll. There are elements of punk, pop, blues, garage, and a lot of other things I'm leaving out, but it's rock n' roll. It's funny, I was having a discussion with someone before a show a while back, and we brought up Neil Young. That man has had an unbelievably versatile career from soft acoustic guitars to screaming Les Paul's and smashing amps. But to me, and most people, Neil Young plays rock n' roll.
 
I try to inspire hope with the music I write, because my songs are stories and ideas. But there is a lot of anger, frustration, and real life situations. I see no reason for fabrications, illusions, or cryptic messages to hide behind. Rock n' roll is so powerful, so demanding, and so universal that it can cause riots, and it bring people together in peace. I don't hear many bands these days wishing to capture the sound and persona of real rock music. I hear a lot of "cool" music, but nothing like Guns N' Roses creaming in your face, "Do you know where you are?" That gets me excited, turns me on, and makes me want to play in front of 40,000 people. Bruce Springsteen was described as the most "sincere" man in rock n' roll. That's a really beautiful thing, almost divine. Slash said it really well, "sell your soul for rock n' roll".
 
So yes, The Stones, The Who, Pearl Jam, G&R, Tom Petty & The Heartbreakers, Bruce Springsteen, these are all huge influences of mine. But what it comes down to we play rock n' roll.
 
What would you like listeners to get from your music?
I would like listeners to both see and feel how sincere and honest the music is. Not only what's captured on the album, but what is seen live in the performance. To me, the best bands can do what they do on record, live, if not better. I want our fans to feel what I'm feeling. When I sing "I Still Fall" I want them to feel the anger I had towards that girl. When our fans write us emails telling us how much they connected with the performance, we've done our job. Music is life. Life sometimes settles you down, and most of the time it wakes you up with realizations that nothing is as it seems. We try to portray that kind of emotion in our shows.
 
Most of all, I want to inspire hope and truth. I want the kids who get told that wearing purple pants is weird, to connect with us and realize that if it is weird, "who the hell cares?" I want the 27 year olds who are sick of wearing ties and shaving off their beards, to connect with our intensity and remind them of something other than work.
 
Tell me about your CDs and any projects in the works?  
 
"Eye to Eye" is something that I'm extremely proud of. Everything is very real and raw at the same time. I love that it sounds polished but real rock n' roll at the same time. At first I worried a bit that some of the tracks were so different stylistically, but I always remind myself that the same guys who wrote "Basket Case" wrote "Time of Your Life". Part of being an artist is evolving and expanding your voice to other boundaries. I think that that was done pretty well on this album. I was lucky enough that the producers, Greg Drew and Julian Herzfeld, were very well connected with the ideas I had for this project.
 
As of now, Doug Ratner & The Watchmen are trying to be the biggest rock band in the world. Pretty big dreams right? I'm currently reading Slash's biography, and when G&R started off, they never compromised who they were and the type of music they wrote. Everything about them was a direct representation of who they are. And that's my goal. I'm not gonna sell myself on something that I'm not. We have aspirations of changing peoples lives and inspiring hope, one town at a time.
 
www.dougratner.com
By: Diana Olson – diolson05@yahoo.com