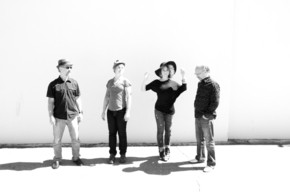 In life I have learned that there is nothing better than a solid family. Mix that in with a passion for music and you have a beautiful situation. My guest today is a band out of Reno, NV that plays funk & soul music with the best of them. The Whitney Myer Band makes music that you have no choice but to embrace and nod your head. The trio is busy promoting their newest release 'The Dream Killer.' Join us as Whitney talks about playing with her dad & uncle, gigging in Reno, covering Montell Jordan, and much more!
Stoli: Where are we talking from today and how is your day going?
The Whitney Myer Band: Hi there! We are talking from my house in Downtown Reno, NV. My day is going just dandy, really.
Stoli: How does a normal day start out from when you wake up to when you play some music?
 
The Whitney Myer Band: A normal day goes like this: (1) Wake, take the dog out (also the band mascot). (2) Get in a quick work out. (3) Practice Vocal exercises. (4) Grab some lunch and head over to the rehearsal space for a quick meeting and some playing.
Stoli: It is so cool how your father and uncle are in the band. How did that come to be and how did you decide on naming the band after you?
 
The Whitney Myer Band: While I was growing up, my father, uncle, and mother were all in bands and involved in music. For as long as I can remember I wanted to sing, and at about 14 I started playing guitar. I started writing a few songs and eventually I began writing songs with my father. We started to play open mics around town on the weekends and we had a lot of fun doing it, so we brought on my uncle on the drums and started doing a full band sort of thing. I went to college and the band took a hiatus for a period of time, but when I graduated I decided to put all of my energy into music. We actually named the band the "Whitney Myer Band" because we couldn't really think of anything better and then it just sort of stuck. Also, the Myer refers to 3 out of 4 members, and even to the 4th member as we lovingly call her "Gia Torcaso-Myer".
Buy CD: http://whitneymyerband.com/purchase-dream-killer
Stoli: I think family is so important. How has music helped you grow and offer you a common bond with your father & uncle?
The Whitney Myer Band: Oh yes, family is very important. It's really a neat thing that we all play together, because our family isn't necessarily the mushy, touchy-feely type. My father and uncle have really helped to shape the musician and performer I am now. They were my mentors from a pretty young age, and they've been in the business for some time so I've been able to benefit immensely from their experience. We absolutely have a special bond… when we go on the road and are touring in other places they let lose a little and I get to see their "rock star" sides a little more than just the "Dad and Uncle" sides.
[youtube 6vF-lhtMhys nolink]
Stoli: I am really feeling your new album, 'The Dream Killer.' How long have you been writing & recording this album and what do you mean by 'The Dream Killer'?
 
The Whitney Myer Band: We wrote the songs on the album relatively quickly, except for "Roolling Stone"which I wrote while I was studying in Spain in 2007. It took us about 4 months to record the whole thing. "Dream Killer" refers to the idea that we can be our own worse enemies by standing in the way of our own life dreams and desires.
Stoli: How did creating this album differ from the first album and how have you grown since 2003?
 
The Whitney Myer Band: Well I've grown a whole lot, considering I was 16 years old when we recorded "Last Days". I'm 24 now, and I feel like I've established more of who I really am as an artist. In the first album I was more concerned with hitting all of the notes exactly right than focusing on the vocal styling. Also I've played a much larger role in the writing and arrangement of the music in the songs in "Dream Killer" than I did in "Last Days". I was able to do this because I had more experience in my own instruments and song writing capabilities.
Stoli: How is the music scene in Reno, NV and where do you get to play live?
 
The Whitney Myer Band: It is actually really active, for the size of the city. There are tons of great local musicians who are awesome songwriters and performers. We play all around the area really, Lake Tahoe, San Francisco, Nevada City. In Reno we frequent the Knitting Factory, the Great Basin Brewery and a few other places.
Stoli: I really like your song, "Waiting For A Savior." What does that song meaning to you and when did you write it?
 
The Whitney Myer Band: That is one of my favorite songs on the album. My father wrote the guitar part and I wrote the lyrics, which were really a statement of independence for me. At the time I was depending too heavily on a person to make my life better and help cheer me up…I was expecting too much of them. Finally I decided that it was first my responsibility to make myself happy and to get myself out of the funk I was in. That song was the realization that I am my own savior, and will always be. It's the whole "Gotta love and respect yourself first" thing.
Stoli: Do you ever get nervous that you are exposing to much in your lyrics to your father?
 
The Whitney Myer Band: Sometimes….but I've decided not to let it inhibit my writing style. With the way I often sing the lyrics he can't tell what I'm singing anyways! : ) And when he does, I think he just blocks it out.
Stoli: What made you want to cover the classic hit "This Is How We Do It"?
 
The Whitney Myer Band: I love that song! I think I was in second grade when it came out and I used to really get into it. The truth of the matter though, is that a guitar player friend of mine and myself were playing a game: we each wrote down some songs that we liked and put them into a hat. Then we pulled one out and both of us had to cover the song and see whose version we liked better. All in fun, really. I put in Whitney Houston's "I Want To Dance With Somebody" and "This is How We Do It". . I liked the song so much that we decided to put it on the album.
Stoli: What is coming up for The Whitney Myer Band and where are you online?
The Whitney Myer Band: We've got quite a bit cookin' for this summer. We just got back from a Northwest Tour and we're going back in month. I think it's a region for us, they didn't seem to have a lot of soul/R&B music up there, so we think they're overdue. We're also going to Colorado and all different places in California all throughout the summer.
 
www.whitneymyerband.com