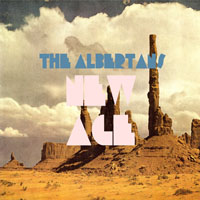 The Albertans aren't from Alberta. Let's just get that out of the way now. No gritty punk or honest-to-goodness country rock here. Instead, this Vancouver via Brooklyn five piece have combined the best of what both Vancouver and Brooklyn's scenes are largely known for: fresh faced, melody driven pop with tons of indie sensibility and credibility as well. And to top it off, this is a band that has spent the majority of the last two years on the road, which could only mean one thing. New Age is a matured and timely debut full length that will soon be turning heads of the most discerning indie rock fans.
There is a certain gang mentality that permeates through the majority of New Age. And it's not just the gang vocals and clap-along groove of "Mila" or the comfortable swoon of "Okay Now" which could easily corral a packed car full of road trippers into a sing-a-long. It's the forward thinking mentality which keeps the band firing on all cylinders. There may not be a lot of rollicking, thrashing tracks on New Age, but what the album does feature is a constant build which never lets go. Quaint keyboards maintain a persistency on "People Don't Go." And just at the right moment, the album closing title track, a shuffling and bouncy number leaves the listener wanting more.
Writing catchy and mature pop songs is one thing, but having a sense of timing is another. Luckily for fans of the Albertans, New Age features both in spades.
By Joshua Kloke – joshuakloke@hotmail.com
[Rating: 4/5]