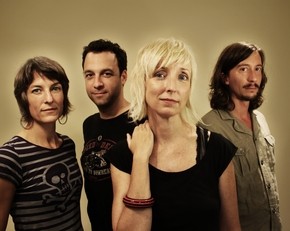 Are you ready to learn more about Jane Gowan who is the founding member and lead singer/songwriter of the pop/rock band Shade?   I hope so because Jane has lots to say about this and that.   Find out about the new album 'Highway' or how "If you don't know how to play hockey in Canada, you get your citizenship revoked".   Jane Gowan talks about it all so grab some nice, quiet Shade and relax!
Jimmy Rae:   I first have to ask how the group name Shade came about back in 2006?
Jane Gowan: I had been using the name "The Jane be Janes" back in Vancouver, but I wanted to "de-Jane" it and make it more of a band name. I also like the one-syllable feel. We had a few ideas, but then one day I was thinking through a list of my favorite words, and "shade" was at the top of that list. It won, but as it turns out there are a lot of bands named "Shade" out there. I may have to switch the pronunciation to "Shadé".
Jimmy Rae:   I know that Shade is a 4-piece pop/rock band from Toronto and you are the founding member and lead singer/songwriter.   So how did you initially form the group and get all of the pieces of the puzzle put together just right?
Jane Gowan: When I moved to Toronto I knew I wanted to start a lo-fi pop/rock trio or quartet, a la Velvet Underground. I met Mary through a mutual friend and she and I had similar tastes in music and furthermore she's a great bass player and singer, who happened to not be in a band at the time. So we hooked up and practiced in my living room for a few months. Mary knew Cam from way back (Weeping Tile days) and so he was recruited one night at the Cameron House after a Violet Archers show. With the trio it worked really well and I loved the spare and raw feel. We recorded the first album as a trio, with friend/producer/multi-instrumentalist Tim Vesely (Rheostatics, Violet Archers) adding a lot of extra guitar work. Once we started getting more shows we needed another electric guitarist, and that's when we hired Jonny.
Jimmy Rae:   Besides fronting Shade I saw that you are also the co-founder of the pop/rock group Spygirl.   I couldn't help but notice that you have a TON of experience playing trumpet, keyboards and accordion for several Vancouver bands.   I think it's safe to say that you are indeed musically-inclined to say the least!   I just wonder though where this deep passion of music originated from?
Jane Gowan: Well, thanks for saying that. I guess I've always loved music. My Dad played classical piano every day and took us to the symphony a lot. So I started with piano. Classical music was a great introduction to sound, but as a teenager in the '70s and '80s, I naturally listened to pop and rock albums endlessly, hunkered down on the yellow shag rug in front of the turntable with headphones on, reading the liner notes over and over again. At the time I didn't think about forming a band; that happened much later.
Jimmy Rae:   You have a debut record out titled 'Highway' and so I have to ask why it took so long to record this album? (Five years in the making!)  
Jane Gowan: Well, let's see… we started recording in 2009, and released the record in April, 2010. I guess before that we were getting to know each other, doing some shows, learning the tunes, and becoming a band. I was also still going back and forth a lot to Vancouver in the early days, playing a few dates with Spygirl and Neins Circa; so that sucked up some time.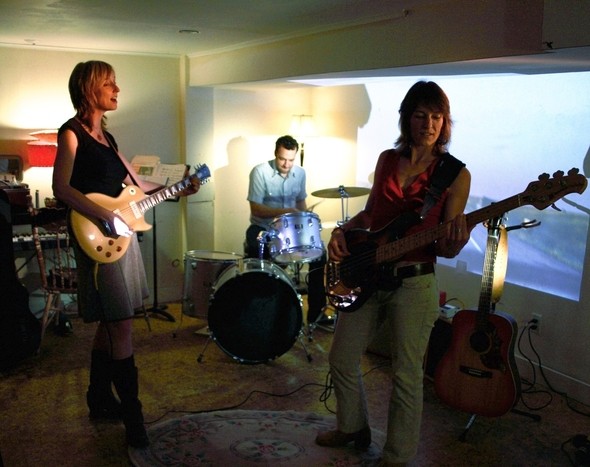 Jimmy Rae:   Your new record is said to have a life-on-the-road feel with songs to drive to.   First, is this true and if so why did you decide to go with this approach?
Jane Gowan: Well, I'm not sure if it's true. Have you driven with it? Did it work? I love driving on empty 2-lane highways in the sun. America is made for driving, although I believe car culture has had its heyday. The first song I wrote for the album was "Highway". I was in California at the time with my band Spygirl and a friend there inspired that song. Then I drove across Canada in 2006 when I moved from Vancouver to Toronto. My good friend and bandmate Belinda drove with me and made sure I got here safely. I knew I was going to miss her a lot and I do. The song "Closer" is partly for her. It all made sense to go with this theme.
Jimmy Rae:   'Highway' also exhibits some catchy tunes where melodies & harmonies are on point such as on "Loneliness or Freedom" where this is displayed wonderfully.   Would you say that melodies and harmonies are key toward the success of Shade?
Jane Gowan: I'd say the harmonies are a big part of our sound. Mary's great at singing them as well. Her voice is very clear in comparison with mine and it adds this lovely counterpart. I've never felt that I'm a strong melody writer, but nothing hits you where it counts like a good melody; whether it's The Beatles or Schubert or Duke Ellington or Otis Redding. It's a lifelong pursuit to hear them all, and a lifelong pursuit to write one.
Jimmy Rae:   Your music, lyrics, sound and vocals all have that real, genuine touch and so I gotta ask where these songs really come from originally?   Are you digging deep on each and every track?
Jane Gowan: Not sure where they come from. I'm just glad they come …except when I'm in the bathroom without a pen. I suppose each song means something but I'm not always sure what. Sorry to be so vague. I'm not deep, I'm vague.
Jimmy Rae:   You're labeled as pop/rock and I also pick up on folk influences but wondering if there is a lot more to the picture than just that for Shade?   Are we, the listeners, missing something important?
Jane Gowan: Well, I've played folk and jazz and pop/rock/country, and listened to whatever I could get my hands on. So I guess it's all in there somewhere and comes out in various ways. Some days are all about rock 'n roll, and others are all about folk or country or jazz.
Jimmy Rae:   Collectively, what is your favorite song on 'Highway' and please explain why for all the avid Skope readers out there?
Jane Gowan: I think collectively our favorite tune is "Los Angeles". It seems to play itself, and despite being easy chordally, doesn't really get boring for some reason. I also think that Tim Vesely did an especially beautiful job of mixing that one on the album. He nailed it.
Jimmy Rae:   Speaking in terms of weather and the outdoors, are each of you really into catching some shade or are you more prone to be out in the open soaking up the sun?   Maybe a little of both?
Jane Gowan: Well, I love the hot dry sun, but my white skin and freckles like me to stay in the shade. So the name of the band is really a nod to both the dusty dessert terrain and to the majestic tree.
Jimmy Rae:   How is life in Canada for each member in Shade?   What floats everybody's boat?
Jane Gowan: Canada is a great country. It's very similar to the US but more polite. We have a great music scene which is really motivating. There's a lot of inspiration in this country as there is in yours. It's also warmer than you'd think. We even have summer.
[youtube vhoqnBueNHI nolink]
Jimmy Rae:   Is it true that all Canadians are heavily into hockey or is that just another ridiculous stereotype? LoL Going off of that, are you guys into any kinds of sports or other activities?
Jane Gowan: If you don't know how to play hockey in Canada, you get your citizenship revoked. Did you know that? Of course we play other less obligatory sports too. I love them all. Mary and I even took a kick-boxing class together once. Ouch.
Jimmy Rae:   This could get interesting but wanted to know if each of you would be willing to tell one another something that you've never told each other before?   Okay…GO!
Jane Gowan: I have a soft spot for Boston…the band Boston. Mary tells me she gets fashion tips from her 8-year-old!   Cam's not available to answer the question, but I can guarantee that whatever he told us would be a doozie and might make you blush. He has the best road humor of us all.
Jimmy Rae:   Outside of playing together as Shade, what does a normal day consist of for each of you?   How does a not-so-normal, out-of-wack day look? HA
Jane Gowan:
NORMAL: work, groceries, cooking, kids, laundry, rented movies and/or The Colbert Report, sleep.
NOT-SO-NORMAL: same things, different order, and with wine.
Jimmy Rae:   If you could only pick one thing to change about this world what would that be?
Jane Gowan: Less greed.
Mary Harmer: no war.
Jimmy Rae: I noticed that you have a 2011 tour in the works; care to tell the Skope Universe more about that?
Jane Gowan: Well, I'm trying to put some shows together for a West Coast tour in late June /early July, once the new album is finished. It will be the "Shade West" version of the band, but the lineup is yet to be confirmed. We'll see how the new album is received, and go from there. I'll keep you posted!
For more info on Jane Gowan and Shade, SKOPE out www.shademusic.wordpress.com.  
By Jimmy Rae (jrae@skopemag.com)