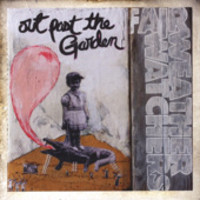 It is through a contemporary interpretation of folk that songwriter Ginger Hebert and company has unveiled Out Past the Garden, a 13-track collection of songs admittedly "written and hoarded for years." The emotive, yet approachable lyrical matter is laid over a delicate musicality foundation and features an intermittent array of unconventional instrumentation the likes of ukulele plucks, accordion and banjo picking. Though self-described as "folk music in its most minimal form" the separate musical facets are cohesive with each lending an individual purpose to the sum of the parts.
Opening to the toe tapping "Daniel How Are You?" you immediately get a taste of what the album holds. Hebert's vocals are very reminiscent of Regina Spektor; light, airy and almost demure. However, this is no wallflower delivery. The lyrics are front stage backed by acoustic strums and accordion honks and hums. Trumpet fills tie the verses together while simple snare work keeps time. The dark and down-tempo "Ghost" features string work that waxes and wanes between weepy and eerie and accompanying acoustic guitar. Again Hebert's vocal delivery leads the way into the depths of the moody track with more simple snare joining at the midway point. The lyrical subject matter only adds to the dark ethos of the song with: "Your words feel like venom, dear/your love feels like lies/you can't stop me til I say so/so get your knife out of my side." "Fairy Wings and Cigarettes" contains arguably the most vivid imagery of the lyrical content. Again, simplicity is the key here with simple strums, slight banjo plucks and backing strings. However, the midpoint banjo solo is a clear, but quite welcome, removal from the standard of what is usually an electric fret board finger dance. Personally, this is the prettiest song on the album and fortuitously, it is also the longest.
What strikes me about Out Past the Garden is that it eschews intellect in favor of the visceral. This isn't "head" music; this is "heart" music. The after effect of continued listens had me not concerned with what I thought, but how I felt. The other shiny point is the honesty of the thing. This isn't dolled up, haughty or pretentious. This is raw and organic and doesn't pretend to be anything else. My only complaint (and plea) is that Ginger stop hoarding her songs… these need to be shared, not stored.      
by Chris West – cwest@skopemagazine.com
[Rating: 3.5/5]