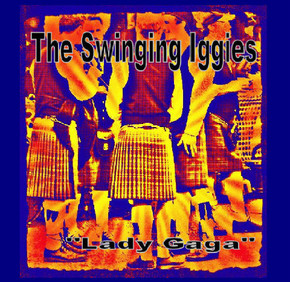 How many of you have heard of Lady Gaga? I would imagine 100% have. But how many of you have heard the new single by the Swinging Iggies "Lady Gaga?" Well do not worry because Stoli has got you covered. Bongo Boy Records is a relatively new label out of NYC that in my opinion understands what it takes to make it in this digital age. It is nice to see entrepreneurs like Monique Grimme are still taking risks in the name of good music. I got to talk with The Swinging Iggies about everything from their name, releasing singles, and where you can purchase the single "Lady Gaga" and support new music.
Stoli: How has the response been to your new single/video "Lady Gaga?"
The Swinging Iggies: The response has been great so far regarding the "Lady Gaga" single. A bunch of radio stations have picked it up already and people have been calling in wanting to know where to get the single which is available on CD Baby, iTunes, Amazon, etc.
Stoli: Has Lady Gaga heard the song and how did the idea for the song come about?
The Swinging Iggies: I'm not sure if Lady Gaga has heard the song yet but I did see it on her fan's web page. The song came about after watching the Grammy's when it dawned on me that being a talented musician was not enough to get an indie artist noticed these days. It really takes some king of outrageousness to make a statement in today's market place and Lady Gaga sure knows what it takes to get herself out there. Total respect for a hard working intelligent woman.
Stoli: Where are we talking from today and did you go to SXSW?
The Swinging Iggies: Today we are speaking from New Jersey (not the Jersey shore). Did not go to SXSW as we are under lock and key working on new material for an upcoming album.
Stoli: How did you all come together and come up with the name The Swining Iggies?
The Swinging Iggies: The name The Swinging Iggies came from our love of edgier music and artists such as Iggy Pop, The Clash, The New York Dolls, Patti Smith, and David Bowie.
Stoli: How long have you been signed to Bongo Boy Records and how is having a label behind you?
The Swinging Iggies: We have just recently signed with Bongo Boy Records and so far they have delivered what they said they would. It is a small independent label with limited funds (they sometimes treat us to KFC) but they are always very up front with us and dedicated to the music.
Stoli: You released "Lady Gaga" as a single. Do you plan on putting out an album or do you like releasing singles more?
The Swinging Iggies: We do like releasing singles because we hate to wait to get the music out there (we all have ADD). We like the idea of releasing 2 or 3 singles as we are working on the full length.
[youtube fCMh_gtJpmo nolink]
Stoli: What two bands have had the most influence on the music you create today?
 
The Swinging Iggies: Pee Wee Herman & Dean Martin. No really, Iggy Pop & The Clash
Stoli: Are there plans to head on tour in support of the new single and what is your live show like?
The Swinging Iggies: We would like to tour but are waiting until we finish the album and for gas prices to go down.
Stoli: When you are not playing music, how do you like to spend your time?
The Swinging Iggies: Looking for new ways to reinvent ourselves.
Stoli: What is coming up for Swinging Iggies and where can we follow you online?
The Swinging Iggies: In these times of over saturation we are keeping a very low profile. Any news can be seen through the record label at www.bongoboyrecords.com. We have no Myspace, Facebook, Twitter etc.