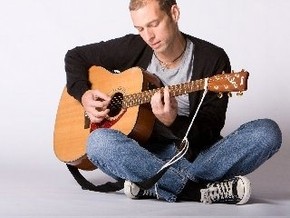 It is not supposed to be snowing today, the first day of spring. It's a good thing that my guest today has the kind of music for sitting outside on a nice spring day. Coming from NJ is a very talented musician by the name Tony Desimone. Tony was reffered by Airomee Wind who has music taste that we respect. Tony has a new album out 'The Second Time Around.' I really enjoyed interviewing Tony & I suggest you to give his music a listen.
Stoli: Where are we talking from today and how do you start off your day usually?
 
Tony Desimone: Well it's Sunday afternoon. I'm sitting in my music room in my apartment in Princeton NJ, having a cup of freshly brewed coffee and listening to some of the music i recently recorded; trying to remain objective to the music. My day usually starts and ends with music. I try to pick up my guitar or play a little piano before heading out to the day job. At night i follow the same routine.
Stoli: At what point in your day do you pick up your guitar or write some music?
Tony Desimone: Whenever i can! Sometimes I get super obsessed with an idea in my head and i get up early or stay up late to work on it. Some times i'll write on the guitar and other times i use the piano. The instrument you use, and the voicings you choose, can really influence the direction the idea takes.
Stoli: How did you learn to write & play music and did you go to college for music?
 
Tony Desimone: My passion for music started at a very young age when I began playing drums. This passion led me to studying music and earning a degree in Jazz Performance from Temple University as a percussionist. While studing music, I also spent time playing in numerous bands in the Philadelphia area experimenting in several musical genres from pop to progressive rock which i believe gives me a little musical versatility and style that is (hopefully) evident in my music today. My most notable early music collaboration was playing and recording with Scott McGill, guitar virtuso, in the progressive jazz fusion band, The Hand Farm.
After leaving the Hand Farm, I established myself as both a Physicist/Rocket Scientist and a Marathoner while taking a break from the music scene.
My redefining music moment came on New Years Eve 2009, at the North Star bar, watching a DADA concert, when something rekindled the spark in me. I don't know what it was. I had been out of my marriage for a year or so, and was working hard at the day job, but just kind of floating emotionally. But the energy that night was unreal and I swore to myself I was gonna give the music career another try. So the very next day, the guitar and recording equipment were purchased, and I was back at it, as if the music had been just waiting for my return.
[youtube 3LXPBcZEgDc nolink]
Stoli: How are you feeling about your new album and why did you title it 'Second Time Around'?
 
Tony Desimone: Overall i'm pretty happy with the album/CD. It took a lot of effort, time and money, to get this thing done. I got the help of some really good people along the way, like Anthony Newett, who recorded and produced the album with me. The album title, along with the song, "the Second Time Around", is all about getting a second chance at things; the song is about a second chance at Love, and i decided it was a great album title since this is my second chance at music.
Stoli: Were you nervous putting out your first full length album and what is your goal?
 
Tony Desimone: Certainly…you want everything to be perfect but along the way i realized it never will be perfect. So for me the album represented a milestone and captured my song writing at this point in time. I wanted to have a product, something i could give to someone, when they ask "well what kind of music is it?". My goal is simple: i just want to get one of my songs on radio. I feel there's a few songs on the CD that have good radio potential but you just never know. THere's a lot of luck and timing involved in this business. And so far the luck and timing have been elusive. But things have been getting better recently, like this great opportunity with Skope magazine and it's audience – these are the kind of things that keep you going.
Buy 'The Second Time Around': http://www.cdbaby.com/cd/TonyDeSimone1
Stoli: I really like the song "Easy Love." What is the meaning of that song to you and when did you write it?
Tony Desimone: Thanks! A lot of my friends like that song- i think it's the beach/summer feel that people like…you kind of want to be sitting on the beach watching the surf with that song. I penned it in the early summer of 2010. It went through quite a few iterations before I got the lyrics right. I wanted to capture the thought of a long distance relationship, "3000 miles away", but i didnt want to make it depressing. I had this upbeat melody so i wanted a positive kind of song that accepted the challenge of the relationship; yes it's not easy but if it was, then it wouldnt be as rewarding.  
Stoli: What is it that music provides you that nothing else can in your life?
 
Tony Desimone: Happiness and Misery. :) When you write/ record a song and someone takes the time to listen to it on thier on own accord and they let you know they enjoyed it, then it's all worth it. When the opposite happens, it can be totally depressing for me. I enjoy making music when i know people enjoy listening to what I do. It's that simple for me.
Stoli: What brand guitar do you use and how do you keep it playing right?
 
Tony Desimone: Presently I have a Yamaha FX335. It has a nice sound, a little bright, but i like the sound i get out of it. You can hear it very distinctly on the intro to "Easy Love." I have been thinking of getting a Martin lately, but havent found the one i like yet.  
Stoli: Do you work a day job and if so how do you balance music too?
 
Tony Desimone: Yes, I have my PhD in Physics i'm a daytime Rocket Scientist. So I go from Rocket Science to Rock Star after the day job. The balance is very hard especially when I travel for work, so i usually take my guitar with me on work trips. I like to spend about an hour a day on the music and more on the weekends.
Stoli: What got you excited about having the chance to be featured in front of Skope's global audience via Airomee Wind?
 
Tony Desimone: I was totally stoked when Airomee called me and told me i had won the feature. Airomee had some really nice things to say to me about my music and i really appredciated it. To get a chance to be featured in front of the Skope global audience is huge. I mean, i am doing all this on my own, and now i am getting featured in front of Skopes huge audience with an opportunity for them check out my music. It is really a great opportunity for me.
Stoli: Will you be hitting the road to promote the album and does rising gas prices hamper those plans?
 
Tony Desimone: Absolutely. I have some shows lined up in Philly and Jersey right now. So I'll be out there promoting the album. I hope to pick up a few more gigs along the way. I'm not too worried about the price of fuel…i'd run to a gig if i needed to :)
Stoli: What is coming up for Tony D and where can we follow you online?
 
Tony Desimone: Well i will be promoting my CD and single "Easy Love", so I hope to generate a few more fans. You can follow me at www.tonyDmusic.com or www.reverbnation.com/tonydesimonemusic. I'm on Facebook and you can find me from the other sites.