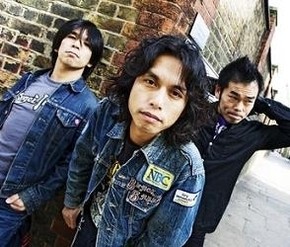 The Ruby Room in Shibuya Tokyo probably has an actual "legal" capacity of 125, but at Electric Eel Shock's recent show there, any Fire Marshall would have had a heyday trying to count how many extra people were packed in the small venue. The audience was already pumped up from the opening acts of Red Bacteria Vacuum and Lazy Gun's Brisky. (Both are all-girl heavy rockin' punk-edged trios that already had the house in a sweat!) At last the headline act take to the stage. Everybody feels included, because this is as much a party as it is a gig — as the band themselves make a point of telling the audience, we are all Electric Eel Shock.
Electric Eel Shock (EES) is a three-piece metal band, which formed in Tokyo in the late 1990s. They first toured the United States in 1999 and have been steadily touring Asia, Europe, and the United States since. They are indeed a heavy metal influenced band, with fanatic followers across Japan. In fact, the band has a special group of 100 fans called the Samurai Club. They have been loyal followers of the band, provided great amounts of "fan-funding" and now are on the guest-list for life, among other benefits.
Is metal "Japanese" music? Well, the way EES plays it, it is. They have taken the original ideas of Ozzy's Crazy Train, mixed it with the stereotypical wacky Japan, tossed in Iron Maiden riffs, and give many a Motley Crue hair flip. EES makes metal fun!
Electric Eel Shock taught themselves English by listening to eighties metal — Black Sabbath, Iron Maiden, Rainbow, Motley Crue and more. And in a manner we have come to expect from Japanese bands, they have appropriated all the surface stylings of the genre and turned it into a form of theatre — an enthusiastic and fun-filled show that embraces the best and worst of metal, saluting it with a beer, a loud shared yowl, and a smile. And a naked drummer.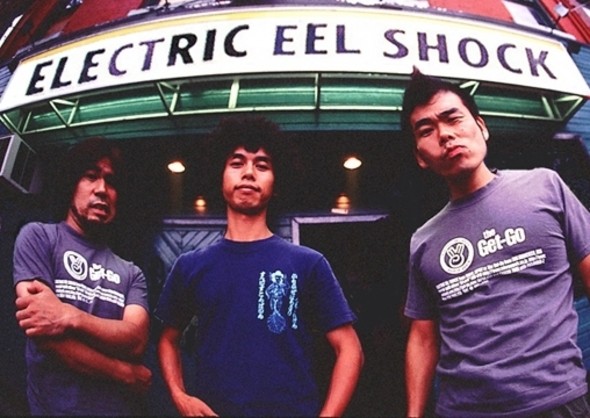 Aki Morimoto is the lead singer — some say he is a little guy with big hair. Living in Japan, I'd say he's a regular size guy but it is true the hair is fluffy and it matches his antics. To his left is Kazuto Maekawa on bass, he remains calm for the show, letting Aki go for crazy. Then it's the naked drummer, Gian. He plays with four sticks at once, and wears nothing but black gloves and a white, floppy, knee high socks – the type you see Japanese high school girls wearing with their school uniforms. (No worries, the socks are not taken from actual high school girls! Adult fans actually buy him socks to wear!)
The show this night was a mosaic of classic riffs from rock and metal. Short bursts of classic metal medleys, their own original songs, with plenty of good-natured yelling at the crowd "You Bastard!" The audience loves it, not just because it's the title of one of EES songs, but because Bastard seems to be a term of endearment in this case.
Not least because fun is infectious — and as much as the audience are having a great time, no one is having more fun than the band themselves. Grinning like loons in between the oh-so-serious metal faces, leaping around the stage like schoolkids on a serious sugar binge — it's rare to see a band that get this much sheer joy out of playing the fool to a crowd.
One of the best things about Electric Eel Shock's approach, in addition to their obvious actual musical skill, is that they genuinely love playing music. As Aki said in an earlier interview, even if playing music pays the bills, it's just a "hobby." As long as he considers music his hobby, he continues to love it. Once it becomes his job, boredom would set in, and he would quit.
A true accomplishment of Electric Eel Shock — and this is recorded or live; they put out music and play a show that can be enjoyed by metal fans, punk fans, classic rock fans, or even people who usually like none of these genres, but just want to have a fun listen or a great time at a show.
Read more about the band, or take a listen to some EES tunes at: www.electriceelshock.com
After March 28th, you can read a new, full-length interview with the band, including Aki's philosophy connecting fishing with music, at: www.interidoru.com
2011 Tohoku Earthquake and Tsunami
On Friday, March 11th, 2011, middle to northern Japan was rocked by a 9.0 earthquake. The earthquake triggered a destructive tsunami with waves of over 33 feet tall. These waves destroyed all in their path for up to 6 miles inland in some areas of northern Japan. Currently, officials have confirmed that 6,911 people are dead, 2,356 are injured, and over 10,000 are still missing.
Japanese musicians, from popular j-pop artists, to local indie bands have been asking fans for donations of supplies, money, and time, to help the earhtquake and tsunami survivors. Even areas further south, that suffered no damage from tsunamis and only minor earthquake damage, now face daily struggles with power blackouts and shortage in food supplies, as there is the fear of earthquake aftershocks reaching almost the level of the previous quake. Power plants damaged in the quake can not provide the amount of electricity needed for a city of over 27 million people.
Fund-raising/Supply donation music shows are also being organized by musicians of all genres, all ages, all areas to assist in this crisis. If you are interested in finding out how you can help, contact the American Red Cross who is working with the Japan Red Cross locations. If you want to provide help in a more personalized manner, contact me at inter.idoru@gmail.com. There are many local shelters and agencies needing help.
The band plays on, the music never stops…
By: Apryl Peredo – inter.idoru@gmail.com