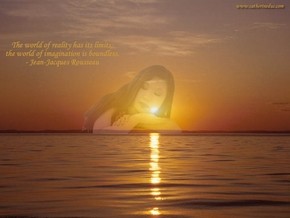 Well here we are another week is upon us. This week I am taking it light as this is my birthday week. My guest this week is the epitome of how I feel about the week and how I plan to spend it. Allow me to introduce a musician from Australia that goes by Catherine Duc. She melds ancient Celtic melodies with contemporary electronica rhythms, creating a unique and exciting hybrid on Visions and Dreams. I heard Catherine in Last.fm and have been hooked since. I have included an MP3 of hers titled "Evocation" that you can play to get in the right frame of mind, enjoy!
Stoli: Where are we talking from today?
Catherine Duc: Hi Stoli, I'm in my home studio in Melbourne, Australia.
Stoli: When you wake up in the morning at what point do you start listening or playing music?
Catherine Duc: As I have a day job, I don't start playing music until about 8:30pm.     It works well though as I feel more creative in the evenings and have in fact never composed music before twilight.   With listening to music, I usually do this while I'm on the internet so it could be at any time in the day.
Stoli: How much was music a part of your life growing up?
Catherine Duc: It was quite a major part of my life.   I have memories from my childhood of playing with a miniature grand piano when I was about 3.     My mother worked in radio broadcasting and on school holidays, my sister and I went to work with her.   She kept us amused by taking us to the music library and then we would go into a spare studio and listen to the albums (mostly pop).
I started learning keyboard in a music caravan that came to my primary school each week and then after that studied classical piano. In my final year of high school, I studied synthesizer and then went on to do various courses including live sound recording, mixing, computer music and composing for film.
I've always been a big music fan since I was a child. I initially liked the Top 40, then became interested in classical music, ambient, world and film music in that order.
Stoli: Who are two musicians that inspired you to take music serious and really pursue it as a career?
Catherine Duc: The group Deep Forest and Michael Cretu of Enigma.   I remember hearing their music for the first time thinking that this music was so different from the music in the Top 40 (their music happened to be in the Top 10 at that time).   It was mystical, ethereal and earthy and took me to another world – I was transported to the Amazon by Deep Forest and medieval Europe by Enigma.   I never had that feeling before with pop music.
I wanted to create that kind of music so began putting their albums on heavy rotation to analyse the elements of their music and researching how they made the album and what equipment they used on the internet.     My first composition 'Incan Melody' was very much inspired by Deep Forest.   I was lucky to have received feedback from Eric Mouquet from Deep Forest.
I just starting listening to the first albums by Deep Forest and Enigma after so many years and the music is still fresh and unique.
I know you said two musicians, but I have to mention The Corrs too who are my all-time favourite pop group.   I was lucky to see them live in Melbourne and be sitting close to the stage.   I've also visited their hometown, Dundalk in Ireland.   I became interested in Irish music from listening to them and they've influenced my Celtic compositions.   They've also inspired me to take up several Irish instruments including bodhran, tin whistle and low whistle (which I bought in Dublin so it's quite authentic) :)
"Evocation" MP3:
Stoli: When did you begin work on your album 'Vision and Dreams' and where did you do most of the recording?
Catherine Duc: That was probably about 3 years in the making – so say about 2002.   All the recording was done in my home studio and this is equipped with a computer, keyboard and microphones. It's quite convenient having a home studio because you don't have to worry about the studio clock ticking or setting up equipment.
Stoli: What is it about electronic music that you wanted to try it on your own with this new album?
Catherine Duc: It was easy to create as I didn't need to have a band. I have worked with other people before in a band and there was a lot of waiting around and   'discussions'.   By working by myself, I was in total control and I had all the equipment I needed.   Strangely enough, I've done a 360 turn now and am working   more with live musicians :)   I don't have a permanent band but I hire musicians for live performances and studio recordings as needed.
I like the feeling of being taken away to another world when I compose music for the imaginary sceneries in my mind.
Stoli: Where can readers grab a copy of the album and what can they expect from you that is different from watered down pop music?
Catherine Duc: 'Visions and Dreams' is available from online MP3 stores like iTunes.   The physical CD isn't as widely available as before and the only place you can get it brand new is at CD Baby (www.cdbaby.com)
Stoli: Do you enjoy playing to a live audience or performing in the studio?
Catherine Duc: I do live performances from time to time, but I prefer working in the studio as it's more relaxing for me.   Also, my music is difficult to replicate live because of all the layering and effects.   When I perform my music live, I do more acoustic arrangements.
Stoli: What song on the album is the most personal to you & why?
Catherine Duc: I think it would be 'One Autumn Day' because it really was Autumn when I composed it.   There were a lot of changes at that time. It isn't the most intricate   song on the album, but I think it has strong imagery.   I think for this reason, this seems to be the most popular song with my listeners and has been picked up   the most by music synchronisation companies.
Stoli: What are two other interests that you have besides playing music?
Catherine Duc: Music takes up the majority of my spare time because it involves composing music, practising technique (yes, I still play scales but only once a week!),   studying orchestration and film music, dealing with music licensing companies and the media and replying to listeners.
During the rest of my spare time, I love travelling and seeing new and different places.   My recent trips were to Lord Howe Island, Ireland and Norfolk Island.   I  
had planned to go to California for a film music this year but something came up, so now it's on for next November.
I also trade equities and forex as a private trader and attend a lot of investment seminars.   This isn't that relaxing but I like the mental challenges.
Stoli: What can we expect from you coming up and where can we follow you online?
Catherine Duc: I'm working on my second album and this album has a few songs where I'm performing vocals (in additional to vocalizes as in the last album). I'm currently researching music from a specific culture for the 8th song.
If you're on MySpace, come and say hi to me at: www.myspace.com/CatherineDuc.