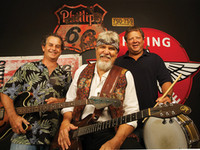 Right away I'm intrigued by the title of this band and album; The Wolfe Gang, 'Read The Fine Print'–hmm…wonder what this will be about?   Definitely a good start just for the fact that I'm highly interested in this group and their new record before I've even heard anything.   Wondering if there will be any howling at the moon as we try to weave between the lines; we shall see!
Well…there was one howl I did pick up on and plenty of weaving going on.   The Wolfe Gang is a trio made up of: lead singer/songwriter & guitarist Michael Wolfe, Robb Harrington on bass and Gene Carmen on drums.   The three core musicians brought in some special guests to make the studio recording sound even stronger.   You had Jon Tucker on sax, Michael Hanson on congas & organ, Jim Ellis on keys, Doug Chancey on harp, Kellie Fiore on backing vocals and Alex Ball on Fiddle.   The Wolfe Gang assembled a fine group of musicians to help out on 'Read The Fine Print' that came across as a well-played & well-produced album.  
The Wolfe Gang style can not be categorized, so don't even try.   They say it best themselves here: "We play Organic Free-Range music.   We play grown-up music for people of all ages that they like to refer to as simply 'good music'."   I couldn't agree more with this statement because this album is free from limitations and raw to the bone.   It's just about jammin' together and havin' a good time is the feel I got after hearing 'Read The Fine Print' in full.  
Even though The Wolfe Gang doesn't have a set style in mind, there are definite influences that I picked up on.   You will hear some rock & roll, rhythm and blues, country, reggae, soul, funk, folk, swing, jazz and even zydeco.   But I felt that blues was the foundation for it all as The Wolfe Gang played their bluesy hearts out.   They're all over the map musically and having a blast doing it!   Right from the start on the title track you get a jazzy, rockin' number that has a lot of pizzazz.   Track three "First to Go" exhibits a heavy blues feel while the next song "Get on Home to You" offered a very peaceful vibe.   Grab your harmonica and get ready to hop the next train on "Another Sunday Morning" where you can sing along if you "got some troubles in mind".   Track eight "Everybody's Got One" gives you a draggy blues joint that's got so much feeling while "Irish Dream Song" makes for one cool instrumental.  
There are even three covers on this record:   Mose Allison's "I'm Not Talkin'", Merle Haggard's "Shade Tree fix-it Man" and Bob Marley's "Three Little Birds".   I have to say that I was highly impressed with The Wolfe Gang's version of the Marley classic because it had a perfect reggae/rock flavor.   I do believe if Bob Marley was still alive he would give The Wolfe Gang a hand and then "Pass the Dutchie".   I'd also like to add that I really loved the harmonica sound being played on certain tracks.   The harmonica is the quintessential instrument when it comes to playing the blues as it breathes wonderful life into the songs.   One other aspect that blew me away was Jon Tucker on his saxophone.   Tucker added a nice layer to the whole mix with his smooth playing and really he was just killin' it throughout this record.   I've always been a huge fan of the whalin' sax as Jon Tucker will give you plenty of that to soak up.   The conga beat was enjoyable to hear on "Congo Square" and overall I was diggin' Wolfe's vocal performance.  
The Wolfe Gang worked it out in stellar fashion on 'Read The Fine Print'.     If you're a fan of music with emphasis on blues as the backbone then you will love this group and their new album.   I don't care if this sounds lame or corny but I gotta say it Wolfe Gang and that is to just "Rock Me Amadeus"!    
By Jimmy Rae (jrae@skopemag.com)
[Rating: 4.5/5]