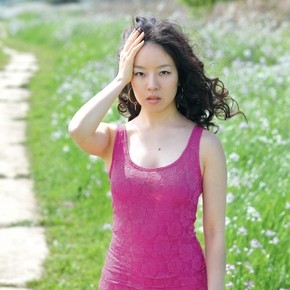 Singer and songwriter Eva Aine was born in Seattle and raised both there and in Japan.   Her musical gifts began developing in high school where she studied classical voice and then Southern Japanese tradtional music. With a five octave range and looking like a classic beauty, Eva is making her mark across the continents.
Q. Tell me about your childhood, when you went to Japan to live and who your biggest musical influences were?
A. I came to Japan when I was about to turn five years old. I was only speaking English, so, according to my mother, I was so confused at first but eventually I started to learn Japanese and got used to Japanese culture. Now both the USA and Japan are my home countries.
I was raised in a rather academic family so I wasn't listening to music much. To name one artist who influenced me during my childhood, it was Michael Jackson because he was everywhere and everyone around me and I was into him at that time in the States and Japan.
Nowadays, I am influenced by many other artists including Beyonce.   I have learned from them how a professional artist should be, act, train him/herself, etc.   They have been always doing their best and making every effort to be better artists and I would like to do the same.   Also, Lena Maria, a Swedish Gospel singer, influenced me. I had a chance to see her performance at my high school and so moved that I decided to receive classical vocal lessons which were my first experience to train myself professionally as a singer.
 
Q. When did you discover you had a five octave vocal range?
A. Just recently. I had thought that I had four octave vocal range for a long time. But one day, when I was writing a dance tune called, Don't You Stop Making That Groove, I found myself singing a note which I could not have sung before.   It was a totally new experience and I discovered that I have five octave vocal range.
Q. How do you classify your style of music?
A. I classify my style of music as Soul. I create my music crossing over boundaries of different genres of music such as classical music, Jazz, hip hop, dance, R&B, Rock, Blues and traditional music. So, it is not easy to classify my music in one category but since I create and perform it from my soul, I would say Soul.
Q. What Japanese influence do you see in your music?
A. I incorporate Southern Japanese traditional vocal style in some of my songs. I have written a few of my songs in Japanese because I wanted to express something soft and sensitive.   Japanese has is its unique soft and beautiful accent.
Also, not limited to Japanese style, but, because of my multicultural background, I like creating music mixing and adapting everything I think good like a melting pot. I don't want to be bound by any one music style but incorporate good things.
 
Q. I would like to hear about the contests you have entered and won and how the internet has influenced your success?
A. I won the 1st prize in a singing contest held by Myspace Karaoke, Japan, in June, 2010.   I also won the 2nd prize in the Alicia Keys singing contest held by Myspace Karaoke, Japan 2010.   I was selected as a finalist for my song, My Way To Happiness, at the 2010 Show Me The Music Contest. My new song, You Better Be Careful, was chosen as the Song Of The Day of FM102X.
[youtube ivwUKp6iXfM nolink]
The internet is influencing my musical career in so many ways.   I can reach to my fan all over the world wherever I am. It is a great tool for an indie artist like me.   My songs are aired on many radio stations and included in many podcasts, mixtape and complilation CDs, and I am being able to perform at many places in the world.   It is all because I have been able to apply to their auditions through internet especially using Sonicbids. So I am really grateful for the internet and for people to find and accept me through the internet.
Q. Tell me about your CD's and any new projects you have.   Also, about your upcoming visits to Memphis, Penn. and Ontario?
A. My first album CD, My Way To Happiness, was released last Autumn.   It has rock, R&B, pop, blues, world and classical taste.   It's been sold through Amazon, iTunes etc, digitally and physically.
My new single, You Better Be Careful, is now in stores as well. It's a strong dance tune. It's sold through Amazon, iTunes and CDbaby digtally.
My song, Yes, U Are Worth The Best, in included in Empire State Mixtape Vol.3, which is now downloadable for free:
The song will be also included in a digital compilation CD of Under The Radar Magazine Spring issue 2011.
My new song, Thank You, Lord, will be included in a compilation CD which will be released from ACM Records.
I performed at the official showcase of the 23rd Annual Folk Alliance International Conference in Memphis at on February 17 (8:30pm, Show Room Knoxville, Memphis Downtown Marriot) and at the 15th Annual Millennium Music Conference in Harrisburg on February 19 (10:15pm, Carley's Ristorante).   I will also perform at the Canadian Music Fest 2011 in March.
Q. What do you want listeners to get from your music?
A. Anything! But especially, I am grateful if they can be strong, relaxed, full of power and love and honest after listening to my music. It is always so amazing to receive warm comments and letters from my fans that they are encouraged, strengthened, moved, decided to live their dreams, started their morning with self-esteem and love to others. Every time I receive such comments from my fans, I feel that this is why I create my music and deliver it to my fans.
Q. What do you see yourself doing 5 years from now?
A. I see myself and hope to be in 5 years a worldwide artist performing everywhere in the world, recording and releasing many good songs. I want to be based in California to be more active in the United States.
www.myspace.com/evaaine
www.twitter.com/evaaine
By: Diana Olson – diolson05@yahoo.com