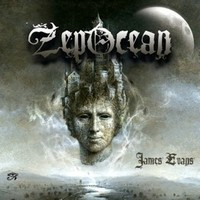 If you like group-oriented instrumentals that focus on the almighty guitar then you should love this album. The artist's name is James Evans and his new project is called ZepOcean. Hmmm…wonder if the title has anything to do with the legendary band Led Zeppelin and they're song "The Ocean" off of 'Houses of the Holy'??? Anyway, the new record is great as Evans provides you a plethora of music to choose from.
As I listened to this 10-track recording, I could tell that rock was the core element but there was also so much more there. This makes sense because James has quite a diverse & extensive music background. He has played in rock, hard rock, metal, pop/rock, country/pop and even Motown R&B bands plus is a studio vet. Not only does James Evans write, produce, arrange and engineer his own music but has done so for many local bands in Canada. This guys seems to be a jack-of-all-trades for sure, so how will 'ZepOcean' pan out then?
The answer to that last question is very well because the new album will not disappoint. You have James Evans on all electric guitars, bass, acoustic, keyboards & programming plus other musicians helped out as well. Contributing artists include: Brian Doerner on drums, Ryan Abramowitz on drums, Steve Hogg on bass, Dave Wiffen on sax, Ian Yim on bass & percussion and James Im on programming. Add in Richard Chycki (Aerosmith, Rush & Pink) as the mixer and you have yourself one fine 'ZepOcean'.
As soon as you hit Play, Evans is rockin' it on guitar and the drums are hittin' hard on "After Burner". The exhilarating start is followed up with a number that has plenty of passion & power on "Into The Night". You get a southern, blues feel on track three "Dawg Days" while the title track really moves. James picks up the pace a bit on "944" with some heavier riffs and then get ready for a jazzed up rock sound with the help of the sax on "The Quest". James really surprises you next by incorporating a major dance beat into a rock mix on track nine "Trashy Pumps".
Overall, this was a very enjoyable listen as James Evans proves to be a force to reckon with. I was very impressed with Evans' guitar playing here and I have to say that the drums had a big impact on me as well. This instrumental album was definitely well done, but not gonna lie when I say that I'd be very curious to see what a few vocals would sound like on some of these songs. I really do love instrumental albums; especially ones that revolve around guitar & rock as the main source. You owe it to yourself to pick up a copy of 'ZepOcean' just to see what all the fuss is about.
By Jimmy Rae (jrae@skopemag.com)
[Rating: 4.5/5]