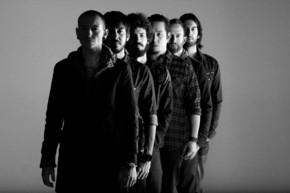 It seems everybody and their mama (literally, at times) wants to be in the music business. Everybody wants to sing, play an instrument, dance, you name it. Whether it be American Idol or America's Next Best Dance Crew, reality show this and reality show that, there's one thing in common that everybody wants — stardom.
However, one too many times you see these 'one-hit wonders' that seem to show off their 15 minutes of fame, only to eventually vanish into the limelight. When you look at the vets in the biz, you can definitely see otherwise and note one thing that many are lacking — longevity.
 
We can say so for Linkin Park, who, after 15 years, have consistently brought a sound so distinct that they are separated from the rest. The six band members — Chester Bennington, Rob Bourdon, Brad Delson, David "Phoenix" Farrell, Joseph "Mr." Hahn, and Mike Shinoda — have masterfully blended various genres of music and created a following from around the world. With a mixture of alternative rock & metal, hip-hop, and a dash of electronica, Linkin Park continues to keep those heads bouncin', wherever they land.  
 
"We do what we love," says Bennington, who is currently on tour with the band. "I mean this is something that, like, I know most of us would be playing music or creating music as a hobby in one way or another, whether we were assigned to a record contract or not."
 
"This isn't like a job you go apply for and, hopefully, you get a position," he continues. "I mean, we have an enjoyable life and that's a result of making the music that we make and that's really what most people strive for in life, is to do something they enjoy doing and have a good life from it. So, that's something we're all very grateful for. We try not to take that for granted."
 
The fellas definitely don't take things for granted. In fact, on their current North American tour, each $1 per ticket goes directly to Music for Relief, a non-profit organization Linkin Park established in 2005 to "provide relief in the wake of natural disasters and help reduce the effects of climate change."            
"One of the reasons why Music for Relief was started was that we were touring in Asia right before the tsunami hit," says Shinoda. "That's why, when we turned on the news and saw the footage, it struck us in a way that was more powerful than, I guess, something like that wouldn't have normally hit us, because we were seeing places that we had just visited on the news and they were just destroyed. So, that hit home and I think it still resonates today."                      
Bennington said that he actually did go back to Southeast Asia, to Thailand, and visited some of the areas that were devastated by the tsunami. With Shinoda and several friends, Bennington added that they helped build a house, as well as helped clean up a school and process school supplies.                        
To date, Linkin Park has managed to raise over $3 million in donations to aid in relief to various parts of the world, including the U.S., Australia, Zimbabwe, Pakistan, the Pacific Islands, and Haiti.                        
"It's the one-year anniversary of the earthquake in Haiti and immediately after the earthquake, the folks there obviously needed help," Shinoda said. "We started 'Download to Donate', which is basically a project where you can get an album for free and donate to the cause."                          
With 'Download to Donate', the organization has already raised more than $250,000, and will continue this effort as an 'ongoing album', where they are collecting more songs by various artists.                          
Bennington added that band member Farrell headed down to Haiti before they began their North American tour, with several other members of Music for Relief, to see the progress there and what else they could do to help.                  
"We each make an effort, when we can, [to] get out and see things firsthand, for sure," Bennington says.  
 
For more info on Linkin Park or Music for Relief, check out www.linkinpark.com or www.musicforrelief.org.
By: Erika Gradecki – egradecki@hotmail.com