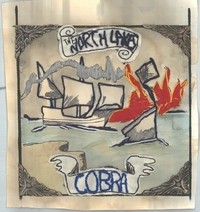 As a cold wind rushes through the night's darkest hour, Charlottetown's The North Lakes inhabit my stereo, balancing apocalyptic blues-folk with an East Coast/garage rock hybrid. Though the wind howls without reprise, the forecast is calling for sun tomorrow morning. And therein lies the manner in which Cobra, the debut from The North Lakes tantalizes listeners: yes, the world can be a harsh place to be at times, but there is always the light of tomorrow morning to look forward to.
You can hear this ethos in the all-too fitting standout track "Cold Ottawa Wind," which rumbles with a harsh sense of consistency and self-awareness. Followed by the dirtiest blues jam found on Cobra, "All Over You," The North Lakes attempt to explore the darkest corners of a psyche that has become haunted by their surroundings. And they do it with great success.
Still, from darkness comes light. "Bravado," the album opener storms along without reprise and gives props to the benefits of self-confidence, while the insanely effective chug of album "Odessa," leads one to believe that not only is it possible to escape from a darkness that surrounds you, but also that this band is headed for bigger and better things.
Joshua Kloke – joshuakloke@hotmail.com
[Rating: 3/5]