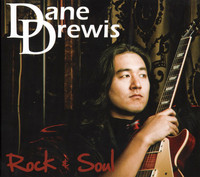 Rock and Soul is the first solo CD from Sacramento, CA-area singer/guitarist Dane Drewis.   Fans of Drewis will recognize him from the band Cuesta Drive and in fact, a number of the tracks on this release also appeared on Cuesta Drive's Distractions album.   The new tracks feature Jason Weed on drums and Dane's father, Dale, helps out on bass guitar and vocals.   Drewis was the frontman for Cuesta Drive and wrote and produced 3 albums with the band before stepping out on his own.   There's plenty of information to be found on Drewis and his background on his website at www.danedrewis.com.  
The album opens up with the track "Friday Night", a slightly funky, mid-tempo song with hints of blues and Motown.   Drewis has a smooth and clear voice that works well against a backdrop of jangly guitars and backing vocals.   "Together", the next track is more straight-ahead and features Dane's guitar skills in a variety of tones and blues-heavy stylings.   The reggae-tinged track "Sweet Music" is a laid-back tune that shows Drewis' diversity and stylistic range.   "Broken Strings" evokes a Santana-esque vibe with a simple groove featuring several percussion instruments.   "Get Level" returns to Drewis' strongest suit in the funk-rock/blues mold.   "Tattoo" is another standout track that shows more versatility in Drewis' vocals as he growls his way through a more impassioned delivery that really fits with the track alongside some nice guitar work.   At times I could almost hear a Motown horn section getting ready to come in!   Drewis is a good songwriter and arranger.   He makes good use of a relatively straight-forward approach by changing up guitar tones and filling in complementary parts to keep things interesting on top of the drum and bass groove.   His vocal harmonies are well-done and the playing and recording of the album are all well-executed.
The production on Rock and Soul is somewhat dated but that works for it to an extent since it fits the old-school rhythm and blues vibe of the songs.   There are some moments when some parts sound a bit like they're coming from a demo and the grooves, while well-balanced, don't quite have the energy and kick that the songs would really benefit from.   Maroon 5 is a band that delivers some funk-style material in a modern fashion and while this is a different type of album, I could see a more intensive rhythm section like that fitting in well here with a bit more production to bring things more up-to-date.   Drewis is a good singer but it would have been nice to hear him stretch a bit more and infuse some of the songs with some more intensity.   The mastering and overall production keeps the songs in balance and it's hard to tell the songs from the Cuesta Drive album from Drewis' new ones, definitely a job well-done there.
If you're a fan of older bluesy, funky rock then you'll find a lot to enjoy in Rock and Soul.   It's not a commercial type of album but Drewis has done some great work here and the results are fun to listen to.   His vocal style is very identifiable and he delivers solidly on guitar as well.   If you get a chance to see him perform live, I'm sure the energy in these tracks would translate even more.   Nicely done.
By: J.D Stefan
[Rating: 3/5]