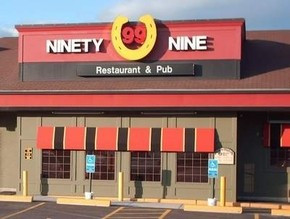 Skope Live! & Fleming Entertainment will be hosting a second Guitar Hero Tournament in Waltham, MA at the Ninety Nine Restaurant this Monday January 3, 2011. The winner gets $100 CASH with a 15 player minimum! There will be other cool giveaways through the night as well.
Ninety Nine Restaurant
110 South Street
Waltham, MA 02453-3538
(781) 893-4999
www.99restaurants.com
**CLICK HERE TO VIEW THE PDF FLYER**
Come by from 7 pm — 10 pm and play to win great prizes from Skope & Guitar Hero. While there, enjoy an ice cold beer and delicious dinner. From burgers, nachos, salads, there is so much good food at a great price!
There are always 99 reasons to visit the Ninety Nine Restaurants.
**CLICK HERE TO SPONSOR THIS EVENT**
Contact: mfriedman@skopemagazine.com / jfleming@FlemingEntertainmentEnterprises.com