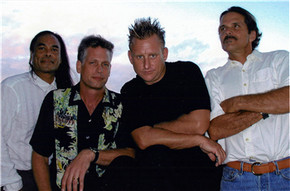 Today on Cyber Monday it is important to take a break from all the shopping and perhaps take in some new music. As the weather goes from 75 to 25 degrees here in New England it is nice to know that Hawaii based Rumbletone can offer a sound that can warm us up. I caught wind of Rumbletone earlier this year when they released their debut album. With songs like "Show Me Who You Are" and "Imagine That" I knew I had to dig deeper. These guys might be mellow by nature but their sound is catchy & high energy. Join us as Paul  Ventura speaks on everthing from musical longevity to cool ive venues in Oahu.
Stoli: Where are we speaking from today and how was your summer?
Rumbletone: From home in my studio on the beautiful island of Kauai. The summer has been all time in terms of weather. We could use more surf and more rain but we have been blessed with constant trade winds. In terms of music it has been one adventure after another since our Cd release. Just soaking it up like sunshine at the beach.
Stoli: How does the beauty & serenity of Hawaii help encourage music and creativity to flow?
Rumbletone: Everywhere you look from the mountain to the ocean is beautiful. It so easily translates to beautiful sounding chords and lyrics by what you see visually and the smell of the flowers, the fruits, the foliage, the salt air. When you live here you spend a lot of time on the beach and always have a guitar and my 4track iphone recording app. on hand not if but when creativity flows.
Stoli: How does the word Rumbletone come to define your band?
Rumbletone: A Japanese elder was sitting in his living room overlooking Osaka Bay when the ground beneath him began to shake violently. "The sound of the Rumbletone (sound before the earthquake) was so intense it seemed to leap out of the ground and scratch the sky." That is the mantra whenever and wherever we play.
Stoli: You guys have been playing for over a decade. What is the chemistry that helps keep you all getting along & on the same page?
Rumbletone: Since we are a small island our paths cross constantly, at the beach, the store, work, the kids functions,etc. Music is our sanctuary, its the place we can go to blow out the cobwebs and express ourselves. One band members trials and tribulations is another's past experience. As long as we have been together as a band we are engraved in each other's life, kids, work. It's gotten better over the years as you get to know each members personalities that you except the way they are and you're good with that. Its a lot easier to make music and a lot more fun to accept the way a person is than to try to change them. Musically every band member brings something different to the table, our influences added together create our sound, we can totally live with that!
Stoli: How do you find time to balance your personal life, work, and the band?
Rumbletone: We make time for all and most of all try not neglect any one of those things but to balance them out. It evens out though if you gig several days in row the personal life takes a back seat but we make up for it on the front and back ends.
Stoli: I love your groovy & laid back sound. Would you say that is how you are in life as well?
Rumbletone: Pretty much. When you live in lush paradise and the beautiful beaches a stone's throw away it can change your mind set in a heartbeat. It doesn't pay the bills but its therapy for the mind and soul on a daily basis and changes your outlook on life.
Stoli: You released your debut album this year. How long was that in the works and what can readers learn about you by giving it a listen?
Rumbletone: The band started recording in January and finished the end of August. We mixed till New Year's and finished mastering the end of January 2010. The finished product arrived on Paul's birthday in February and the song debut of "In The Air" on local radio station Kong Radio the same day! Great birthday. What listeners will learn is there is Rock other than lava in Hawaii. Our songs relate to destiny, hope, desire, inspiration, people, and relationships with a touch of old school and a shot of new school!
Stoli: I love your song "Vacation." What inspired you to write that song and do you even need to take a vacation living in Kauai?
Rumbletone: The hustle and bustle of everyday life, leaving it all behind. Knowing, i'm gonna get away, what i want to do and where i'm gonna go, not really caring cuz i'm on Vacation. If you live on Kauai you still need a vacation from paradise. Some city stimulation to get the juices flowing and keep the yin and yang balance is sometimes just what the doctor ordered. On the other hand, another beautiful island with no one on it sound good too!
Stoli: How does your performance differ when you are on the studio verses live?
Rumbletone: The level of energy on stage in a venue rises above and beyond the studio because of the visual and audio sensations, band camaraderie, and party/ concert   atmosphere. All that exists in the studio but it's all about the making of, recording of   and the business of music.
Stoli: The closest I have ever come to Hawaii is "Forgetting Sarah Marshall." What are some cool live music venues for a music lover like myself?
Rumbletone: On Oahu Pipeline Cafe, Duke's, Aloha Tower. On Kauai Tahiti Nui, Trees Lounge, Oasis on the Beach, and my favorite Anahola Taro Patch.
Stoli: The unemployment in the US is getting out of control. Any ideas how to get the people back to work?
Rumbletone: That's a tough one. There are few jobs to begin with. For starters I think the ones that have jobs need to be thankful they have got one. The ones that don't have keep plugging away and don't give up hope. As for government maybe we need to keep our concerns for citizens of the US versus oversea's. Prioritize unemployment, homeless, and go from there.
Stoli: What does music mean to you and what does it add to your life in a spiritual level?
Rumbletone: Music is the pulse and lifeline of my world. A song, any song can bring back an old memory, a time in your life you may have forgotten, what is happening in your life right now. I feel music enlightens everyone's life and has a soothing effect on the heart and soul.
Stoli: What is coming up for Rumbletone and where you at online?
Rumbletone: We've got a   handful of fun gigs coming up. A Battle of the bands, an annual Homegrown Music Festival, and a few gigs on Oahu with a performance for the Childrens Cancer Society/ Jams World Fashion Show @ the Royal Hawaiian Hotel. We are planning a mainland fling in the Spring starting in Calif. You can find out more on the band @ http://www.rumbletone.org. Also http://www.myspace.com/rumbletone808. Let us know know if you are coming to the islands. Aloha