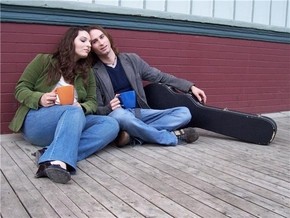 Now that was a great weekend. You can really feel it in the air that the holidays are on the way. My guests this week are having some exciting times both musically & personally. If you think that you cannot work with your significant other, Azalea, are here to tell you that it can be done. What started out at Benjamin & Mia has merged into Azalea. Not only are these two still newlyweds they are also gearing up for their release party of 'Coffee & Kisses' in Ontario, Canada this Thursday night. Join me as Azalea offers a FREE MP3 from the new EP, relationship advice, Myspace vs Facebook, and much more!
Stoli: Where are we talking from today and are you excited about the holidays?
Azalea: We are talking from our home in Hamilton Ontario and yes… We are very excited about the holidays. At this time last year we were hard at work recording Coffee & Kisses EP and planning our wedding, which didn't leave us much time to relax. So, this year we will be taking a few weeks off to spend some time with family and friends.
Stoli: Why did you decide to change your band name from Benjamin & Mia to Azalea and how does Azalea define your music?
Azalea: When we started writing and performing music together, it was always just the two of us, and not having anything better in mind we thought the name "Benjamin & Mia" would do the trick. However, we found ourselves being grouped together with many folk/roots artists. This happened partly because our first album was a much more broken down acoustic album and partly just because our name resembled some of the great folk artists of the past — Ian & Sylvia, Simon & Garfunkel etc. After graduating from university and maturing as musicians, we found ourselves leaning more towards Pop than Folk and we felt that we needed a name that truly captured the essence of our music, who we are as individuals, and where we were going with our music. An azalea is a flower known for its bright colors and if you get to know us and our music you'll be sure to see and hear a bright positive vibe throughout. We also now often perform as a three, four, or five piece band for our larger shows and we have found the band name "Azalea" very fitting.
Stoli: You started out as music friends but developed into much more. How did you both know that there was love brewing and how do you balance music & marriage?
Azalea: Good question… We tend to think of love as something you can't completely explain, but this is how we try: Love connects two souls on a level so deep that you can communicate and move together as one. Therefore, the more we got to know each other we found that our passions, ambitions, values, and purpose, were one and the same. This inevitably led to love. We didn't know it was going to happen… It just did! We feel very blessed that we get to make music together. Our love for each other and our music is rooted in the same place so they often flow, one into the other. We may be sitting down to write a lyric for a song and we find ourselves discovering more about life in this process. Whether it's through our artistic pursuits, or every day circumstance, we deal with life together.   So, music and marriage often have blurred boundaries, we have never had to try to balance music and marriage. They just seem to balance themselves out.
Azalea – CD Release Show
November 20, 2010 at 7:00 PM
Tyndale University College – Van Norman Worship & Study Centre
25 Ballyconnor Court
Toronto, Ontario M2M 4B3 CANADA
Stoli: Was it each other's musical ability that made you fall in love?
Azalea: It was definitely a factor in the equation, but not the only one! When two people share an interest, it usually brings them closer, and it did for us. However, there were so many other things that we fell in love with. We are both big dreamers and romanticize the same things. We learned that we truly see life from the same artistic, romantic, and childlike perspective.
Stoli: You have a big CD release on November 20th in Toronto at Tyndale University College. How are you preparing for that show and what can fans expect that night?
Azalea: We have been rehearsing a lot. This show is quite a big deal for us, not only because it is a CD release, but because we are working with a full band. Most often, we play as a duo and we always strive to make our performances sound full and interesting by using looping, effects, and switching instruments. Now that we are working with a full band, we have had to arrange some of our songs differently. Fans can expect to see a performance that holds true to a live Azalea show with the added soundscape provided by the additional instruments.
Stoli: Where will people be able to grab a copy of the new CD and are you leaning more on physical or digital sales?
Azalea: You can get a copy of Coffee & Kisses EP from any one of our shows, or online at cdbaby.com, and iTunes. Also, every ticket purchased for our CD release show comes with a copy of the album! We believe there is no right or wrong way to sell music, as long as you have a contemporary method that is relevant to your audience.
"Can You Hear Me" MP3 by Azalea:
Stoli: How long were you writing & recording this new album?
Azalea: We started work on this album in August 2009, and it was unofficially released and available for sale in June of this year. So, it took us a little less than a year to write, record and produce the entire album.
Stoli: Does it stress you that once you put the CD out some people may love it while others not so much. How do you deal with the criticism and does it bother you?
Azalea: No, it doesn't stress us because we write from our heart and we create music that reflects our perception of life. If someone doesn't like our music it is usually because it's not their style or they don't see things the way we do. Also, if we are criticized, we are usually receptive to it because it may help us make better music in the future. However, we are cautious not to let criticism make us feel that we need to change who we are musically.
Stoli: Would you like to have children one day and how does the band play into those plans?
Azalea: Yes, we would love to have children one day. Although they are a very big responsibility we never looked at having children as being a distraction from our music. In every circumstance we have been able to manage life and art. So, we're very confident that when children come around we will be able to balance our music and our kids. As artists, we have found that every new chapter in life brings new perspective, insight, and a wealth of experience from which to write.
Stoli: Do you put out music to become rich & famous or is this a passion that you cannot live without?
Azalea: We breathe, eat, and sleep music. Even though a little recognition is always nice we would never give up what we do because we haven't become famous. However, writing and performing music is our job and we cater to a community of listeners who benefit from what we do. We believe that deep down, every artist would like to have some sort of fame but they differ as to why they want it. We want to touch and move more people with every performance and album released. So if fame came, we'd take it. The bigger your audience, the greater your chance of reaching more people. At the end of the day, we're still happy if just one person is moved by our music.
Stoli: People say that Facebook is taking over and MySpace is fading. Do you feel that MySpace caters more to the music & arts community and they should focus on that?
Azalea: We do believe that MySpace has faded as social networking site and that Facebook is more prominent on that level. However, we feel that having a MySpace is a great tool for an artist because it does cater well to the arts community. It is s a great free way to get your band and music on the web. The more places you can be found, the better it is for your band.
While Facebook has band pages and easy ways to invite people to your event, a MySpace functions as a website which means anyone can find you and they don't have to have a MySpace account or be linked to your page. This makes your band and music that much more accessible to the public. Through our own experience with MySpace, we feel that they would do well to focus on growth in the area of music and the arts. This seems to be their strong point and we feel they could continue to become a stronger tool for musicians.
Stoli: What are two bands/albums (non-mainstream) that you are listening to these days?
Azalea: Right now we are listening to Maybe Sunshine by Jacob Moon and Wild Hope by Mandy Moore
Stoli: When you are not writing or performing what do you guys like to do for some R&R?
Azalea: We enjoy watching Grey's Anatomy, Castle, Fringe, and countless re-runs of That 70's Show. Also, we are both homebodies. So we take any chance we get to have our friends or family over for a meal or to just chat over coffee. We also like to see live music every so often because it keeps us motivated and inspires us to continue doing what we do.  
Stoli: What advice can you give other couples who are lacking a common hobby like music to bring them together?
Azalea: Having a common hobby really brings two people together, so our advice is to try and find one you both enjoy. Even if it is something as simple as a TV show, having common ground from which to relate and talk definitely helps a couple grow. On that note, we know couples who don't have hobbies in common but they make their relationships work by supporting one another in what they do. If you truly love someone, you want them to be happy. In supporting their likes and interests you can learn to see what they see in the hobby which helps you grow together as a couple.
Stoli: What is coming up for Azalea and where can we follow you online?
Azalea: Right now, we are focused on continuing to perform and spread the news about our album Coffee & Kisses EP.   This definitely means more shows to come for Azalea. You can also catch our songs on CFMU 93.3 in Hamilton, Ontario. Plus, there are also so many new musical opportunities for us to explore so hopefully you will hear us at your local music festival, in a quirky commercial or on your favorite TV show. You can also find out more about us and hear some of our music at these websites.
www.AzaleaMusic.net
www.myspace.com/AzaleaMusic
www.twitter.com/AzaleaMusic
www.sonicbids.com/Azalea