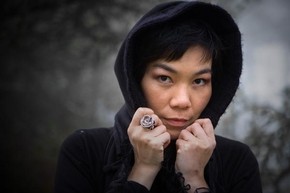 Volary is a singer/songwriter/musician born and raised in the land down under.   Her love for music goes all the way back to her childhood when she developed a deep passion for singing.   She has been belting out vocals & notes her whole life putting a face to every single song she has sung.  
"There have always been songs that express the whole gamut of human emotion, and I would go into my room and let all of my frustration, disappointment, and hurt explode from me by singing.   That's always been part of the pleasure of singing for me — that the sound is emanating from you and is transformed by these minute internal manipulations into something beautiful. It's a form of athleticism and control that nobody on the outside ever gets to see.   My voice is ultimately my favorite instrument."  
Besides being a wiz at singing, Volary also proved to be sharp as a tack in the classroom.   She would excel in school and go on to become an actual scientist.   Volary attended Adelaide University in Australia and received her Ph.D. in Biochemistry.   When Dr. V isn't singing at the top of her lungs, she's in the lab working on cures for specific medical needs.   Working as a scientist in a biotech company by day is both satisfying & rewarding all at the same time for Volary.   "I'm trying to give back to the human race and if I wasn't working in medical research I might be working on new techniques for bioremediation, or working at a non-profit venture, or anything that I thought would add some good to the world."  
By wanting to use her knowledge/love of science for the benefit of mankind proves right there just what kind of person Volary really is.   A flawless character and a heart made of gold are all in place here for this singer/songwriter, but what is the complete make up of this young lady?   Well for one, Volary loves to travel and she would love to live in London or NY for awhile.   She also enjoys going to the theatre because she "loves that you can feel the actors' adrenalin permeating the air before the show."   Besides that Volary is an animal lover and single with no kids while her diverse personality consists of the following traits: "introspective", "sensitive", "driven", "perfectionist" and "stubborn".   A serious side coincides with a not-so-serious/fun side where Volary, on occasion, likes to play the wackiest of card/board games with friends.   This eclectic mix of qualities not only sums up who Volary is as a person but also ties in with who she is as an artist.  
Volary's big move to San Francisco in 2001 was a defining moment in her life.   This is the place that would help her become a solo artist versus the heavier emphasis on bands that Australia was known for.   She was now in a city that would help shape her music career more toward the realm of singer/songwriter material.   This emerging artist now called the city by the bay home and this is where her artistic freedoms would come out shining.   The inspiration behind her first solo project Out of Shadows came from living in such a musically rich city like San Fran.   Volary actually means a flight or flock of birds, or the cage you keep them in.   The creative mind behind the name adds up to the highly creative force that is Volary.   She wanted a recording session that "would go beyond the traditional singer/songwriter or rock band album."   Volary definitely achieved this status with Out of Shadows taking flight through a land full of mixed human emotions.   You're getting the good, the bad and the ugly along with the happy & sad times as you enter into a world full of light and darkness.   She describes what it is all about beautifully here: "You might say it's like sculpting delicate flowers out of barbed wire."   Capturing freedom of expression while also restricting oneself sums up who Volary is as an artist today and what her music is all about.  
Volary wrote all the songs on the new record, played acoustic & electric guitar, sang lead & backing vocals and even played the role of co-producer.   This indie artist can be classified under the genre of Alternative/PowerPop and she has performed many shows at clubs, cafes and house concerts usually with backup musicians.   Volary is now playing small venues and clubs around the San Francisco area in support of the new album.   Some worthy accolades for this talented musician include: honorable mention in 2007 in the Billboard song contest, a runner up in 2006 in the VH1 Song of the Year competition, featured in an episode of a local TV show called American Songwriter and Out of Shadows was accepted into the Pump Audio music library.   Watch as this young talent from California attempts to step out of the shadows and into the limelight.   For more info, SKOPE out www.volarymusic.com.  
By Jimmy Rae (jrae@skopemag.com)