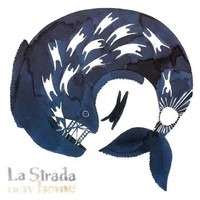 La Strada, a Brooklyn five piece, sounded like the most seafaring of seafaring bands on their debut that I had myself double checking that they weren't from Halifax or Scotland. Now, on their follow-up, New Home, the band seems to be injecting some of that chamber-pop sound that Brooklyn is known so well for. No, they haven't reached the vast, cerebrally-redeeming levels of say, Grizzly Bear, but they have evolved enough to warrant the seemingly ironic title of their latest.
Yet for all their sonic evolution, New Home remains a bit confusing. Why would a band forgo the sound that their hometown is known for on their strong debut, only to return to it in full force on their follow-up? "My New Home" is a perfect example: there are hints of that untamed eastern beauty on this five minute, scaling beauty, but only when the hints of their past work is employed. Otherwise, the chamber-pop musings seem misguided
The five members of La Strada simply sound like they're having too much fun in life to write the kind of excruciatingly emotional songs that makes chamber pop a viable genre. In fact, the whole ironic/confusing theme that runs amok throughout New Home sounds it's best on "Where You Want To Go," a bouncy, stomping jam wherein the bands really lets loose.
For all that La Strada lacks in focus, they make up for with a sense of genuine exuberance that is not mitigated throughout each of the 13 tracks. The rubber match that will be their next record will likely determine the fate of this band, but for now, enjoy the fun while it lasts.
By Joshua Kloke
[Rating: 2.5/5]