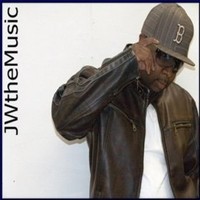 Soulful vocals, backing electronica and infectious lyrical subject matter are the facets that comprise the ethos of the full-length LP from Boston native, JW. The 11-track debut was made under the mantra "Live for today and tomorrow" and it taps a myriad of musical influences that run the gamut from East Coast style Rap to elements of Detroit R&B.
JWtheMusic opens with "That Life," a nod to JW living the Hip Hop lifestyle to the fullest. The backing synth and simplistic beat are the foundation to JW's soulful backing vocals and overdubbed rap lead that is reminiscent of vintage Notorious B.I.G. "Tryin to Live" is arranged much like the album opener, electronica lying just beneath the backing vocals and emotive rap lyrics. The subject matter shows JW as a witness to a shooting and his apprehension about the impending retaliation that is sure to follow. The track is testimony of JW's ability to fill a song with lyrics that tell a story. "You Gonna Need Me" turns the album formula on its ear opening to pounding piano and an intro that gradually builds through added layers of lyrics, then spoken word and eventually giving way to the beat and lead. It is arguably the most intricate track on the album with multiple soundscapes, lyrics and beats, and showcases the artist's prowess on the soundboard.
JW is a man of many hats as artist, producer and songwriter, and the debut is testament that he wears all three with equal ease. A respectable outing for the fledgling artist in that it is unconventional and it is reflective that JW has found a sound that he can plant a flag in and claim it as his own. I expect his next offering to build upon this foundation and evolve further.            
By Chris West
[Rating: 3.5/5]