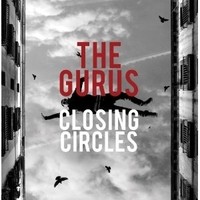 Barcelona, Spain isn't normally associated as a place where psychedelic pop-rock bands rule. That doesn't seem to bother the Gurus–a trio consisting of guitarist Emilio Ramirez, bassist Sergio Bartel, and drummer Josep Pons–whose fourth record Closing Circles continues on with the band's love for 60s era guitar pop.
Previous recordings by the Gurus have shown the group is extremely capable of writing songs that fans of the Beatles and the Byrds would appreciate and Closing Circles continues on with this trend. Basically, the first four tracks on the album showcase the Gurus' talents in regard to this with the opening track "I Don't Care About It" and "Lunatic Lover" impressing most.
The first track is a simple, uptempo song but it is undeniably catchy and would have sounded great on AM radio while "Lunatic Lover" showcases the band's ability to create a solid Phil Spector-like wall of sound thanks to some nicely placed horn arrangements.
This is all fine stuff but the Gurus wisely change direction in Closing Circles' middle and this is when the band truly sounds alive. (Interestingly, the album's brilliant artwork of a man jumping off a building hints that there is some kind of change going on in the band's sound.)
One of the highlights from this section is "Strange Believer" which includes psychedelic elements from the late 60s and 70s but works best because of Ramirez's splendid guitar work which gives it a more modern vibe. And just as strong as that song is the hard charging "Caught By the Rain" which would fit fine on any of today's college rock or indie rock radio stations.
Unfortunately, the last third of Closing Circles loses steam with songs like "Where" and "I Can't Go On" which are too retro-sounding to be memorable. There are a few surprises though like the instrumental, surf-guitar homage "The Tongue Twister" and the intriguing cover of Pink Floyd's "Lucifer Sam."
Overall, Closing Circles is a fine record in which the Gurus show its musical chops which is even more impressive considering the band members aren't from a place with rock history on its side like Liverpool, New York City, or San Francisco. Sure, the album has some weaker moments but the future looks good for the Gurus especially if it keeps mixing up its sound.
Author-Todd Sikorski
[Rating: 3.5/5]