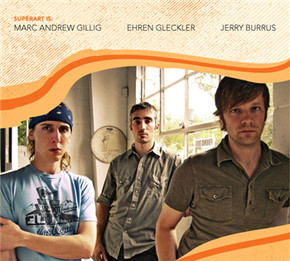 Another week is here which means another band or musician to introduce. I had to take yesterday off in honor of Chris Columbus so I am well rested and ready for the week. I have always liked the music of Connecticut based band Superart. Then I saw Jimmy Rae review their new album 'The Weirdbeard Sessions' on Skope and he gave it 5 Skopes. I knew we had to act fast and get this feature with them posted. So I am going to let the music speak for itself and introduce Superart!
Stoli: What made you want to call your band Superart and how long have you been playing together?
Jerry:   I've been playing music with Ehren for about 12 years.   Marc is a few years younger, but I've known him just as long. I'd jam with Marc occasionally over that time, but the 3 of us started playing seriously together in early 2007.
We chose 'Superart' as a bit of over-the-top irony.   One of the things that bothers us about the current rock scene is how so many bands just crumble under the weight of their own labored pretention.   We never wanted to be accused of that, so we chose a name that sort of mocks that whole approach.   We knew we'd never come up with a name as unassuming and unpretentious as 'Weirdbeard' (our original name), so we went in the opposite direction to kind of poke fun at ourselves.   'Superart' is meant to be playful and self-deprecating.   We called our album "The Weirdbeard Sessions" as a nod to our old band name.
Stoli: Where are we speaking from today and are you ready for fall?
Jerry:   We're all over the place — at the moment we are straddling the east coast, staying up much later than what is recommended by a physician.   We only really need 4-5 hours of sleep per night, right?   I thought so.   We're definitely geared up for fall. Living in New England, this is the best time of year.   I'm not excited about winter. At all.
Marc: I gotta tell you, after living in Georgia for a little while, it is a HUGE relief to be back home. New England is truly one of the most beautiful places on Earth. I love it. Winter can be a bummer, but I don't hate it. Jerry is right though, autumn takes the cake.
Stoli: How long were you working on "The Weirdbeard Sessions" and how have you been promoting & getting the word out?
Marc: The making of this record was a tremendous undertaking. It was the most immersing and all-consuming project I have ever been involved with. The end result is satisfying, but I am a person who is never finished. Obviously, at some point you have to just call it done, but in my mind's eye, everybody is listening to an unfinished product. Of course, that would be the case no matter how long we worked on it.
Jerry:   It took us just under a year to record.   We were friends with the owners of the studio in Athens, GA, and they let us record on our own whenever the space was available, which usually meant overnights.   Marc already worked there from time to time, so he produced and mixed the album himself.   We left town just after we finished it and we're not signed to a label, so promotion has been a challenge. We use social networking sites as much as possible, and certainly websites like Sonicbids have been great at getting us press and airplay.   It's all happening online.
Stoli: How did the move from Athens, GA to New Haven, CT effect the band and why did you change the original name of Weirdbeard?
 
Jerry:   The move has had a huge effect on the band.   Athens is a GREAT city, but it was never truly our home.   The move back to CT was inevitable, but we do still miss the Athens scene.   That being said, New Haven is doing really well right now, so it feels great to be a part of something in our home state.   The biggest problem is that Ehren still spend most of his time in Georgia, so we're breaking in a new lineup that involves myself, Marc, and our new drummer, Alex Cohen.   Ehren will still be involved and join us as much as he can.
'Weirdbeard' is a joke nickname for Ehren because of the way his facial hair grows in.   We liked it as a band name because it was the least pretentious name we could think of.   We went by that name when we all lived in Athens, GA.   When we relocated back to Connecticut, we discovered a few other bands that had similar names, like 'The Weird Beards.'   We knew we had an album coming out and that we had just relocated, so we figured the timing was right to change our name to something that was completely unique.
Stoli: What should new fans of Superart know about you guys that is rare & unique?
Jerry:   Well, for starters, we have 3 frontmen, but not at the same time!   Marc, Ehren, and I are all singers/ writers/guitarists by nature, but we can all play several instruments.   Our live setup is drums, bass, & guitar, so we're always switching instruments on stage.   For example, Marc might sing and play guitar with Ehren on bass and me on drums, followed by a song where I sing and play guitar with Marc on bass and Ehren on drums, THEN a song where Ehren sings and plays guitar with Marc on keys and me back on drums or whatever.   It makes for a unique and (hopefully) impressive live experience.   Plus, with the 3 singers, it's consistently interesting for the listener.   Ehren and I are just as good on the drums as we are on guitar, and Marc is a fantastic piano player.
Ehren:   We're selfish in that we didn't want to deal with a fourth ego or have to accommodate another schedule.   We have enough ego with just the three of us, so we figured it would be easier to just do everything ourselves rather than add a full-on drummer or bassist.
Stoli: Do any of you have families and day jobs and how do you balance everything?
Jerry:   Yup, we run the gamut.   Marc and Ehren are both full-time students and I have a full-time job.   Ehren and I both have families.   Balancing everything is difficult, but not impossible.   For this, we are all willing to make time, even when it seems like none exists.   We're still working toward expanding this project and making the most out of it, so we'll see how it goes.   Right now, we're all committed to playing together and that's all that's important.
Stoli: All three of you do vocals. How do you choose who sings lead on what song?
Jerry:   Whoever sings the lead is the one who wrote the bulk of that song's music and lyrics.   Our only rule for the album was that the harmonies would not be sung by the lead singer, so that our voices were together as much as possible.   We all sort of write independently, but we also collaborate and orchestrate the arrangements together.   We always contribute musical ideas for each other's songs, and we sometimes even collaborate on lyrics, but we have a kind of unspoken agreement that the main writer will sing lead and has the final say over the details.   We all share a common ethos and attitude, plus we're fans of each other's singing so it works out perfectly.
Stoli: What is a musician or band that you admire & why?
Jerry:   I love the attitude and drive of Josh Homme from Queens Of The Stone Age.   He is the best rock singer/writer/guitarist alive today, but what really inspires me about him is how he plays by his own rules.   He redefined what rock is with QOTSA, and yet, he's always looking to do something new.   I love how he changes his collaborators on every record.   Here's a guy who thinks, "Why do I have to play with the same people on every record I make?"   As a result, his bands are always unique, original, and creative.   He keeps rock heavy, dirty, sexy, and tuneful – all at the same time.
Marc: I despise the vast majority of music. Most of the rest, I don't feel one way or the other about. Then there's the music that brings me to tears (the good kind of tears), and there is enough of that to keep me occupied for the rest of my life. I love Fiona Apple, and I am going to marry her… hopefully soon, because she is getting old, and consequently it is becoming a weirder and less sexy fantasy with each passing day.
Stoli: I love the song, "Loose In The Valley Dump." What does that song mean and did the lyrics come before the instrumentals?
Jerry:   Thanks!   That song was inspired by a trip I took to San Diego with some friends.   The whole first day we were there, we got lost searching for the city and ended up driving aimlessly around the valley.   From there, I just started thinking about this really strange "valley-girl"-type environment we were stuck in and how different it was from anything I could relate to living in Connecticut and Georgia.   It was America, and yet it was foreign.   That song is about how one person's paradise is another person's dystopia.
For "Loose," the idea came first and I started writing the words.   I had the verse riff kicking around a while and the vibe of the music matched up really well with what I was writing about.   I like how the subject matter is kind of depressing and disdainful, yet the music is so upbeat and in a major key.   That contrast worked really well.   The title was from an actual quote from the trip.   One of my friends lamented that we were let loose in this dump of a valley with no interesting place to go.
Stoli: I truly believe your music has mass appeal. How can Skope readers help get the word out on Superart?
 
Ehren: Obviously, suggest us to all your friends on Facebook.   Make sure to include "Wake Up Brand New" on the next mix tape for your boyfriend or "She Looks So Good In The Morning" for your girlfriend.   "Birthmark" really gets a house party jumpin'–so I've been told.   Suggest Superart as the theme for your prom/10 year high school reunion.
Marc:   Hey, if someone really likes our music, he or she is eventually going to pass it along to a friend or two. Or three. That's the way it works, that's the way it should work, and we certainly ask nothing more from anybody. The idea of even one person truly relating to or connecting with our music — whether they are my lifelong friend or someone in North Dakota who I'll never ever meet — fills me with a unique type of joy that I could not express in words. So if a Skope reader checks us out and really loves our music, that's enough. The whole thing about "getting the word out" should merely be a by-product of that love of the music.
Stoli: If you never become rich or famous off your music would you ever regret doing it?
 
Ehren: The goal was never fame or money, otherwise we'd have instituted a cookie cutter songwriting blueprint long ago (Nickleback, I'm looking in you general direction.)   Jerry and I have always pushed each other to be as creative as possible in our writing and Marc is the X factor pushing it over the top.   Recognition for our work would be nice, but only in knowing that we went about it without pandering to anyone.
Stoli: Digital technology and the Internet have made it almost impossible to enforce copyright laws online. What are your views on people using your music without you getting paid or credit?
Ehren: The ability to get our music to so many people outweighs the downside of copyright infringement.   Getting random fan mail from people buying our album in Lapland > finding out a clip of our song is the soundtrack to a porno.
Marc: I think it is disrespectful not to give credit where credit is due. Having said that, I will also say this: "I'm not too worried about it." (Mr. Kruger, played by Daniel Von Bargen, Seinfeld, Episode 172, written by Jennifer Crittenden, original broadcast March 19, 1998)
 
Stoli: What is coming up for Superart and where can we follow you online?
Jerry:   We're on iTunes, Amazon digital downloads, CD Baby, iLike, and several other sites.   We could not be more satisfied with the finished product.   If you like rock music, you'll like this record.   Give our album a listen and visit us online.   People check out our EPK at www.sonicbids.com/superart, and can hear full album tracks at www.myspace.com/superartband, and www.soundclick.com/superart.   Right now we're working Alex into the group, perfecting our live performance, and writing new songs.   We'll be booking shows again soon and then getting to work on album #2.   Don't forget to find us on Facebook and "like" us if you like us.   Thank you!