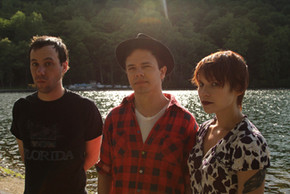 Brooklyn's My Other Friend is set to release their debut album Burning Bright Tonight, with wide distribution on October 25th. The album which was originally self-released digitally in late July is already starting to gain the attention of leading tastemakers such as CMJ.
Download "Beast (Seperated From You At Birth)" here:
Burning Bright Tonight was produced by Kevin McMahon (The Walkmen, The French Kicks) and is comprised of brooding, well-crafted pop songs with layers of textural melody. Meanwhile, the boyfriend-girlfriend-bestfriend trio has been busy on the road playing with the likes of Titus Andronicus, Bear Hands, The Beets, and Drink Up Buttercup since July.