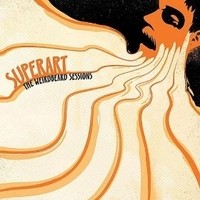 It's not everyday that you hear an album where one song is as good as the next.   It's also not everyday that you hear a band that has three lead singers & three songwriters along with each of them being multi-instrumentalists.   Actually, let's be honest; this is extremely rare in today's music world.   Superart is definitely breaking the mold with their new record The Weirdbeard Sessions.  
This band actually started as Weirdbeard that featured musicians Jerry Burrus and Ehren Gleckler.   The duo would later add Marc Gillig and Superart was born!   There is no looking back for this group as their defining sound will grab your attention without question.   What you will hear on this disc can best be described as "three-rock-bands-in-one".  
Sharing roles is what Superart is all about as Burrus handles vocals, guitar, drums & bass, Gillig takes care of vocals, piano, keyboards, guitar & bass and Gleckler supplies vocals, guitar, drums & bass.   Now we just have to get Jerry & Ehren to also play piano & keyboards and get Marc on a drum set–lol.   The amazing part for me is how each member has his own unique style, but they fit it all together perfectly.
Right from the get-go on the opening track "Broken Bones", I am hooked.   As the record rolls along, I'm simply lovin' the all-out rock feel.   You can sense that the trio knows exactly what they want and what they are going for.   Superart nail it on all levels as they prove to be very serious music artists.   The music here really speaks for itself as you will be amazed by the all-around group effort & camaraderie.   Besides the cool rock feel, I also picked up on some awesome guitar riffs, great vocal performances by all three men and key melodies.   The melodies really stand out as being a strong presence as it proves that rock is not the only core element here.   Superart is a melodic rock band with alternative influence and I am so impressed with this group and their new album.   Particularly on song 11, "A.D.", Superart is bringin' intensity & energy that can not be denied.   This was one of my favorite songs on the record but honestly there wasn't a single track I didn't like.   The Weirdbeard Sessions is the total package my friends as these three band-mates have literally created a work of art.  
I can't say enough good things about this Connecticut-based band, so why stop now!   Throughout the entire 12-track recording, you can tell that Jerry, Ehren and Marc were feelin' it from beginning to end.   They were definitely in a zone from start to finish; it is undeniable!   Superart comes with a sound that is hard not to like and catchy as hell.   Musically, lyrically, vocally, artistically and melodically, Superart is on fire baby!   Superart brings a refreshing and much needed change to the music scene.   We need to filter out the heavy mass of CRAP that saturates our so-called Popular music market/airwaves.   Hopefully this is a start of good things to come; thank you Superart!   Go buy Weirdbeard Sessions NOW; you will not regret it!  
By Jimmy Rae (jrae@skopemag.com)
[Rating: 5/5]