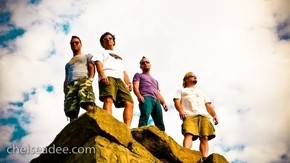 It happens in life that you meet someone and you just automatically know that you like that person. That happened with my special guest by the name of Chad Hollister. Chad is a fellow New Englander by way of Vermont but we never met before now. I got a copy of Chad's most recent CD and when you open it up you see an adorable picture of his children. Then you put the CD on and his music is not only catchy but it has a positive life message. I personally got goose bumps when I heard his song, "Change." Join us as Chad Hollister speaks on leaving his kids to tour, The Tea Party movement, his love for Vermont, and so much more!
Stoli: I loved opening up the CD and seeing the picture of your children. How has having wonderful children helped you grow as a man and musician?
Chad Hollister: Fatherhood has opened up a whole new world of appreciation and perspective. Riley (5) and Bodi(3) inspire me every day w/ something new that they say or do and the surprises never end. We laugh a lot as a family.
As a musician, they bring so many ideas and perspectives that would never cross my mind–I love that. I feel so lucky to do what I do and getting to be a Dad and husband at the same time is truly amazing.
 
Stoli: Where are we talking from today and are you ready for another Vermont winter?
Chad Hollister: I am talking to you from my home on Worcester, VT where I am watching the leaves change and the temperature drop as we ready for the storms to come soon.
Winter is just a part of our lives and I love the cold and the snow and the skiing , sledding and hot chocolate(ok and a little Bushmills whiskey) that goes w/ it. After a brutal january, I
am looking forward to the mellow temps of March that swing us into all kinds of mud–that I could do without.
 
Stoli: You are gearing up for a tour next month. How do you prepare your family that you will be on the road for a few weeks?
Chad Hollister: I try and get some quality w/ each of the kids and my wife too. It's important to have some adult time where we can chat and not worry about crying, whining or flying barbies or motorcycles across the room. Riley, my daughter tends to get very sad before tour whereas my son Bodi is pretty cool w/ it.
I remind them that Daddy is not gone for long (we keep tours to 2 weeks usually) and that they are always in my heart as I'm playing my music for many new friends.
 
Stoli: I love how you stress how important songwriting is. Where do you find inspiration to sit down and write music?
Chad Hollister: Inspiration is everywhere from the pool at the gym to these VT colors, to facing life in a POSITIVE manner, to great music (Bret Dennen to Spoon to Keller Williams to james Brown or Ella Fitzgerald..), to to being given the chance to live and breathe on Mother Earth, to smiling to laughing….I think you get the point. We are Lucky and truly blessed and need that self reminder every single day! A great song comes from the heart.
 
Stoli: I really love your song "Grow." I would like to take a guess and say that song is about your kids, am I right?
Chad Hollister: That's the beauty of songwriting is that there are always so many ways to interpret a song. "Grow" certainly reflects my children and the amazing metamorphosis of growing up. It was originally written for a movie called "Peter" which is a modern day version of Roald Dahl's "James and The Giant Peach" (one of my fav's growing up). There was this kid named Peter and he had a rough family life , moved in w/ his Aunt in the middle of nowhere. In this town, their big event in October was a pumpkin growing contest. Peter discovered that he could talk to his pumpkin and listen to it grow. The script is amazing and hopefully the movie will be made someday as the song awaits one sweet soundtrack.
 
Stoli: Is the song, "My Best Friends Girl" a true story and are you & him still friends?
Chad Hollister: This proves my choice of a great cover song. "My Best Friends Girl" was written by Ric Ocasek and The Cars and released in 1978. It was a hit then and hopefully we'll bring it back in an acoustic form. The musicians are truly brilliant from Cameron Stone on the cello to Dave Mattacks on the drums and Anthony Resta w/ myself on guitar and Paul Wolstencroft on piano—simple is better and I love this version of the tune as does Cars keyboardist Greg Hawkes. When he was asked to perform ukelele on it, he replied "it doesn't need a thing." To answer the question..we are still friends!
 
Stoli: I listen to your CD, 'Chad Hollister' and I hear 4 solid   singles. Does it bother you when you turn on mainstream radio and hear music that is baseless and manufactured?
Chad Hollister: Everybody finds their place somehow. I do feel there is a lot of mainstream music that isn't saying much but it's making someone dance or smile somewhere. I'm not one to judge, I find it's wasted energy. I concentrate on what I am doing and not what others are doing unless of course I can learn from them. I focus on the positive and hope it comes through in my music.
Stoli: If you were not doing music what could you see yourself doing?
Chad Hollister: I'd be a teacher of some form of the arts. maybe a painter…I'd just have to hit the woodshed a bit and study my wife, Katie O'Rourkes work!
Stoli: If nothing else, The Tea Party is letting Washington know that the Republican/Democratic system is not working for the people. Do you see this type of revolutionary behavior a good thing for the USA?
Chad Hollister: I sure do. We have been separated for way too long and it obviously doesn't work. Instead of fighting w/ 2 parties, we need to come together and work as one. As utopic as this sounds, it's true and I hope it will work that way someday. That's why I play music-never been that great at understanding policies or the political way.
 
Stoli: I believe that anyone who loves music needs to hear your new album. Where can they get a copy?
Chad Hollister: Thanks to cdbaby for making it so easy just go to: http://www.cdbaby.com/cd/chadhollister and get 3 today. They make great uplifting gifts!!
I also can't do an interview and not mention my team on this latest record. It was produced by Anthony J. Resta (Collective Soul,Shawn Mullins, Duran Duran) and,mixed by Karyadi Sutedja. They are a dream team and immediately got me and knew how to do this record. I think it shows in the product and they are my team and friends for life.
Stoli: What is it about Vermont that offers your band a creative space for you guys to create music?
Chad Hollister: I hear from many that I need to live in L.A. or NYC to "make it". well, it just aint true as we say in VT. The air, less cars, the mountains, the air, the people, the way of life, the speed of life, the air, the people….I think you get it. I love VT and am a true Vermonter teaching   Green ways, creating a garden in every school for 6 county schools through the release of this latest cd (the release was a benefit and raised $3000 last year and this years "Growing Local Fest" raised $5,000. Most of all, this is where we   want to raise our family and feel so lucky to call VT home. It is a creative mecca.
Stoli: What is coming up for The Chad Hollister Band and where can we follow you online?
Chad Hollister: The 2 sites I promote are: www.chadmusic.com & www.reverbnation.com/chadhollisterband
Tour dates are as follows:
10/10/10–Marblehead, MA– Smith Marine Oktoberfest
10/13/10–Delray Beach, FL–Pepes Blues Bar
10/14/10–West Palm Beach, FL–Clematis By Nite
10/15/10– Orlando FL– venue TBA
10/16/10–Tampa, FL–Yuengling Hospitality Center (2 shows)
10/18/10–Atlanta, GA–Smiths Olde Bar
10/19/10–Uncle Shag LIVE Radio Broadcast– SC
10/20/10–Charleston, SC–The Brick
10/21/10–Washington DC–Catholic University
10/22/10–New Paltz, NY–Bacchus
11/12/10–Flagstaff, AZ–The Green Room
11/13/10–Scottsdale, AZ–The Upper Deck
11/14/10–Phoenix, AZ–Pearce Warehouse–w/ Night ranger, Skid Row and Firehouse
11/16/10–San Diego, CA–Winstons
11/17/10–Los Angeles, CA–Molly Malones
11/20/10–Hollister, CA–The Vault
11/21/10–San Francisco, CA– TBA