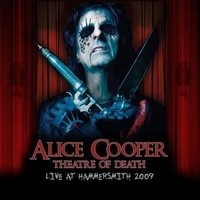 The ageless master of rock and roll shock and awe has come up with yet another macabre live performance video, just in time for Halloween viewing.   With a career spanning some 40 years while combining magic and theatre with rock, this seventh full video (three went gold) includes a CD for added listening pleasure.   Just nominated for Rock Hall induction, Alice has seven platinum albums, nine gold albums, and two gold singles to his credit to date. This release was recorded at London's Hammersmith Apollo during the 2009 Theatre Of Death Tour.  
This release features all of the hits (26 tracks) like School's Out, 18, Poison, Under My Wheels, Welcome To My Nightmare, Be My Lover, and the ballads Only Women Bleed, and I Never Cry.   The DVD starts and ends with the teen Anthem, School's Out, and the last version is complete with giant water balloons.   One of the impressive things about Alice is that over the years his live band has progressed into a metal machine, featuring great guitar riffs and solid drumming.   This live lineup features veteran axemen Damon Johnson and Kerri Kelly sharing the guitar duties, with Chuck Garric on bass, and Jimmy DeGrasso on drums.   The guitar solos are enhanced by a collage of Les Paul's, Strats, Firebirds, and SG's.  
The DVD is loaded with all of the hit props and numerous costume changes, cane and top hat, guillotine, noose and gantry, dolls, dummies, scantily clad nurse (using a grinder on a metal belt buckle thing) and giant hypo, box of spikes, straitjacket, wheelchair, a crutch made of bones, prop money, prop Jack Daniels (he replaced drinking with golf years ago), to name most.  
The noose job was done during the performance of the ballads, and Billion Dollar Babies had Alice flinging a sword full of stage money into the audience.   Welcome To My Nightmare features a lightning and thunder intro accompanied by the prerequisite ghoulish dancers.   Poison includes his injection by nurse scary/hottie with a giant hypo, and he gets the double whammy of the straitjacket and guillotine treatment during Ballad Of Dwight Fry.  
All said, it's a fun filled stage full of entertainment, and the hits to go along with it.   The crowd naturally knows the words and sings along.   I've seen him since the beginning, and he still has the act down, further enhanced by a hot band and current lighting, sound, and effect technology.   Alice is currently teamed up with Rob Zombie for what they are calling the "Halloween Hootenanny Tour".   This should solve your problem of filling the yearly Halloween gift-giving crisis!  
By RME
[Rating: 4/5]