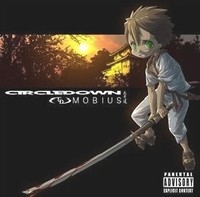 CircleDown's new project is a 4-track teaser leading up to the much anticipated release of their first full-length album Mobius.   CircleDown is made up of: founders Drew "Diode" Madore on vocals, DJ & synth and Kevin "Cansh" Cansian on bass.   Rounding out the bunch is Eric "Reebus" Wisely on drums and Dean Romanelli on guitars.   All band members mesh together extremely well and when they're not playing as CircleDown, they are working at their music publishing company called SoundGraffiti Publishing LLC.  
The group hails from Atlantic City but don't be mistaken here because there is no luck involved as the music speaks for itself.   You can roll the dice on CircleDown, but you are guaranteed to be a winner every time!   You can't lose; even the House can't stop them!   I say this because when I listened to these four songs I heard a style that was very catchy.   This band and their distinct sound could definitely catch on in a BIG way.   I can easily see these guys on the music charts right now because their songs have that certain something.  
What makes CircleDown stand out in a crowd is the fact that they successfully blend together many different genres of music.   From a vocal standpoint, Madore is all over the map with pop, rock, metal, alternative & rap influences all coming out at once.   What I'd like to call Drew's delivery to go along with CircleDown's performance is a wicked mix of all-out freshness.   You're getting the best of ALL worlds here as CircleDown do not disappoint.  
There is energy galore here without question but I'm also left hanging by the end of the EP.   With only four tracks here, I need to hear more from these Jersey Boys before I am completely convinced that CircleDown is the real deal.   In the words of Busta Rhymes "Gimme Some More", so that I can then make my final decision.   I do see HUGE potential for this group and can't wait to hear the full-length album coming out on 02/08/2011.   That is when I will hopefully know just what CircleDown are ALL about.   So…until we meet again!
By Jimmy Rae (jrae@skopemag.com)
[Rating: 3.5/5]