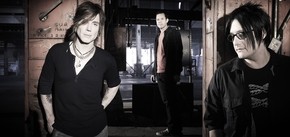 Elvis once said: "The music industry changes every six months." With that premise in mind you look out over the scope of the music industry and the list of bands that have come and gone is endless. It seems the market mantra is to come, do something significant (or widely popular) and then fade into obscurity.
And then conversely, you have the Goo Goo Dolls. Instead they came and did many significant, widely popular things. The difference in their mantra is, they have no plans on going anywhere.
It was 1987 that saw the release of their self-titled debut and some 24-years later are now celebrating the release of their ninth studio album Something for the Rest of Us. I caught up with Robbie Takac and asked him about an almost quarter century in the most fickle of businesses, the "next chapter" in the storied life of the Dolls and staying true to form.
"When you get to a point where you say: 'OK, now is the time to make that monumental record, you wind up going in a direction that you may not have gone in to begin with," Takac said. "You run the risk of straying from the direction that you started out. I guess the answer is you go out every time and try to make that monumental statement. It's always time to make your best record."
And the Dolls know a thing or two about doing something monumental. The vastly successful sales and receptions of A Boy Named Goo, Dizzy Up the Girl and Gutterflower produced ubiquitous tracks the likes of "Iris", "Black Balloon" and "Slide" all of which would surely be included on a soundtrack of the turn of the century. But even with the commercial success they have achieved, the Dolls aren't done penning potential songs for the soundtracks of years to come. When I asked Takac why they were ready to get back into the studio this time around, the answer was simple…
"It was time," he said. "We had just finished our tour and this is what we do. We've been doing this longer than we haven't so we were just like 'OK, where's the next bunch of songs? How do we get rolling again?' I think every time we start thinking we need time off or time to ourselves, we take that time and a few days go by and you start thinking 'What am I going to do now?'"
"So after a few nervous breakdowns and a few days at home screaming, you wake up with a record," he continued. "Nervous breakdowns, a few producers with nervous tics and screaming, that's our recipe for a record."
Expounding on the producer comment, the Dolls went through a typical theme for their albums; that being producer. Having worked with a myriad of industry hit makers, the Dolls went yet another direction over the course of recording Something. Initial intentions were to revisit with "Midas Touch" producer Rob Cavallo. Due to timing conflicts with Cavallo, they instead teamed with Tim Palmer (Ozzy Osbourne, Robert Plant). "When we brought Tim in, we brought him in as more of an equal, more of like the guy who was going to pull us through this record," said Takac. "So we worked on the record for two weeks in Buffalo and finished it. Simultaneously, the record label told us that the album wouldn't be released for a few months so, we reopened the files and we were back working on the record again. We've never had the chance to go back and work on a record… to fix all the things you wind up complaining about wishing you would have. We turned the album back in and the label was blown away. It's been a cool, very different experience for us."
The extra time dedicated to the album is apparent from the first listen. During the interim, Johnny wrote the track "Home" which would not only be added to the final line up but would serve as the album's first single. "Home" opens to ubiquitous Goo riff work with backing keys. Even approaching the quarter-century mark, Rzeznik's vocals show no wear and tear, remaining as intact as on any prior outings. The track is full of emotive lyrics in the verses with the power remaining in the chorus; it is a love song at heart and on its sleeve. "Still Your Song" continues the love song ethos of the album with piano intro that yields to heavy electric guitar. There is more emotive lyrical matter bolstered by backing keys and time changes that push the song along both demurely and with urgency. The track is testament that for a three-piece outfit, the Dolls make a lot of music. "Sweetest Lie" is catchy Goo Goo pop, led by jangle electric guitar with a strong rhythm section foundation; the track is more radio-friendly goodness that fans have come to expect from the band.
With their track record of accomplishments and accolades, the Goo Goo Dolls have remained true to their calling, kept their blue collar, Buffalo work ethic intact and seem to still be sitting on bottled staying power in an industry that rarely grants it. And even approaching a benchmark year in their storied career, Takac and company say there is still plenty of gas in the tank. "As soon as one of us dies we'll say: 'Oh my God, it finally killed one of us.' I guess we'll take a look at it then," he said.  
www.googoodolls.com
 
Written By: Chris West
Photo By: Kurt Iswarienko