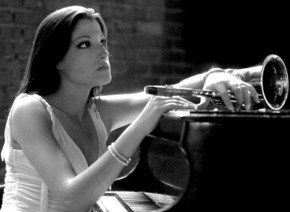 Prepare yourself as Chelsea Baratz brings to you her invigorating style of Soul Jazz.   This young virtuoso is partial to her trusty sax, but she also sings & produces, plays drums, clarinet, piano and flute.   This multi-talented & multi-dimensional musician doesn't just give you the same old jazz; Chelsea throws in elements of hip-hop, R&B, gospel, contemporary jazz, blues and be-bop swing.   It's nothing but good, old-fashioned Soul Jazz with a fresh twist baby and Chelsea Baratz delivers big time!   I recently had a chance to get to know Chelsea better and I hope that you enjoy the interview.  
Jimmy Rae: So dyin' to know, what's the difference between the jazz scene in Pittsburgh versus say New York, Chicago or New Orleans?
 
Chelsea Baratz: It's just smaller, there are less musicians and less venues, and Pittsburgh night life shuts down earlier than those other cities, but the musicianship is world-class, and there is a lot of passion for the music, both from the musicians and the audience.   The scene is really tight-knit and supportive; in my mind, that's one of the biggest differences, you never feel the kind of competition among players you find in bigger cities, and this makes Pittsburgh a great place to grow up and start out playing.   Pittsburgh has a really rich jazz history and Pittsburgh musicians take a lot of pride in being a part of that legacy.  
 
Jimmy Rae:   How long have you been playing the saxophone and singing?   When you did you initially get the urge to get heavily involved with music in general?
 
Chelsea Baratz: I've been playing the saxophone for 14 years.   I still remember being in third grade and the high school jazz band came to our school to perform.   That was the day I realized what I wanted to do; I wanted to be up there on a stage, doing that.   I picked up saxophone in 6th grade after playing clarinet for a couple years (which I really disliked; it was a gender thing, no girls played saxophone).   Once I started playing the saxophone, that was it for me.   I was in every instrumental music ensemble my school schedule could afford from grades 6-12.   I went to my first jam session when I was 14; it was at the Crawford Grill in Pittsburgh, and it was with Roger Humphries, Dwayne Dolphin, and Sean Jones.   I still remember that moment being on stage playing "Mercy Mercy Mercy" with these amazing musicians, and having the stage lights shining brightly in my eyes, then closing them and feeling intoxicated by the energy and thinking to myself, "This is what I'm going to do for the rest of my life."
 
Jimmy Rae: What inspired you to record your debut album?   And I must say that the new album is extremely well-done with a polished & professional touch to it.   This definitely does not sound like a rookie record by no means!
 
Chelsea Baratz: I appreciate it, Maurice Brown did an amazing job producing the album.   They don't call him "Mobetta" for nothing.   It takes so much time and energy and money to make an album, and when you release an album, it represents you for the rest of your life, so I wanted to make sure it was something I could always be proud of.
I went through some health issues when I was 18 years old & living in Pittsburgh, I had a few major surgeries and spent a long period of time bed-ridden, unable to play my horn.   I had never been unable to play my horn before, and dealing with all that pain made me realize that music was much more powerful than I had ever realized because it took me outside myself; it allowed me to transcend my pain and suffering, and express it at the same time.   It was something I needed to have in my life and something I needed to do.   Music literally became my reason to live.   Spending so much time not having control over my own life and my health gave me the impetus to take my life & my career into my own hands; once I was well, I made plans to move to New York and to record this album.   I didn't know how I was going to make it to New York and record an album, but I had faith in my self and what I was doing, as did others.   That's what inspired the title for my album; in faith, all things are possible.
 
I met Maurice Brown as soon as I moved to New York, and he offered to produce the album.   I happily accepted his offer; we started working on "In Faith" in 2006, and though I had written, arranged and performed all the music before, I had never been in a recording studio before.   I knew what I wanted to say through the music and what I wanted the music to sound like.   Maurice brought the vision to fruition- cover to cover, start to finish.   Working with Maurice has been one of the most valuable learning experiences of my entire career.  
 
Jimmy Rae: Besides Maurice Brown (Producer & Trumpet player on your new album In Faith), I saw you've had the opportunity to already work with some top-notch musicians such as: Bradford Marsalis, Aretha Franklin, Cory Wilkes (trumpet player on In Faith) and the Roots just to name a few.   At just 24 years old, how does it feel to have a chance to be able to play with some of these great acts?   Also, how does it feel to be an accomplished musician in your own right and still so young?
 
Chelsea Baratz: It's been really inspiring working with so many great performers, and I've learned a lot through these opportunities.   It's just really pushed me to keep moving forward and making progress with my own playing, my music and cultivating my own live show.   Honestly, when you're surrounded by so many artists at that level, it's hard to step back and look at how far you've come and how good you are now.   It just keeps you looking & moving forward, reinforces your current goals and inspires new ones.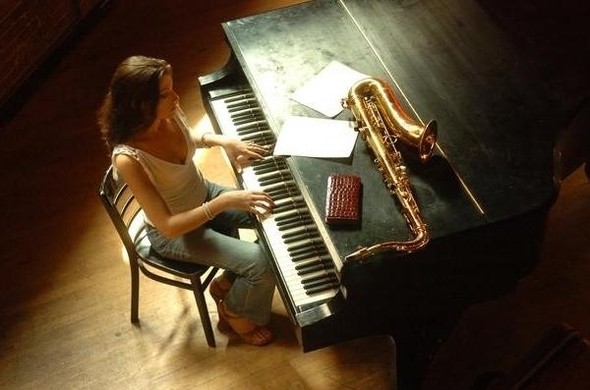 Jimmy Rae: I can tell that soul jazz is at the core of everything on In Faith, but I also picked up on a variety of other styles/influences such as: R&B, hip-hop, contemporary jazz, gospel, blues and be-bop swing.   I really love the fresh mix here; was this the intent all along?
 
Chelsea Baratz:   It definitely was.   I love all these styles of music, and I think they all have a hand in what makes Soul Jazz what it is.   I grew up playing jazz music from a young age, I learned how to play the saxophone and how to play music through the jazz idiom, but both my playing and my music are informed by listening to and playing all these different styles, and I think that's what gives my sound its unique character.   Music is deeper than a 4-letter word that describes a style, it's about making people feel something, and if you limit your scope based on genre, you're going to miss out.  
 
Jimmy Rae: As a former alto sax player myself, I have so much respect for the instrument.   I also feel that the saxophone is one of the most influential instruments in music history.   Do you agree with this statement?   Tell us why the sax is and has been so important to you personally?
 
Chelsea Baratz: It's such a vocal, expressive instrument.   I just love the sound, the power, and the finesse of the instrument.   I also play drums, some keys, flute, clarinet and produce music; at the end of the day, I think a musician picks their main instrument based on the connection they have with it.   Any instrument is just an inanimate object, and anyone can pick up any instrument and sound AWFUL on it.   But in the right hands, it's a vehicle of expression; it's transforms you into a vessel, to express what words cannot, to know yourself on another level, to bring people together and to heal.   I can't really explain my connection with the saxophone, I just know if you take it away from me, it's something I'll long for.
 
Jimmy Rae:   I truly love you quote where you said: "Art mirrors life, and music expresses what words can not. It's vital for people to know that I'm here to bring the soul and feel-good back to jazz music and bridge the gap between artist and listener."   Can you dive more into this for all the SKOPE readers out there because it definitely deserves a second look?
 
Chelsea Baratz: I feel that jazz carries a stigma with it for the average listener, that it's a overly cerebral or boring or out-dated music, and that it has nothing in common with the music they are used to listening to & enjoy (like hip hop, pop, etc).   This is so untrue; jazz is a continually evolving art form, it's not based on industry trends or money, it's a true art form, and there are a LOT of young people involved in it.   Popular music is popular for a reason; it's the clichés that people can relate to, that bring everyone together.   Since jazz has been institutionalized (meaning anyone who owns an instrument these days can get a college degree in Jazz Performance) you see a lot of students who focus on being different, to the point of obscurity.   Playing jazz is about improvising, composing, playing an instrument at a high level, and knowing history & repertoire- we spend our lives practicing and working to understand all this so that we can be a part of where the music is going, but when I first connected to the music, I knew nothing of the history or theory, I just felt the energy.   I listen to as much Talib Kweli, The Roots, Lauren Hill, Eryka Badu, Jay Z, Tribe Called Quest, John Legend, Ceelo, etc. as I do John Coltrane, Charlie Parker, Sonny Rollins, Miles Davis, Ahmad Jamal, etc., because of how the music makes me feel and how I can relate to it.   So if I am listening to and feeling the same things that my audience is, and we're all living in the same day and age, then you can bet that the music I play is something that can be grabbed onto, universally; not because of what it is, but what it's ABOUT.   People just have to want that.   Jazz is a real live connection, not through a computer or a phone or a TV, and it's real live music, not though a machine.   You can feel it, you can be intoxicated & elated by it, you can relate to it, and you can feel connected through it.   That's what Soul Jazz is all about; it's a movement.   We want our generation of listeners to embrace this music as their own.
 
Jimmy Rae:   What's one thing about you that would surprise the SKOPE universe?–feel free to be creative here.
 
Chelsea Baratz:   Believe it or not, before I was serious about being a professional musician, I was an avid equestrian, and my goal was to make it to the Olympics.   I always had a passion for horses since I was 3 years old, and I rode competitively through age 16.   Horses are big, beautiful, soulful animals, and they are powerful; you have to trust them, and they trust you.   There's nothing like it.   I still enjoy horseback riding once or twice a year; I really love it because of the discipline, the fact that it's all about timing, and it's a very rhythmic activity- a lot like music.   A horse's trot is SWINGIN'!
 
Jimmy Rae:   Do you compose all of your songs and if so how does that process work for you?
 
Chelsea Baratz: I do compose all of my own music, and I also arrange and produce. There's no exact science to it.   I've got a bunch of manuscript books filled with music that I've written, but the pieces that turn out the best just come through me, and have a story attached to them.   When I'm cultivating an idea into a finished song, I go through different stages.   I usually jot down a basic idea, then record it in my studio, playing keys, bass, and drums, then recording the main melody and/or arrangements on saxophone.   Through this, I can really get away from the pen and paper, and focus on the vibe of the music and the group sound, and then I can take it to my band and we can develop it from there.   Sometimes it's hard to give direction when you try to tell a really great musician how to play something, because written music is so open to interpretation (as are words).   So through this process I can easily communicate what I'm hearing, and then the musicians can take it from there.   This is why it is so important to me to play all these different instruments.
 
Jimmy Rae: Besides music, what are some of your other hobbies/interests?  
 
Chelsea Baratz:   I like working out, riding my bike, and doing things outside in the sun, and I LOVE to cook and eat good food.   If I could never play music again, I think I'd want to be a chef…
 
Jimmy Rae: If I was reviewing this album, I would refer to this recording as soothingly smooth jazz music for your soul.   Would you agree and feel free to delve more into this?
 
Chelsea Baratz:   I appreciate the positive review, and to a certain extent, I would agree with this, on the grounds that so many people (both musicians and music fans alike) have told me that they love the album, they listen to it from start to finish, they keep it on a regular play list or leave it in the car and listen to it on a regular basis, they study to it, they relax to it… it's not the kind of album that you listen to once or twice.  
However, I personally have a big problem with the word "smooth" in reference to my music because of how the genre is viewed in the industry & by audiences; smooth jazz has a stigma of it's own, particularly with the saxophone (think Kenny G), and it's been challenging to separate myself from & navigate around that smooth jazz label, especially because the only female saxophonists that the average person can identify are Candy Dulfer and Mindi Abair (two prominent smooth jazz artists).   I never listened to smooth jazz, I don't particularly care for smooth jazz, and I don't play smooth jazz.   Smooth jazz has nothing to do with jazz.   When it comes to smooth jazz, you either love it or you hate it.   I know people who love smooth jazz who love my album, and I know people who love straight-ahead jazz love my album.   It's Soul Jazz.
 
Jimmy Rae: So…what's on the horizon for Chelsea Baratz?   Where and when can we expect to see you next?
 
Chelsea Baratz:   I'm working towards my next album right now, cultivating the new music with my band, and performing with my quartet and my trio as much as possible.   I'm also performing with trumpeter Maurice Brown and pianist Orrin Evans & his big band, the Captain Black Big Band.   For updates on performances and to check out pictures & videos from gigs, I encourage readers to friend me on facebook- http://www.facebook.com/chelseabaratz and to check out my youtube channel- http://www.youtube.com/chelseabaratz .
 
For additional info on this talented artist, SKOPE out www.chelseabaratz.com and www.myspace.com/chelseabaratz.   You can also purchase the new CD In Faith on iTunes and CD Baby at: http://www.cdbaby.com/cd/chelseabaratz & http://www.apple.com/itunes/affiliates/download/.   Get Ready as Chelsea Baratz brings Soul Jazz music to life!
By Jimmy Rae (jrae@skopemag.com)