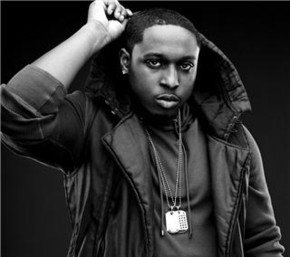 When people say the name 'Bertell'in the dirty dirty South and beyond, the first thing they say is that he's "one of the hardest working young artists in the industry".
That fact does ring true for 24-year-old Bertell Young, a Houston-bred young gent who has had to climb a few mountains in order to be where he is today — working with super producer Bryan-Michael Cox and a slew of hot artists including Trey Songz, Dem Franchise Boyz and Lil'Flip.
At one point, Bertell was homeless, noting that he was just a "young man sleeping in my truck".
"It wasn't me homeless under a bridge, it was me putting myself in a situation for being a man," Bertell explains. "I just wanted to live free, free of stress, not always looking over your shoulder or your back. Just 'cause your living life, doesn't mean you're living."
 
Originally, Bertell had big dreams of playing in the NBA, while attending Howard College in West Texas. He left school at age 19, noting that he "didn't want to deal with the politics of college basketball".
 
"Music is different, because I came up in the streets…it was the politics of the streets," he said of his draw to the music business. "I had to sit down and be real with myself and I convinced myself that I'd really able to do it. It wasn't an overnight decision."
 
The hustle continued on for Bertell (who is a self-taught piano player, writer and singer by the way), as while he was out meeting new people and making connections, he met Bryan-Michael Cox. Meeting Cox led Bertell to sign with Capitol Records, and the rest is history.
 
"I'm CEO of my own label, Upscale Music Group," says Bertell. "I have fans in Germany, the U.K., Dubai and other countries across the globe."
 
With his growing fame, Bertell has also done a lot of self-promotion via touring, with artists such as Scarface and Bobby Valentino.
 
Bertell's debut, "Goin Hard" has quite a bit of Bertell's personal life in it, as he wrote a majority of the album — 80% to be exact. Several standout tracks include "Beat It Up", "She Bad" featuring Bun B of UGK, and "Open", which is about "a woman trying to control a man with sex". Bertell also worked with Trey Songz on his "Bottoms Up" remix featuring Nicki Minaj.
 
"I'm just someone who's hungry, self-inspired, self-motivated," Bertell says.
For more information on Bertell, check out: www.bertellonline.com or www.twitter.com/bertellonline.
Author: Erika Y. Gradecki – egradecki@hotmail.com