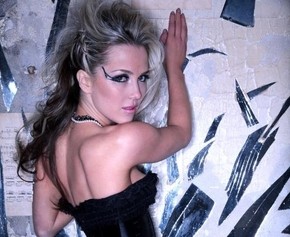 Does it get any better than a three day Labor Day weekend, minus Hurricane Earl? When we first spoke with Nadia Kay she was totally confident and focused. She was prepping her new album 'Reloaded' and getting ready to film her video "Captain Skylove." She was a woman on a mission. Well fast forward six months and the album is out and people are getting hip to Nadia Kay and her high energy, contagious sound & look. Stoli just could not miss this opportunity and neither should Skope readers.  
Stoli: So where are we talking from and are you going out tonight?
Nadia Kay: I'm in my favorite place right now – in my home studio, working on music, sipping White Chocolate Mocha Frappuccino and getting inspired… Once I get my blood sugar up – I'm gonna go take a dance class and work on my choreography… Have a few shows coming up – so I have to stay in shape. And then… dig deep into my closet to pick out a cute outfit, have a new pair of shoes that I can't wait to wear – and I'm off to have some fun tonight!
Stoli: At what point did you get up and decide it was time to write & record the new album, 'Reloaded?'
Nadia Kay: Well, I'm kind of restless ny nature. I write songs in my sleep, get up in the middle of the night to quickly record the hook that I just dreamed of, wake everybody up lol… I'm unstoppable!!! I always knew that the second album will come right after the first one, so I got to work as soon as I got a chance. It has been a very busy year for me: writing, recording, touring and promoting both albums – but I had so much fun!!!
Stoli: How have you evolved as a musician on the second album from "Music, Sex 'N' Marshmallows?"
Nadia Kay: I feel like I learn something new every day! Changes are good, changes are fun! I like to experiment with different sounds and for my second album, I wanted to go lighter, girl-ier and focus more on the energy and the message in the music. I currently work with four amazing dancers and I find that movement really helps in expressing my creative ambition. My current vision is a high-energy pop-dance-story told with powerful beats, sexy lyrics and flawless choreography.
Stoli: I know how music & sex are connected. But what's up with the marshmallows?
Nadia Kay: Lol I get this question a lot! I got a really big sweet tooth and marshmallows are both yummy and sexy so they kind of complete the romantic package. And it sounds good unless you like "Music Sex 'n' Grapes" better…
Stoli: You have kept yourself in great shape which is evident from your press shots. What is your healthy lifestyle entail?
Nadia Kay: I live on chocolate – and dance a lot – that works for me!
[youtube 9tURFLRF9Gw nolink]
Stoli: Being the daughter of a well – known Jazz composer, what does dad think of your music?
Nadia Kay: Well, let's just say that he is developing a taste for it. He sees that I work hard at it and write all of my songs – so he respects that – but his true love is Jazz.
Stoli: Who did you decide to work with on 'Reloaded' and where did you record?
Nadia Kay: It's a trade secret lol I have been working with the same team of people for a while now – and it's magical! I would walk into the studio with an idea and walk out with a hit song.
Stoli: How has going to college and getting a marketing degree, helped you with your music career?
Nadia Kay: It hasn't but I have a beautiful glossy-looking diploma that I can frame and hang on my wall.
Stoli: Your music makes me want to dance. What spots in NYC do you love to go out and dance and perform live?
Nadia Kay: I love Crash Mansion – it has a nice scene and you can listen to really good music and meet interesting people. I don't really go to clubs that much, but once in a while I enjoy dancing on the table in the v.i.p.
Stoli: I love your single, "Tell Me." Did a certain love interest inspire you to write that song?
Nadia Kay: That's a very deep and dark song. It's actually the first I ever wrote. I was 17. Sometimes your feelings are not answered and no matter how hard you try – it will never be. But you don't want to stop because your heart is out of control. It takes me back every time I listen to it.
Stoli: Do you feel that woman musicians need sex appeal just as much as good vocals to make it in the biz and is that fair?
Nadia Kay: Well, since Justin brought "sexy back" – there is no way without it, now is it ?!? A little "sexy" sells the record but if there is nothing else to it – it becomes boring and shallow. So I think that a healthy combination of both is a key to success. Look at Lady Gaga!
Stoli: What global issue or charity is a concern to you and why?
Nadia Kay: I recently did a show for K5 Nola Charity that raises money to build homes in New Orleans and I'm really looking forward to getting even more involved in charity work because there are a lot of issues in our world and a lot of people need help. And if doing what I love helps – I'm in!
Stoli: What is something about Nadia Kay that most Skope readers could relate to?
Nadia Kay: I'm still working hard to master the skill of being positive and focusing on my dreams   – IMAGINE IT & IT WILL BE!!!
Stoli: What is coming up for you & where can we follow you online?
Nadia Kay: My website www.nadiakay.com has all the info about my tour dates, current and upcoming releases as well as a new photos, music videos and interviews so please check in frequently! XOXO