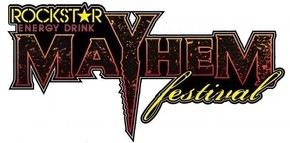 On July 21, 2010, my brother and I had the opportunity to attend a kick-ass show in Cincinnati, Ohio at the RiverBend Music Center.   The event was the 2010 Metal Mayhem Festival sponsored by RockStar Energy Drink, so lots of excitement in the summer air!   With a great line-up that included: Korn, Rob Zombie, Lamb of God, Five Finger Death Punch, Atreyu, Norma Jean, In This Moment, 3 Inches of Blood, Hatebreed, Chimaira, Shadows Fall and Winds of Plague, we were off to the races!
The trip for Jonathan and I started in Bloomington, Indiana where we both live currently.   The car ride was a couple of hours, but we had plenty of good jams like the best of Korn and Rob Zombie to help keep us entertained.   Those two bands were the main reason why we wanted to go and review the concert in the first place.   Don't get me wrong; we were extremely pumped to witness all the metal acts that day, but Korn and Rob Zombie were at the top of the list.   One group in particular, Lamb of God, I actually had the opportunity to see already when they were on tour with Metallica.   I happen to review that show as well for Skope, which took place last year at Conseco Fieldhouse in Indianapolis, Indiana and Jonathan Rae was also at that event.  
We were back to experience some large doses of heavy music except this time there would be 12 metal bands live!   It's safe to say that we were both very excited and thrilled to witness this event they called Metal Mayhem.   Lamb of God along with all of the other hard-hittin' metal bands all did a hell of a job on Wednesday, July 21 as you will see later on.    
We arrived at RiverBend Music Center around 2 or so and free parking I might add!   There was already a band playing when we were walking into the venue, so we hurried along.   My guest and I actually had a lot of trouble early on because we were directed to several locations just to try and find our media passes.   We finally found the right spot with two tickets in my name but one being a photo pass, which I did not request.   I let it slide because we finally had access into the festival and I didn't want to miss any more of the action inside.   Upon entering through the gates, neither one of us were patted down or anything; we were simply told to take everything out of our pockets and that was that.   That's some trust/honor system Riverbend has considering the hordes of people that attend their site; safety first I guess!   (lol)   Well…low and behold, Jonathan and I would in fact miss some more of the show because I was originally told to go to a media tent.   The only problem was not one staff member knew exactly where this so-called "media tent" was and they kept directing us to different spots.   We walked around and around and around so many times looking for this damn tent that noone apparently knew about.   Naturally, my on-site media contact was no where in sight and when I tried to call her she was, of course, unreachable as well.   And mind you, the show was rolling along where we could hear the bands ferociously playing in the background but we were not seeing any of it happen before us.   Becoming extremely frustrated and disappointed by this time, we both decided to just chill out for a sec.   Jonathan got some killer chili cheese dogs and we split a Coke as we just sat down in a state of confusion.   We figured out that the four main acts would be playing later on out on the main stage where we would watch from the Lawn.   The bands playing prior to this were all in the PNC Pavilion, which was a separate stage inside the park.   We both figured that we would have to wait until the main part of the show because the ticket said Lawn.   My guest and I didn't think we had access to enter the Pavilion based on our tickets and I was surely done asking people.   I happen to start talking to this random guy sitting next to us and he actually informed us that we could freely walk in and out of the Pavilion and that it was all included in the ticket price.   WOW!!!!! And to think, it took a fellow concert-goer to help me out in the end and not the supposed staff members who get paid to help, assist and inform—hmmmm.   THANK YOU!!!!   As soon as we heard the news, we jetted inside to finally see an actual concert!   No more tent searching, no more roaming around aimlessly and no more dealings with certain individuals that had no idea what was going on.   The wait was finally over as we were now in baby and there was no looking back!  
Metal Mayhem in Cincy Part II
What amazed me the most was how each group played & performed with such force & intensity. The energy that each and every band displayed on stage was just crazy & out of control.   This amped up and very loud & BIG sound was definitely feeding into the large audience.   I was really getting into the music as I felt the band members and fans were completely in sync & in a zone.   This whole experience was truly great to hear and watch.   As far as the bands go, I picked up on the insanely long hair that belonged to lead singer Brian Fair of Shadows Fall.   When he swung his head around, it literally looked like long ropes that you could grab onto.   I also noticed they covered a classic song you may have heard of "Bark At the Moon" by Ozzy Osbourne.   Shadows Fall, as an overall band, really got my attention as they played at a feverish pace.   Another band that came up I wasn't familiar with at all was In This Moment.   What stuck out to me there was how the lead singer Maria Brink let out some mind-blowing shrieks & screams that could shatter glass.   She may have been wearing a girly/cutesy outfit, but she owned the stage that day and proved that she could battle with the big boys.   Maria Brink and In This Moment get my respect without question. Rolling along, Chimaira was another band that stood out to me due to their fierce playing. This group literally killed their set and Chimaira impressed the hell out of me; no question about it!   Atreyu was a band that I have heard of going into this event, but never really listened to any of their material.   I'm here to tell you after witnessing Atreyu that this band is a true force.   Lead singer Alex Varkatzas was bouncin' all over the place and the other members were shredding away.   Atreyu served up some metal goodness to the Cincinnati audience and we were all eating it up.   I do know that they performed the song "Becoming The Bull" and one surprising cover of Bon Jovi's "You Give Love A Bad Name".   One last group representing the opening acts really took me by surprise as I found myself heavily involved now.   Hatebreed, in my opinion, stole the show amongst the openers because they just let loose and unleashed their aggressive style of music onto the crowd.   Lead singer Jamey Jasta made sure that everyone inside the Pavilion was up on their feet and he was not going to accept any less.   I kid you not; the entire place just went into a complete frenzy from the first note to the end.   People were yelling out loud to the songs with fists in the air, non-stop clapping & whistling and the horns were up high all to the sounds of Hatebreed.   Crowd participation here was at an all time high and you could literally feel the intensity being built up as their set rolled on.   I have to say that Hatebreed's insane performance proved to win over the big crowd of metal heads.   They came, they played and they conquered!   I did notice some crowd surfing and light moshing going on toward the front of the stage but nothing like I expected.   Worth mentioning that there was a bizarre yet entertaining intermission between sets of little people doing a Michael Jackson medley.   I was thinking to myself 'just what the hell's goin' on here!'.   These little people were back for more later on during the main set where they actually did a hip-hop mix of the "Oompa-Loompa" number from Willy Wonka and The Chocolate Factory–no joke!!   They really sold it with the singing, dance moves and even some rad outfits–what a trip!   This wacky & entertaining display shocked the hell out of me and it's an image I'll never forget probably. This was some sight to see and pretty damn funny I must say; really no words can describe it.   And to think, there was even a small man or woman (up for debate) right in front of us that reminded me of the guy from the "Pretty Fly for A White Guy" video by The Offspring.   Let's just say that Joe C of Kid Rock (R.I.P.) would not be proud AT ALL at this pathetic sight–nuff said.   This day was just getting better and better by the minute!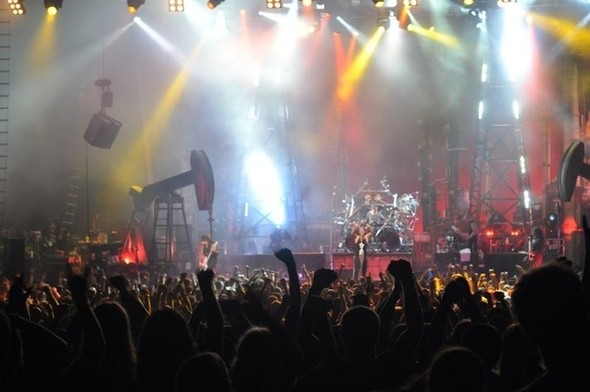 Now…the moment we were all waiting for was nearly upon us with Korn and Rob Zombie as the headliners.   Before the second half started, I thought I would grab myself a cold draft–why the hell not (And I was never carded I might add)!   We let the rain settle down as we were all set now to head out to the Lawn for the grand finale.   The rain fizzled out and the clouds pushed away to make room for a nice clear sky.   The stage was now set for a perfect night of in-your-face metal madness!  
Metal Mayhem in Cincy Part III
The first act to hit the stage was Five Finger Death Punch who tore through their set in aggressive fashion. The name fits them because the music definitely hits you and hits hard.   The Five Finger assassins did a great cover of "Bad Company" in which I have to say I was pleasantly surprised.   Next was Richmond, Virginia's own Lamb Of God who play with such a fierce intensity.   This band never let up on the gas once as they soared through their set.   Lead Singer Randy Blythe really wanted to get the entire crowd revved up as the F-bomb was flyin' out of his mouth left & right.   The whole place was rockin' along to Lamb of God because the band's energy was just nuts.   Heading out next was none other than Rob Zombie and what a show he put on!   I could tell right away that it was not just about the music but also about complete showmanship for Rob Zombie & company.   That's why it's fitting that he would cover Alice Cooper's "School's Out" because he definitely takes after the highly influential & charismatic artist.   Alice is and was all about putting on a complete, full-fledged and all-out show to go along with the great music.   Rob Zombie follows suite as he brought to a life a full horror production complete with all the creepy & monster-like props, fire, skeletons and martian robots that engulfed the stage.   It's almost like Zombie tried to recreate his videos live giving the Ohio audience their money's worth and then some.   I was literally blown away by Rob Zombie's stage presence and stage show and I am now an even bigger fan of the Zombie man.   Now…to the songs!   Zombie covered some classic songs from his solo career as well as two songs from his White Zombie days: "More Human Than Human" and "Thunder Kiss '65".   "More Human Than Human" is hands down my favorite song by White Zombie and I was ecstatic when I heard this!   I was feelin' it for sure by singin', clappin', yellin' out with fists/hands in the air and lovin' every second of that awesome, awesome song!   "Thunder Kiss '65" is a kick-ass song too and sounded really good live.   Then I heard some other classics from his Hellbilly Deluxe album like: "Dragula", "Living Dead Girl" and "Super Beast", which were done extremely well.   "Dragula" is one of my favorites also and they really played this one up to a T!   I even heard two brand new songs–"Sick Bubblegum" and "Mars Needs Women"– off the new album titled Hellbilly Deluxe 2.   Pretty good stuff from what I heard, so definitely psyched to hear the rest of the record.   I was blown away by Rob Zombie's live show and I have so much more respect now for this artist.   It's no surprise that the Zombie man has been around for years and still going strong!   Up next Korn was set to close the show and that they did!   Jonathan Davis, Munky, Fieldy and Ray Luzier lit up the stage that night with their electrifying performance.   Korn had a cool stage set up themselves complete with pyros that added a really nice effect.   Being a big fan of these guys for years now, I anticipated a concert that I would not soon forget.   I was correct on this notion because Korn exceeded all of my expectations going into it.   I own a live concert DVD by this band and they sounded as good or if not better than their previously recorded performance.   Korn proved to be an excellent live band as they absolutely owned the stage and won over all of the screaming fans.   The overall sound was perfect and Jonathan's vocals were spot on.   You can tell that they are perfectionists when it comes to their music because they worked it out flawlessly that night.   Many of their hit songs were played that night like: "Blind", "Freak On A Leash", "Got The Life", "Shoots and Ladders", "Twist", "Falling Away From Me", "Right Now", "Here To Stay" and a short cover of Metallica's "One".   One of my favorite songs being "Blind" was awesome to hear live because that song has such an intense & raw feeling to it.   The beginning of the song where you hear that cool guitar line leading up to Davis yelling out "Are you Ready!!" is genius!   That one gets me pumped up every single time I hear it where I just lose myself and go nuts!   Korn did not disappoint whatsoever when it came to matching the intensity of the original recording; they came through guns blazing!   One other classic Korn song that really gets me hoppin' would be "Freak On A Leash" because it just simply kicks major ass.   They definitely got all my senses goin' that night when Korn belted out the song.   I also love "Got The Life", which was done really well and you can't beat the sound of bag pipes at the beginning of "Shoots and Ladders".   All four members brought all of their songs to life in furious fashion that night in Cincy.   Korn proved why they are still here and why they're untouchable when it comes to overall performance.   I feel Korn's got a lot more to prove still musically, which is scary to think about considering they've already accomplished so much in their 17 year career.   Hopefully many more years to come for this top-notch metal band we all know and love as Korn.   I have a feeling these guys aren't going anywhere anytime soon; you ROCK Korn!!!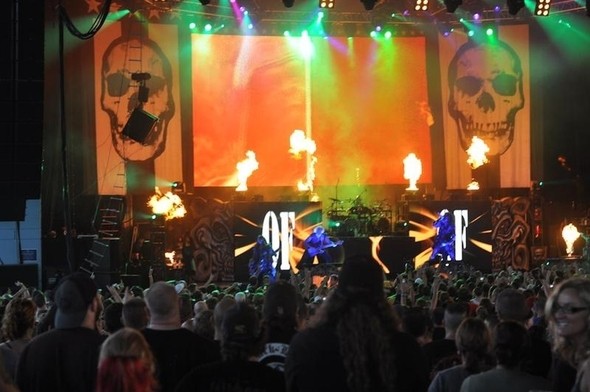 So… there it is, 12 bands later and after 11 PM now—what a day!   It started off kind of shaky there but everything worked itself out in the end.   I got a chance to see some hard-core groups that I knew nothing about coming into this event, but they definitely sparked my interests after it was all said and done.   I watched and heard some terrific heavy metal bands that came and represented this genre extremely well.   To all you true metal heads out there or even people who dig some of the music, you owe it to yourself to come check out this Metal Mayhem Festival next time.   I will not be forgetting about this show anytime soon thanks to all of the badass groups who destroyed everything and exploded on site.   It's an experience like no other and you will not regret it!   Thank you for about 8 hours of solid Metal Mayhem; everyone definitely got their money's worth.
That's A Wrap,
By Jimmy Rae (jrae@skopemag.com)