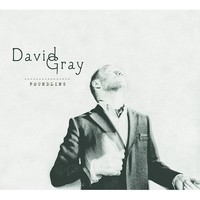 For a while there, British singer David Gray looked like he was in the middle of a creative chasm. It took the talented songwriter four years to follow up 2005's Life In Slow Motion album with last year's fine Draw the Line.
Interestingly, the sessions that produced that record turned out to be extremely productive because Gray has just released another cd entitled Foundling which is full of songs that were mostly recorded during that time.
Initially, Gray thought about just adding some of the songs found here to a re-release of Draw the Line as a bunch of bonus cuts. However, Gray thought better of that idea and decided to give Foundling a proper release. This choice actually proves to be a wise one because both albums are different in their own way.
Draw the Line was a tight, well-produced album that was vintage Gray with piano and acoustic guitar driven songs of varying tempos. Foundling, however, is a quiet, moody piece that is much more understated and low key. (Need an example, Draw the Line featured an interesting song with Gray trading vocals with the big voice of Annie Lennox. Nothing like that is found on this latest release.)
So how does this more private side of Gray stack up? Well, there are definitely some fine moments on Foundling's two discs. (There is a bonus cd of eight songs in addition to the 11 on the first disc.) "Only the Wine" opens the set in fine form with its nice acoustic guitar and simple but effective drumbeat while "The Old Chair" features Gray's trademark fine vocals backed mostly by piano but with an extra bonus of an elegant string section near its end which brings the song a surprising emotional depth.
Foundling also finds a few tracks that see Gray using different kinds of horns and brass to good effect. A saxophone is heard on the title track and "We Could Fall in Love Again Tonight" and a trumpet and trombone are subtly used on "A New Day at Midnight."
Unfortunately, however, Foundling's overabundance of sparse, low key songs is its biggest downfall. This wouldn't be such a problem if the lyrics to the tracks where a bit more upbeat. Some recent critics have called this collection Gray's bleakest and, while that is arguable, one can see why at times. Gray sings on one particular song "The Saviour put a bullet/Right through his brains/When I was in your heart."
Still, Gray has never been known as the cheeriest of Brits but his honest and heartfelt lyrics have always been part of his charm. That said, the singer is at his best when his music's arrangements are more varied. The only time Gray livens things up on Foundling, at least tempo wise, is on the final two songs, the playful "Indeed I Will" and the urgent "A Moment Changes Everything."
And yet, Foundling can't be described as a disappointment. In fact, for diehard David Gray fans, it is a very good listen as it reveals more about what the artist was trying to accomplish with the Draw the Line sessions. As for the more casual listeners, they probably would enjoy Draw the Line better because of its more commercial appeal.
Author-Todd Sikorski