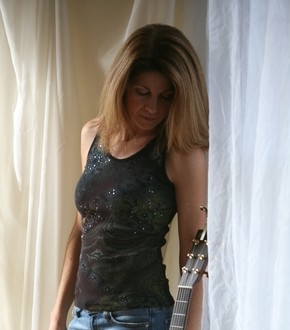 What a great weekend, it sure makes this Monday morning all the more rougher. My next guest could not have come on a more perfect day. Carrie Rowan always had a love & passion for music but she also knew that she had to have a corporate job to pay the bills. That all changed one day when she decided it was time to take a jump & follow the music. Carrie dropped the 9-5 and went 100% with her music. One listen to her album, 'Almost Home' and it makes sense why she did it. Let Carrie Rowan's personal songwriting & sweet voice help ease you into your week!
Stoli: Where are we talking from today and what do you have planned for the week?
Carrie Rowan: I am at home with my two little girls.   This week will consist of making some fun time with the kids before they have to go back to school while practicing for my feature on Thursday night at Amazing Things Arts Center. I'm also heading into the studio to record a song for a children's CD I'm working on with a friend. Just this morning I had a combo play date/rehearsal with 2 of my girlfriends for Thursday who have kids similar ages to mine.   I'm fortunate to be good friends with other Mom's who are doing the same thing!!    
Stoli: You put out 'Almost Home' in 2008 but you are still getting reviews and press for it. How do you explain the timeless music that is on that album?
Carrie Rowan: Well thank you, that's a nice compliment! I wrote these songs from a place of pure inspiration.   It took me a few years to gather them all up although one was actually written while I was in the studio process.   What's most significant though is that they arrived from the depths of pure joy and anguish. I guess honesty never really goes out of style!  
Stoli: What did you mean by naming the album and title song, "Almost Home?"  
Carrie Rowan: Almost home is significant as my title track for a couple of reasons.   I wrote the song Almost Home in honor of my parents.   It's written from the perspective of what my Dad would have said to my Mom if he knew he was going to walk out the door that beautiful, sunny day and tragically never see her again. I took that creative liberty to write this song, but in reality it wrote itself. I remember being flooded with emotion as my pen wrote the tender sentiments in the bridge. The words were moving through me as if they were being whispered in my ear.   As time went on, I came to realize this whole album represents my cathartic journey to return home to who I really am.    
"Just The Thought" MP3:
Stoli: You ranked #37 in the Lilith Fair contest. What is so special about Lilith Fair to you?
Carrie Rowan: Well I have always admired Sarah McLachlan's work and Lilith Fair was no different.   The Lilith Fair is special to me because it represents the power of women supporting women, and it's a collection of pretty amazing musicians to boot!! The Lilith Fair also resonates a spirit of collaboration that is healthy for our younger generation to witness!  
Stoli: You left the corporate world to pursue music, I am so jealous. What made you take that jump and when did you know you were ready personally &financially?
Carrie Rowan: I had this nagging feeling for a while that there was more to my life than what I was doing professionally. I had the success I thought I always wanted but still didn't feel whole. I also remember being at a concert at the Hatch Shell watching some of the great young folk talent in Boston, and I thought to myself, I want to do that. I think can do that!   I realized what I wanted to do was to return to my roots….to do what came most naturally to me as a child.   And that was to perform and write.   I'm not sure you can ever really be "financially" ready. I would still be at my old job if that was the case! The thought of staying in the corporate world and never really trying to pursue this was a scarier thought than leaving. Once I did it, my priorities shifted (especially after becoming a parent a few years later). Couple that with being in your 30s, and the things you thought were important seem to fade with life's new responsibilities.   Material things seem far less significant than personal freedom and expression. I am also lucky to have a very supportive and understanding husband. He's the one that encouraged me to leave convention behind and follow my dreams!  
Stoli: You are a mother. have your children inspired any of your songs and how?
Carrie Rowan: Oh yeah! I also write and perform children's music, and the kids love to get in on that!!   My oldest daughter who is 9 has helped me write some lines in a couple of children's songs.   She is quite the little poet!   I love the ideas children come up with as they are so open and limitless! My youngest daughter walks around singing the Beatles all the time and that always inspires a smile at the very least!     Stoli: How do you balance parenting and being a musician?   Good question, I'm not sure some days. It's a juggling act for sure! But it all seems to work out just right. I must say, it helps to have really great kids and a supportive husband! It's become part of our life that Mommy goes out sometimes and Daddy puts the kids to bed! It's wonderful for them to have that alone time with him and it allows me to do something else that I love and come back refreshed! But more importantly, it teaches my girls that women can be both a Mommy and whatever else they dream of being!!
 
Stoli: How has your overall quality of life improved once you began pursuing your passion of music full time?
Carrie Rowan: I don't have headaches everyday anymore!! Seriously, I feel like I enjoy and appreciate life more than I could have when I spent 50 hours in the office. I didn't realize what I was missing. I loved what I did for many years and needed that professional development in order to understand the business piece of working for myself.   Now I have found a way to combine my music skills with my business acumen. In addition to playing coffee houses and festivals, I created a business where during the day when the kids are in school, I travel to area preschools teaching music classes and performing children's concerts.   It's the most lifting job in the world and I feel lucky to be able to inspire a love of music in little children.   All told, my life is so much richer with music flowing through it!                  
Stoli: Have you been able to transfer any skills from the boardroom to themusic industry?
Carrie Rowan: For sure!! I used to be in corporate sales for large companies selling software and services, so the same skills apply on a much smaller scale now.   It was a super training ground for running any kind of business.   It's a piece of the pie that is essential for all indie artists today since we have to do a lot of this ourselves.    
Stoli: Are you gearing up for a new album & EP and who will you be workingon that with?
Carrie Rowan: Oh yes, I have a few things in the works.   I've been writing since I finished my last CD and have compiled lots of music with a little more focus on the piano this time.   Currently I'm working a children's CD with my good friend Oen Kennedy who co-produced my last CD.   That should be done by the fall and I will start to think about my new CD! I can't wait! I would be honored if the same amazing folks that lent their talents on Almost Home would want to make music with me again.    
Stoli: What kind of guitar do you use in the studio and playing live?
Carrie Rowan: I love my acoustic Martin guitar.   It's an Orchestra Model and it's just the right size and sound for me!   I play it wherever I can!
 
Stoli: Does it bother or compliment you when people say that your vocal range & sound is similar to Jewel?  
Carrie Rowan: A compliment like that is always welcome! Everyone hears something different. I have also been compared to Kate Bush, Shawn Colvin, Karla Bonoff, and Johnny Cash. I'm just kidding on the last one!   Folks seems to find comfort in comparison which is fine with me!! But mostly I just sound like me.    
Stoli: What is coming up for Carrie Rowan and where can we follow you?
Carrie Rowan: Well I have lots of exciting gigs on the horizon for the rest of this year and next! I'll be playing a special benefit for Home for Little Wanderers at Club Passim in Boston on August 29,2010 at 7:00pm. In addition, I am honored to be playing a special show with my good friends Lori Diamond & Fred Abatelli at the famous Stanhope House in Stanhope NJ on Thursday, November 4, 2010. Please come by and visit my website for all my gig dates, news and exciting press releases at www.carrierowan.net   It would be great to be friends on facebook or Myspace (www.myspace.com/carriesongs).   Please feel free to follow me on twitter, or find me on reverbnation, CDBaby, itunes, amazon.com.   That should be plenty of places for us to connect!!!   Thanks for the time and thoughtful questions today!   One more thing, I am affiliated with an brand new indie label of great local artists called 5th Chakra Records. Please check us out and let us know what you think!! www.5thchakrarecords.com. Photo by: Shannon Power Photography      
 
LISTEN to my music at www.CarrieRowan.net or www.myspace.com/carriesongs & for my Children's Music website please visit www.MerryGoMusic.com