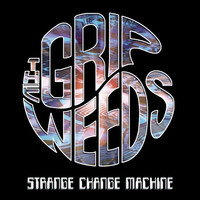 The New Jersey band The Grip Weeds may have formed in the late 80s but the talented group led by brothers Kurt and Rick Reil could have just as easily been playing music a decade or two earlier. This isn't so much of a surprise because the band's name is actually inspired by John Lennon's character in How I Won The War which came to life at movie theatres back in 1967.
What is a surprise though is how fresh The Grip Weeds sound today despite its many 60s and 70s era influences. You can tell this by listening to the band's latest release, Strange Change Machine, which is a double album comprised of 24 tracks that remind one of bands like the Kinks, the Who, the Byrds, and even the Beatles.
Strange Change Machine works best early on with a bunch of winners that open the ambitious collection. The opening track, "Speed of Life," features some psychedelic guitar work by Rick Reil and the band's other main guitarist Kristin Pinell. Kurt Reil's impressive work on drums also adds an extra layer to the song that makes the track sound rather progressive, like something that might fit well on an early Yes record.
Even better are subsequent songs like "Don't You Believe It" and "Be Here Now." The former track is primo garage rock that just plain sparkles and sounds like a ragged lost Kinks treasure while the latter is the band's glorious attempt at a song with infectious harmonies and melodies that Big Star fans would adore.
The first disc continues along in this more pop-rock oriented vein where the songs are short but meticulously produced. Other strong tracks included the rambunctious rocker "Thing of Beauty" and the Pinell-sung ballad "Mistress Forest."
As for the 12 songs that comprise the second disc, they tend to be longer but just as effective. "Long Way (To Come Around)" is another piece of guitar rock heaven where Rick Reil and Pinell shine. "The Law" also impresses with its early Who vibe and its spoken word interlude that sounds like something Pete Townsend might sneak in on his own song.
All of these highpoints don't negate Strange Change Machine's biggest flaw though. There is filler here such as the standard cover of Todd Rundgren's "Hello It's Me" along with a few of the instrumental tracks. Sure, there is nothing embarrassing about any of these musical moments but deleting them could have made the album long enough for one disc which would make it resonate more as a whole.
Nevertheless, The Grip Weeds have produced one fine piece of work here and it shows all the acclaim that Steve Van Zandt (guitarist for Springsteen's E Street Band and the host of the popular radio show Underground Garage) has given the group in the past is well deserved.
Author-Todd Sikorski