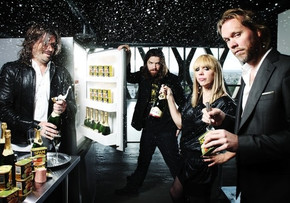 Get ready for this exciting rock band out of LA as they unleash their new EP You Like Me A lot.   The CD Release Party was held at the Hotel Cafe in the heart of Hollywood on Wednesday, August 18, 2010.   And remember, if you couldn't make the Release Party, then no worries because you can order an entire digital copy of You Like Me A Lot at http://bardoband.com.   Leslie King is the frontwoman and the brains behind Bardo.  
King describes how the name originated: "The word Bardo is a Tibetan word. It is most commonly referred to in "The Tibetan Book of The Dead" in reference to the experience between the time we die and the time we are reborn. I have been a student of Tibetan philosophy for a while and knew for some years that I wanted to name my band Bardo. Both because of what it means to me personally and because I think it's a great sounding band name."   With Leslie King on vocals & guitar, Sabby on bass, Rich Jacques on guitar and Rob Giles on drums, Bardo is ready to explode on the music scene!
Coming off their 2008 release of Recurring Dream, You Like Me A Lot is set to be BIGGER and BETTER than ever!   "You Like Me A Lot" is actually the title track and first single off the new 6-track EP.   You can download the song for free and also check out the video to "LA Is In My DNA" at http://bardoband.com & http://www.facebook.com/bardoband.   This new recording will blow you away but don't take my word for it, see what Leslie King has to say about it all.   "The songs on this new EP are more punky and ballsy.   Every song has a sense of humor or sarcastic tone lyrically.   BARDO's new EP "You Like Me A Lot" is hot off the press! With this second EP, BARDO has upped the anti into the stratosphere.  
Full of spit and sass, this authentic rock record with a punky pop edge and a twisted sense of humor, promises to take you on a wild ride and it delivers.big time! Don't walk, run, do whatever it takes to get this music into your i-pod as fast as you can! You will not regret it!" Enough said!!
Bardo has played at many venues including: The Roxy, El Cid, The Knitting Factory and   King King in Los Angeles–The Elbow Room and Grant and Green in San Francisco.   They've also toured the Pacific NW a couple of times, played at The Ash Street Saloon and Mississippi Pizza in Portland, The Mix in Seattle and at the Rockanangan festival in Kelowna BC.   The group just came off their first gig of 2010 on August 2 at International Pop Overthrow at The Cat Club in West Hollywood.   With their biggest shows to come, I'm sure that the Hotel Cafe in LA was quite a scene and the place to be on August 18.   I can bet that the band was rockin'…the joint was jumpin'…and You Like Me A Lot was more than likely ringin' in peoples' ears for hours on end!
If you like some Pretenders,Yeah Yeah Yeahs, punk, rock & pop mixed together with a fun & sassy attitude, then you will absolutely love Bardo and their new release.   Ain't no party like a Bardo party cause a Bardo party don't stop; all together now!!!   Here are some other websites for your viewing pleasure: www.myspace.com/bardoband, http://twitter.com/thebardoband & www.youtube.com/bardoband.  
By Jimmy Rae (jrae@skopemag.com)