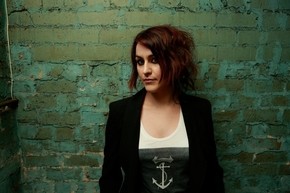 Emerging British songbird, Maria Jordan, is the epitome of the self-made artist. She can trace her love of music back to five-years old. She walked away from a significant part of her life and education to pursue a dream and single-handedly turned her craft from Monday open mic nights to a full-time career musician. And while that determination shows that Jordan has the chops to succeed in the cutthroat nature of her industry, those brave decisions have the most humble of origins–her mom.
"I have this memory of being five-years old eavesdropping on my mum listening to U2's Joshua Tree album," Jordan recalled. "After hearing that album, I was hooked on music forever." But a mother's influence on her child is often the result of "hindsight being 20/20 and in the case of Jordan, the influence didn't stop there.
"Whenever we went out in the car with mum, she would always get my sister and I singing songs in rounds to keep us occupied, and I always remember how good it felt."
But it was a chance, and ever so slight, lesson provided by her mother that forever changed the fledgling artist and provided the medium that would unleash a veritable floodgate of songs that Jordan had in her. After teaching Jordan a few basic chords on a guitar, she took the newfound instrument for a week and came back with ten written songs. "I always had melodies kicking around in my head," she said. "Before that my melodies were just melodies but as soon as I played chords, the melodies became song, something real."
As her craft grew, Jordan became enraptured with the pop acts of the day–The Cranberries, Nirvana and Green Day. But later in her teens, she discovered the power of the female vocalist in the likes of Alanis Morrisette, Sheryl Crow and Sarah McLachlan and her interests went from the garages of friends to something much more personal. "I found a love of music that went to a deeper level," she said. "These women wrote their songs and sang them in such an individual way and the world embraced them. I love the way that the simplicity of one instrument and a beautiful voice could move me so much."
This awakening made the now 17-year old walk away from an art education to pursue music full-time. "I really loved art as a creative release but it was very solitary," Jordan said. "For me I need the interaction that comes with performance. The more I studied art, the more I longed to perform and write and eventually it got to the point where I had to walk away and dedicate 100 percent to music."
Her first live performances were at Manchester's Night & Day Café. Showcasing three or four originals for the attending crowds on Monday nights gave Jordan a small-time taste of her big-time potential. "I loved the way I could use my voice and guitar to draw in an audience. It was such an unbelievable feeling."
In 2001, she was introduced to former Elvis Costello drummer; David Heyes and he became a band mate and music confidant almost immediately. They would go on to establish their own indie label JTC Records as a vehicle to get their music out. In 2005, Jordan released a four-track demo and began shopping it to the major labels in the UK. After garnering much interest she met Mark Jackson (Terra Firma/One Little Indian Records) and he convinced her to release her first single along with Heyes in "Love of My Life." After the single received critical radio acclaim, Jordan was ready to lay down an album. "I chose my ten strongest songs and began working on the album with producer John Kettle. For me this was the first time I had seen my songs really come to life so it was a very magical process." The full-length Landslide was the result of that studio time and spreading wherever she could became the paramount goal.
In promoting the album here in the States, Jordan recently completed her first "across the pond" tour. The jaunt spanned Maine to New Jersey and being her first series of shows Stateside, Jordan admitted she "kept it intimate and acoustic." The tour had her headlining and sharing stages with a myriad of artists and was live proof that her music has the ability to reach beyond the UK familiars to new audiences abroad. "I had such a great time and the crowds in the US are amazing. They have a lot of respect for musicians who get out and tour independently," she recalled.
Now under the wing of Warner International and AFE Europe, Jordan is actively looking forward while still garnering awareness for her debut.
"I have been writing for many years and have over 200 songs in my catalogue, so now that I have a publisher, we can look into getting the album out further afield and placing my other songs…I still actively promote Landslide and I still love performing it but I am itching to get back into the studio," she said in closing. "As a writer and a performer I have definitely matured over the last few years so I can't wait to get working on the next album."
by Chris West – cwest@skopemagazine.com