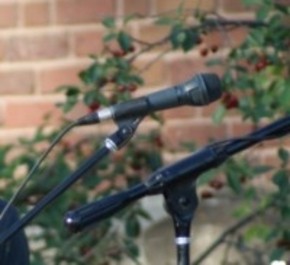 Hello, Music Up Close Readers! It's been a busy summer, and we've had all sorts of things happening here at the club. I've been in the midst of a virtual book tour for the second book in The Bowdancer Saga called The Wayfarer's Road. You can grab a copy at www.breathlesspress.com or a kindle version at Amazon. Don't forget to check out the book trailer for this book. It's in a contest in August at You Gotta Read Videos (http://yougottareadvideos.blogspot.com). Voting will begin on August 21, so pop over and vote for the book trailer.
I've also been on the road covering some fantastic music. I got to see Canadian Juno winning singer/songwriter Bill Bourne at the Sioux River Folk Festival. I have an interview with him at Refrain Magazine (www.refrainmagazine.com).
The magazine is celebrating its first birthday on Aug 20 with a new logo, Absolute Gruv and Ron Franz offering musical entertainment at the Crosstown Lounge in Grand Forks ND. We'll have Guinness-infused chocolate cake, CDs, and a couple of t-shirts to give away.
But here in the Club, we're featuring pop singers and pop bands this month. I have a great interview with Holly Foster-Wells, the granddaughter of North Dakota-born Peggy Lee. We talk about her relationship with her grandmother as she toured with her as a child and with her grandmother's company that's releasing some never-before-heard CDs and licensing her grandmother's songs. That will be on the Main Stage.
After that come on over to the Sonic Bids Lounge. We have thirteen artists I want you to meet. And Snake will stir up your favorite internet cocktails for this special event.
So, grab a drink at the kiosk bar just outside of the Main Stage and find a seat inside to find out what Holly Foster-Wells has to say.
Main Stage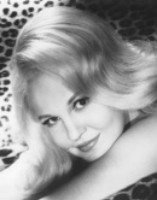 I talked with Holly Foster-Wells a few months back by phone. She is the granddaughter of pop legend Peggy Lee who was born in Jamestown ND, about a hundred miles from where I live now. Peggy Lee is a legend here in the state and it was exciting to get a glimpse of her and the empire she built in a time where women weren't considered savvy enough for business.
When I talked to Holly, her company was handling two releases, 2 Shows Nightly and Let's Love. 2 Shows Nightly is a live recording at the Copa Cabana that has been digitally re-mastered and includes twelve additional songs from the vaults of Capital Records.
Holly's own story is a remarkable one, having traveled with her grandmother all through her childhood and eventually running her company. Here are Holly's own words about these experiences….
Holly Foster-Wells: I'm so grateful to be able to do this, to do something that helps my family– my mother, my brothers, and, of course, my grandmother, even though she's no longer with us here any more. It keeps her alive for me. I look around my office. I have pictures of her. I listen to her singing all day…I love her voice. I love her songs….I feel so grateful because I know a lot of people who don't love what they do….I don't think people would care about every little thing like I do. I don't just look at making money. I look at what's best for her legacy. It matters to me.
There are people who have other jobs, other careers, but who are passionate about Peggy Lee.   They have become colleagues to me. They don't work for me. They don't work for our company…. They care about her tremendously. They are incredibly invaluable to me.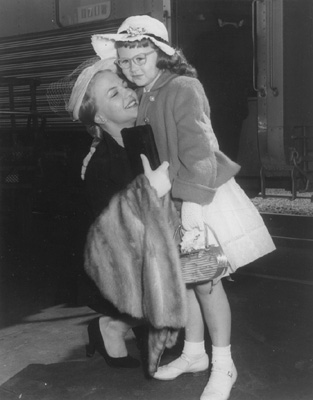 Jim Pierson is one of them. He's a music producer, but he's a Peggy Lee fan. We ended up working together on a lot of things.
Ivan Santiago, who wrote the liner notes for 2 Shows Nightly, is another.   He also did an online discography. He's a Harvard professor. This is something he did in his spare time.   He's an amazing Peggy Lee fan.
And there is David Toreson, who runs our website, peggylee.com. David actually started peggylee.com because he was a fan. He did all this research and put up this website, and we ended up buying it from him because it was so fabulous. Why should we hire someone else?
If you ask anyone of those people what year did Peggy Lee appear on the Ed Sullivan show, they would be able to tell you off the top of their heads. I would have to look it up. If you asked me what Peggy was like as a person, I could tell you for days. But they don't know her. I think Jim met her, but Ivan and David did not. It's a kind of a nice balance there.
Janie: What is your background?
Holly F-W:   I have a degree in communication from California Lutheran University in Thousand Oaks. Before I did this, I toured with my grandmother my entire childhood from when I was 6 to when I was18. Every vacation I had from school, I was with her on the road somewhere. In my junior year of high school, I moved to New York to be with her that year. That was the year she was doing the Broadway play. I spent a lot of time with her and I've been around music and the great American songbook. It was a big passion of mine.
But it was really important for me to go away from all of this and do something on my own, too. So I went to school and I worked in television for a number of years. I worked in a completely different world. I worked in the world of production design as an art department coordinator. I worked on a lot of shows. I worked on Seinfeld. I worked on Roseanne. I worked on Will and Grace. I worked on The Cosby Show and A Different World. I worked on some other shows people never heard of.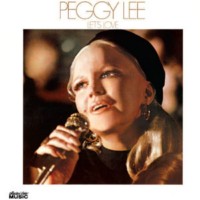 My grandmother kept saying to me, "I really want you to come and work on my publishing catalog." or "Can you go with me on this tour?"
I just had to say, "I've got this career. This is what I'm doing right now."
She really knew that I was going to take this over, and I knew I was going to take this over, but I wanted to do my own thing and make my own way in the world before I did that. It was difficult to work for her. I think our relationship was better when I didn't work for her.
Then she had a stroke in 1998. We didn't know right away if was going to bounce back from that stroke. She didn't. What I tried to do for awhile was start doing some of her business stuff while I still worked with Castlerock and NBC. Then I realized this was way too big and that my grandmother was not going to recover from her stroke, I left my job in television and went to work for her full time.
Janie: Was she able to communicate with you after her stroke?
Holly F-W: Yes, she was. That made me so happy. She lived for 3 1\2 years after her stroke. She was able to know that I was doing what it was she wanted me to do. It was difficult for her to talk at that point. She was very aware, but she could communicate. There were times when she could speak. I was at her house every single day working in her office. She saw me every day, and I would tell her what was going on. It made her really happy. It made me happy.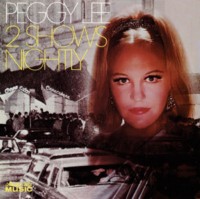 Janie: You could have immersed yourself in someone else's life and gotten lost yourself. But you went on to carve out a career for yourself in something else and get validation for yourself. Then to come back to this when you were needed has to be very fulfilling, and it marks what you do then more on the realm of mission just making money for the family.
Holly F-W: Exactly. Now, it's something I feel so grateful for, rather than think this is just something I have to do. Every single day, I'm grateful for this. I know what it's like to work for a company where you have a strict time clock. I have two little boys, 5 and 8. This is a job where I can be a mom. In television, never. I would have had to have a nanny. So I can take my iPhone to a football game or a baseball practice and can be doing licensing requests for "Fever" while I'm watching my son. It's wonderful.
Janie:   Now that your grandmother has passed, though the world and you personally have suffered a loss, it has allowed you to run the business the way you see best. But you have also had the anointing from your grandmother that what you were doing was what she wanted and the way she wanted it. You are now molding that to your lifestyle.
Holly F-W:   Because she's not here, I am able to do it the way that I feel is best. I could not have done that with her here. I would have had to do what she feels is best. It's funny because there were things she didn't want to do in her lifetime….She didn't want one of those biographies or a documentary about her when she was alive. She was not comfortable with it even though she had many offers. She told me, "Do it when I'm gone." In a movie, she was concerned about how she would be portrayed. She had some thoughts about that: "Please focus on this and don't focus too much on that." But she did say, "Make it spicy."
It's funny because her book is not spicy. She left out so much that would be fascinating to people but she wasn't comfortable getting into her love life. She said, "It's OK when I'm gone." I think she trusted me, too, that I wasn't going to exploit her in a way that she would be uncomfortable. And I would never.
Another is a good example, this new CD 2 Shows Nightly. She pulled that album. She was unhappy with that album, with the way it sounded….Ivan Santiago's liner notes tells the story of how it was about to come out, and she had it pulled because she didn't like the sound quality. Even with what we can do now, I don't think she would have ever wanted to revisit it when she was alive. She said, "No, I don't like that album." And the album was gone.
I thought it was a waste to sit in a vault. She was a perfectionist in a way that probably I am not. So, Jim Pierson and Collectors Choice did a great job of re-mastering it. I wouldn't put out anything that wouldn't make her sound good or wouldn't be representative of her. But at the same time, I don't think she would have put this one out.
Janie: That album and Let's Love show the kinds of material she was putting out. It was quite eclectic and crossed genres.
Holly F-w:   Her later albums like Let's Love for sure and some of her work throughout the 70s–she really tried new things. I give her a lot of credit for that. She knew which songs were her biggest successes and she could have continued to record more of the same. She wanted to grow and she wanted try new things. Sometimes those things were well received, and sometimes they weren't.
Even on these two CDs, there are songs that sound very 70s and very dated. But there are some timeless pieces on here. When you listen to Let's Love, pay attention to the song "The Heart Is the Lonely Hunter," which is Track 8. That was a theme that was written by Dave Grusin for the movie of the same name years before. I think that movie was made in '68 and Let's Love was in '74. My grandmother just loved that theme, and she asked, "Can I add lyrics to it?" And so she wrote the lyrics to "The Heart Is the Lonely Hunter." I think that sounds like it could have been written yesterday.
Janie: Did she write a lot of songs?
Holly F-W:   She wrote close to 300 songs. A big part of the business that we run now are not her recordings necessarily, but it is the songs that she wrote. She wrote all of the songs for that Disney film Lady and the Tramp. Not the music. The music was written by Sonny Burke. She wrote all of the lyrics.  
She was an amazing writer. She also wrote songs back in the 40s. She was in her 20s and was married to my grandfather David Barber who was the guitarist in the Benny Goodman Orchestra. That's where they met.
They started writing songs. It was her more than him. She was much more a businessman than he was. She put those songs in her own publishing company. That is the very same publishing company that I'm running today. She never sold it no matter how many rough times she had. She held on to it. Some of those songs are "It's a Good Day," which you can hear on TV shows and commercials today. She wrote that with my grandfather. She wrote another song called "I love Being Here with You" that we get a lot of use out of. Diana Krall made that her signature song. They wrote a song called "Manana" back in the 40s. That song was just used on the soundtrack to The Curious Case of Benjamin Button.
Janie:   That didn'' happen during her era very much. It was the era of the crooner, these wonderful voices that would adapt someone's song and interpret it their way. You had professional songwriters who milled these out.
Holly F-W: She was one of the very first female singer/songwriters. Actually, she was one of the first singer/songwriters period. A lot of her songs became big hits. She wrote a song called "Things are Swinging," another called "Everything is Moving Too Fast." These were big songs for their era.  
She also wrote with other partners such as Quincy Jones. Two of the songs she wrote with Quincy Jones are on 2 Shows Nightly. They don't happen to be my favorite out of the ones she wrote with him, though. She wrote "Stay with Me" and "Happy Feet" with Quincy Jones. She wrote another song on 2 Shows Nightly that you'll think is funny. It's called "That Man," and it's a little tribute to Batman.
She wrote a wonderful song with Victor Young called "Johnny Guitar," the title song for the Joan Crawford movie. She wrote with Johnny Mandel. "The Shining Sea" was the title song for the movie, The Russians are Coming, The Russians are Coming.
She also wrote with Sy Coelman.
Janie: You're finding younger performers who are picking these songs up and owning them in ways that you would probably never envision would cover her.
Holly F-W: You wouldn't believe some of the people who cover her. I try to keep a list because people record her songs all the time. I told you about Diana Krall, and recently Queen Latifah recorded one of my grandmother's songs, "I Love Being Here with You." Bette Midler recorded some of my grandmother's compositions on a CD she did in tribute to Peggy Lee, Bette Midler Sings the Peggy Lee Songbook.
Janie:   What was your most unusual and unexpected Peggy Lee cover?
Holly F-W: "It's a Good Day." You can find barbershop quartet versions of that. You can find Country & Western versions of it. It's really amazing. If you go on iTunes, and you put in "It's a Good Day," you cannot believe all of the people who have recorded that song.
Here are some people who have covered her: Jack Jones, Ernestine Anderson, Ella Fitzgerald, Nina Simone, Chris Conner.
Cary Grant, who is not traditionally known as a singer, recorded "Here's to You," a song on 2 Shows Nightly. KD Lang was a big fan of my grandmother's. Maria Muldaur did "Everything Moves Too Fast." Tony Bennett did a wonderful cover of a song she wrote with Sy Coleman called "I'm in Love Again." The Duff Sisters (Haley and Hillary Duff) did a re-record of "We are Siamese."
With Duke Ellington, she wrote the song, "I'm Gonna Go Fishin'" for the movie Anatomy of a Murder. Mel Torme did a wonderful cover of that song.
Nat King Cole did a wonderful cover of "Where Could I Go without You," and his daughter, Natalie Cole, also recorded it.
Janie:   You even have some of her songs running under CSI, don't you?
Holly F-W: It's still very relevant. I do find people who are younger who don't know who she is. I make it my job to make sure they do know who she is. When my friends at school would say, "What has she really sung," I'll say, "Listen to this." And they fall in love with her or they don't realize that "Big Spender" was her song or "I'm a Woman" or "Fever." They may not know the name, but they know the songs. When you go into Starbucks or a Pottery Barn, I hear her all of the time….I'll say to people, "There she is." They'll say, "That's her? Of course I know that song."
Janie:   Her work has become a part of our culture and people don't know it. I think she would be very amused by that. Though she was well recognized for her work in her lifetime, I gather that she was also a very private person. Do you think she would be   giggling in Pottery Barn about her work being played there and knowing that people knew it but didn't know her?
Holly F-W:   She would tell me all the time how important these songs were. She'd say, "You don't understand. This catalog would outlive you." I didn't get it until I was older and was running this company that I knew how right she was. These songs, not just sung by her but by her peers, are comforting and they take you back to a different era. They're timeless. They're unique and special. I don't know how many of these songs I listen to on the radio now are going to be able to do the same thing.
The Sonic Bids Lounge
Wasn't that a great glimpse into the legend of Peggy Lee? Now, step down this hallway and just go on in through those golden doors. Yes, that's new paint. We had an artist come in and paint the mural of an old theater on the walls and had the double doors of the lounge gilded. Nice touch for pop singers, don't you think?
Just file right on it and place your drink orders with Snake and his staff. I see you're grinning at the short black skirts and high heels on the waitresses. And, no, that isn't vintage seamed nylons. Our artist had a delightful time drawing black seams on the girl's air-brushed tanned legs. They loved the feel of the soft brush. A couple of them had the artist paint little red hearts near their cleavage that was shown off by their white ruffly blouses. They should have a little pleasure since they'll hate me by closing time because I made them wear stilettos.
Spaceships Are Cool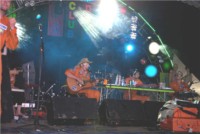 Before we get too far into the lounge, come over here to say hello to spaceships are cool who've flown in from Nottingham, England. They are probably as far away from Peggy Lee's concept of pop, but I think she would have liked their fresh sound. It's edgy and ethereal. That's the influence of electronica musician Rob Maddison who formed the group in 2006. He's sort of a one-man musical feast. He writes and produces all of the songs, as well as sings, plays acoustic guitar, drums, theremin, stylophone, tenori-on, casio mini synths, fisher price phones, bass, and a tone of more. He's joined here tonight with some of the musicians who've toured or recorded with him: Ben James (electric piano, clavichord, slide guitar), Rob Yunioshi (microkorg, stylophone, musical saw, melodica), Helen Maltby   (viola, cello, violin, theremin), Tim Maddison (percussion & electro minikit), and Johnny Cousins (bass). They just decided to bring their whole bag of tricks to the Club. They'll be doing a special after hours show ala Flaming Lips. Stick around for them. They'll be playing cuts from their debut EP (5 tracks) and their new LP Heart Echoes. See you guys later.
SHIFTER X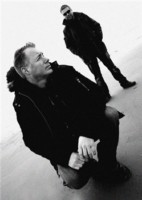 Also appearing at the after party will be SHIFTER X from Glasgow, Scotland. Though these guys combine electronica with pop, Ray Martin's vocals are hauntingly beautiful and ground the more ethereal elements. He's supported vocally by Mary Rhind who also plays keyboards. Ray also plays guitar and is backed by Andy Brooks on bass and John Marley on drums. It's a sweet blending. They have one full-length album Welcome to Planet X that you should really take a listen to and are currently working on a new one.
T. J. Doyle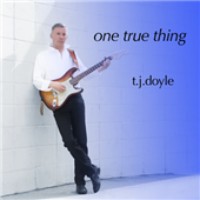 Over here, let me introduce you to T. J. Doyle, a pop singer/songwriter from California. His debut album, One True Thing, offers songs about the environment and about life. He offers venues either a solo singer/songwriter set or with a full band of outstanding musicians. Guitarist Tim Pierce recorded with classic rock legends Bruce Springsteen and Eric Clapton, and guitarist Bruno Coon works with Randy Newman on film scores. David Sutton pulls double duty on the bass and cello, bringing his experience from playing with Lucinda Williams. Rock Deadric, who plays drums and percussion, worked with Ziggy Marley. Deadrick, Sutton, and Pierce were all formerly part of Tracy Chapman's band. Phil Parlapiano adds richness on keyboard and accordion, and Carina Round supplies backing vocals.
Sonya Kahn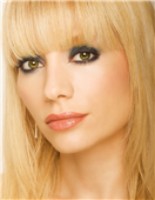 Right over here at this huge table is a bevy of beautiful women. Sonya Kahn's California girl looks are real–she's from Sherman Oaks. Displaying a wide range of vocal styles, Sonya's powerful voice can belt a rock tune like Joan Jett, but it is the controlled power she presents in songs like "Where Do You Go?" that show her real passion and artistry. A classically trained concert pianist, Sonya has been playing, singing, and writing songs since before she was school age. She toured Europe for six years with a group called Sunshine, starting when she was six years old. She also recorded three albums with them. She learned keyboard programming and even took a stint as an actress. She explored pop, jazz, and rock with the band Take Five. By the middle of this decade, she began performing all over LA and trying to get a few singles off the ground. Her debut album New Beginning is a mix of big rock anthems and soulful ballads, which are well executed by a solid supporting band.
Liz Malys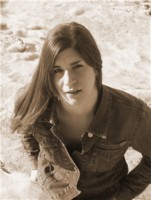 Sitting beside Sonya is Liz Malys, a great new talent from Anchorage, Alaska. Also a pianist, Liz adds jazz and blues to her vocal offerings. Her sultry Janis Joplin mets Tori Amos style is intoxicating. Her recent CD, Desert, showcases her thoughtful piano work and her sensuous vocals but they are enhanced by violin, cello, and acoustic bass and a sprinkle of horn color and percussion. The songs are poetic and full of living. These aren't the fluff of an inexperienced songwriter, but show the depth of a soul who not only observes life but has experienced it. Liz Malys–remember that name. You heard about her here at the Club.
Roxi Alonso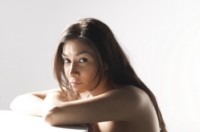 Also at this table is Roxi Alonso who is currently based in New York City but was born in Buenos Aires, Argentina. Like Sonya, Roxi began writing early and also did the actress thing for awhile. She began to write rock and jazz with a pop feel. Her debut album, Beautifully Damaged, is a bold attempt to write about life, and she's been touring with a full band to support it.
Paula Maya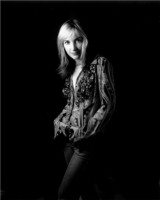 Fellow Brazilian Paula Maya is here as well. She's living now in Seattle and hitting a slew of festivals throughout the country. She dips her musical pen into rock, pop, jazz, and alternative and isn't afraid to take risks. Much of her work is edgier than pop but she can slip into that style easily. She also studied piano, first at Brazilian Federal University of Music and then graduated from the Brazilian Conservatory. Paula has released four albums since 1995. Her most recent, Paula, was released in 2007 by Yellow House Records. Her vocals are energetic and instrumentally she even slips into Middle Eastern and world realms.
I'd also like you to meet Tiana Star who says she's from everywhere, though her current home is in Seal Beach, CA. Because of her father's job, she lived in six different states, Canada, and the Ukraine, moving about 25 times total. All of that uprooting also exposed her to a variety of music that has colored her music as she has developed her own brand of American pop. A Berklee College of Music grad, Tiana was able to secure producers Bill Lefler (Ingrid Michaelson, Dashboard Confessional) and Justin Glasco to release her EP Room To Grow earlier this year. This EP is full of catchy hooks and bouncy melodies. Her vocals are strong with a heavy dose of the girl next door. Tiana Star is most definitely an artist to watch.
Scott Wesley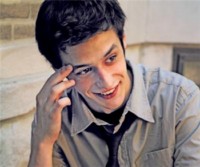 Walk this way over to this booth, I'd like you to meet Scott Wesley from Lake Barrington IL. He's stopped by here with his band. They've been touring all over the Midwest, after a bang-up showcase at SXSW in the spring, bringing their pop/rock upbeat sound. Though they do a few covers to please their fans, mostly they handle Scott's sensitive originals about relationships. Handling guitar and lead vocals, he's backed by guitarists Adam Paulson and Tom Russel, Gavin Ninow on drums, and Nick Vlaisavljevich on bass. Both Gavin and Nick add great backup vocals. Scott is currently promoting his sophomore album Seconds to Years. This album was released in two parts. Part 1 came out in March and Part 2 was released this month.
http://www.scottwesleymusic.com
docweissband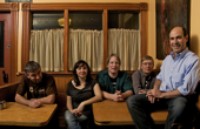 And in this friendly corner is docweissband from Ottawa, Ontario. Fronted by singer/songwriter and fingerstyle guitarist Ron Weiss, docweissband brings a James Taylor folk sound combined with some funk and Latin influences. Their new CD, Different Point Of View, is the perfect vehicle for Weiss' original songs. He's supported by drummer Gleb Sturov, bass man Mike Liepe, Jim Mattson on electric guitar, and backup singer Maya Ethier, who's opened for Sharon Jones and the Dap Kings and many other national acts. Weiss' songs are sensitive and timely but with that light touch that James Taylor had. Check out his recording, Different Point Of View, that came out this year.
Brett Hardwick and the Sometimes Band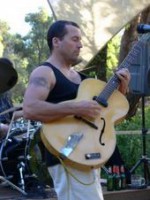 At this booth here we have straight from Perth, Australia, Brett Hardwick and the Sometimes Band. These Aussie boys are writing some moody bluesy rock pop tunes that have Brett's signature guitar work. His vocals are well-oiled and fresh. But one thing that is sure about Brett Hardwick and the Sometimes Band is that they aren't afraid to reinterpret their own material. What might be a country tune one night may become a reggae number the next week. They dip into blues, jazz, funk, and even jam. These boys are willing to change it up and have the chops to do it. Sweet, sweet sounds.
Kotadama    
Hey, guys! This is Kotadama, straight from New South Wales, Australia. The brainchild of brothers Chris and Evan Brown, Kotadama was formed in 2006 when Chris took up guitar and keyboards and Even picked up the drums. They chose the name Kotadama because it means "spirit of words," which describes their dedication to writing songs of substance. The Brown brothers rejected the studio sound of their first album, scrapped it, and began recording in an abandoned farm shed. The result is an earthy sound that they are able to produce in their live shows. Supported by Scott Mallard on bass and Clint Fish on keyboards, Kotadama has been able to finish their debut album, Dichotomy, and tour locally. Since they weren't getting the airplay in Australia that they wanted, they reached out to other countries and soon found a much wider audience. They have been touring the US this year. Their sound is infectious.
Grab a seat up close around the stage, you won't want to miss these two acts.
Sinem Saniye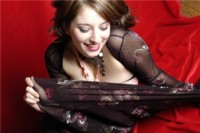 Up first is the alluring Sinem Saniye, a singer/songwriter from New York City, born in Germany with Turkish family roots. She just finished her first US tour to introduce her debut album, When I Don't Sleep.   It ended with a spectacular sold out show in New York City with Grammy-winning artist Lisa Loeb. Sinem has a new music video for the single "I'll Confide" that's now airing on MTV in Europe and soon on channels in the US.
You can catch it on YouTube here:
[youtube TNfW-Ku61G4 nolink]
Sinem's style and sound have been attributed to being like Norah Jones and Nelly Furtado. She is a powerful performer who has appeared not only in the US but also in London, Paris, Cannes, Istanbul, Athens, and Toronto and Vancouver in Canada. She has shared the stage with Jonatha Brooke, Stephen Kellogg and the Sixers, Michele Branch, Katy Melua, and David Brubeck. Currently, Sinem is writing music for other artists including American Idol alumi.
Jake Smith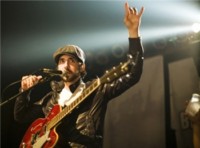 Headlining our show tonight is Jake Smith, a sexy soul/pop artist coming out of the rich gumbo of the New Orleans musical culture. He offers a fusion of funk, soul, R&B and rock that will take your breath away. This is the kind of singer Peggy Lee would have encouraged if she were here today. Jake writes from deep within his soul and sings from his heart with an honesty and unabashed genuineness. He has a great new album out, Everyone Comes from Somewhere, that came out earlier this year. This is his third album with an EP, All That We'll Ever Need, that came out two years ago. Jake plays guitar and is joined by fellow Louisiana players Josiah Bashta (guitar), Darren Phipps (bass), Chris Arceneaux (drums), and Beau St. Pierre (keys and horn). Grab a copy of this CD before you leave tonight or track Jake down at www.myspace.com/jakesmithmusic.
Stick around and hear some great music and don't forget the after party. But if y'all have to go right after Jake's show, we'll catch you next time with some great new artists.
Written & Created By: Janie Franz – jfranz@skopemag.com