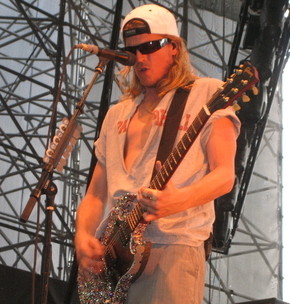 This tour features Shinedown, Sevendust, Puddle of Mudd, Chevelle, and 10 Years.   The groups are of the heavier variety that can also at times expose their softer sides.   The temperature was a Carnival of Madness, a sweltering 89 degrees at show time, with humidity to match for the six-hour marathon.   Remember those ugly old clothes you throw out rather than donate because you think people won't wear them?   Donate them.   They were sure wearing them here!   Even the singers exhibited some strange attire.
10 Years and Chevelle ran through their material with confidence and style, but were a bit laid back compared to the other stage madness that followed them. 10 Years lead singer Jesse Hasek battled the weather by coming out in a hooded sweatshirt (hood up), and was shirtless after a few songs.   Duh!
Mudd front man Wes Scantlin looked like he cut his clothes of a thrift store rack with a chainsaw, resembling a cross between Kid Rock and Billy The Exterminator.   POM, the storytellers that they are, regaled the crowd with an energetic mix of F-bombs and their songs of love and extreme hating, ass smacking, and Psycho observations.   They do play to the crowd well and put on a good show.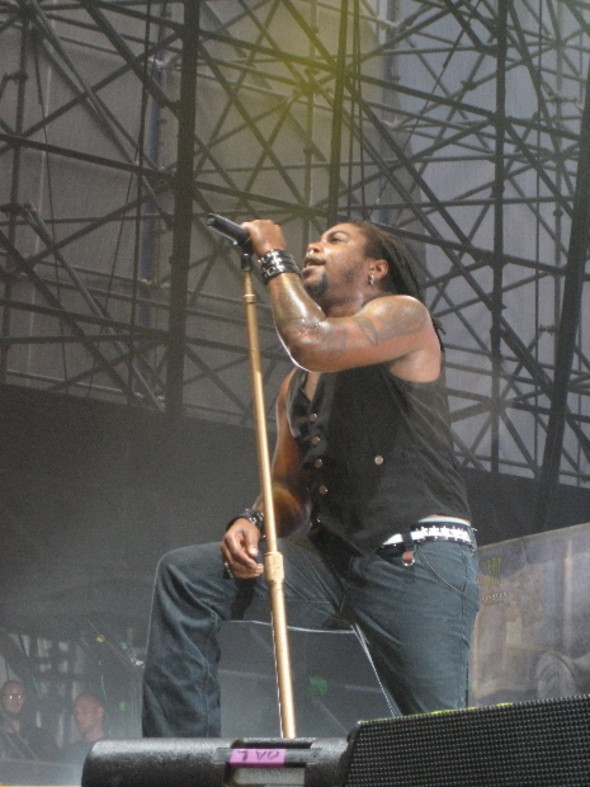 Sevendust is a veteran act that hasn't received their earned recognition.   Supporting their new release Cold Day Memory, lead singer Lajon Witherspoon immediately grabbed the crowd by the throat, and didn't let them go.   Lajon also praised the Cleveland crowd for supporting the band over the years, directly the opposite of a guy that can't sing and isn't a frontman (anymore) named LeBron!  
Shinedown proved the reason they've been able to build a steady following and have corresponding record sales.     Front man Brent Smith came out in Captain Fantastic regalia, complete with big sunglasses, huge top hat, and a cane.     Devour featured a Wild Kingdom backdrop video of, well things getting devoured.   They ran through their material, while Brent roamed across the front of the stage, directly motivating the crowd.   His rapport with the audience between songs is intelligent, respectful, and thankful.   I was impressed with both his and the bands style.   He introduced Diamond Eyes telling about getting a call from Stallone (under duress) to write a song for The Expendables.   Performance wise, they rocked.   They had to, headlining and following Sevendust and Mudd!  
By R.M. Engelman