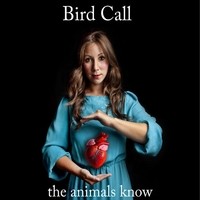 Not your ordinary, every day bird calls here as Chiara Angelicola proves to you that The Animals Know best.   The Brooklyn-based singer/songwriter gives you a six-track EP full of fine musicianship & artistry.   The Animals Know has some wonderful moments that will keep your mind engaged throughout the whole set.  
Originally from San Francisco, Bird Call feels that this new work signifies the evolution of an artist and a woman.   Angelicola has found herself through this new EP and she is now ready to share this rewarding & gratifying experience with the whole world.   The multi-dimensional musician Bird Call wrote and composed all six tracks on the new disc.   Noah Hoffeld and Karen Waltuch add in string arrangements to songs like "Waltz in the Snow" while music vet Ralph Carney, who has worked with Tom Waits, Elvis Costello & They Might Be Giants, plays baritone sax on "Berlin".   Bird Call also has a well-known producer on her side; Joel Hamilton who has previously produced Tom Waits, Elvis Costello & The Black Keys.   With musical talent coming from all directions, I can't wait to hear this entire EP now!
The recording starts up with "Waltz in the Snow" and right away you hear uniqueness in Bird Call's voice.   Her singing style reminds me of the singer Adele in ways and I'm actually not a fan of that approach.   Nothing against Chiara or Adele, but personally I just don't care for that type of singing.   What I did hear in Bird Call's voice was a tremendous amount of conviction; I knew right away we had a special kind of artist here.   Carrying into her next song "Berlin", you get nothing but compassion from Chiara as she spills out her heart to you.   I also sensed a feeling of extreme sincerity being portrayed throughout especially on the title track "The Animals Know".   On songs 5 & 6, "The Races" and "The Battle Outside the Gates to Your Arms", you're hearing graspy vocals that are being emphasized here.   This element gives the songs such a raw feeling and in turn you receive a gripping & powerful performance from Bird Call.  
In the end, I have to say that Chiara Angelicola aka Bird Call is a genuine artist who knows what she wants out of her music.   This singer/songwriter also wants to connect with the audience on a higher level and I believe she accomplished that.   For more on Bird Call and her new release The Animals Know, SKOPE out www.birdcallmusic.com.  
By Jimmy Rae (jrae@skopemag.com)
[Rating: 3.5/5]