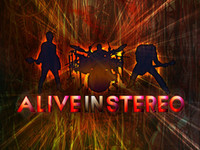 This rock trio out of Denver is alive & well with their self-titled debut EP Alive In Stereo.   The band is made up of: frontman/guitarist Chris Evans, Toby Crisp on drums and Alex Browers on bass.   These three members bring such an incredible amount of energy to the table that will impact listeners everywhere.   Alive In Stereo's powerful presence can best be described as energized & thought-provoking hard rock music for your ear drums.
The EP starts up with a rockin' joint right out of the gates with "Change Things" where you hear some sharp guitar playing and overall band chemistry at its finest.   The song takes the listener to a deep place in Chris Evans' heart.   The track, according to Evans, was written about the "absolute darkest place, in the throes of addiction."   You can actually feel Chris' pain & sadness in his voice as he cries out to the whole world.   Next up, "Impossible", draws the listener in once again to experience life being lived on the edge by the frontman himself.   On this number, you're getting heavy, hard rock riffs mixed in with Chris' sensitive yet powerful vocals.   It's not "Impossible" to say or even think that this is one power-packed performance.   Song five, "Everything is Burning", reminded a lot of an old Incubus-styled song more so off the Make Yourself album.   I picked up on this right away through Evans' vocal delivery and by way of how Toby & Alex played to the song.   "Everything is Burning" is similar both vocally & musically to that of Incubus; there is no mistaking it and no denying it.  
I simply love what AIS has done here by blending hard rock tunes with emotionally-drenched lyrics.   Surprisingly enough, one will also pick up on pop elements that Chris is able to convey flawlessly to the audience.   Chris Evans, Toby Crisp & Alex Browers prove to us all what a real rock band should sound like.   The intensity is highly evident, the musicianship is top-notch and the artistry is second to none here.   Alive In Stereo is the real deal and they will be invading your cities/towns & air waves very soon!   For more on this exciting band from Colorado and their brand new release, SKOPE out www.aliveinstereo.com.  
By Jimmy Rae (jrae@skopemag.com)
[Rating: 4.5/5]