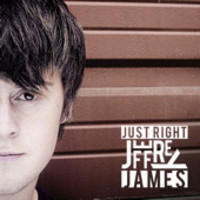 While Nashville remains the epicenter of contemporary country music, the population of veteran and up-and-coming crooners has seen their numbers diversified, turning the one time country stronghold into more of a singer/songwriter town. Indiana native son Jeffrey James is one of the latest to relocate to Music City, bringing his pop/rock debut album Just Right with him. Released in 2009, James recently saw the album's opening track "Always The Same" take grand prize in the Reviewposse.com "Expose Yourself Song Contest" and appropriately so… the grassroots effort to get the album out has taken James through the Nashville circuit and throughout the Midwest.
The aforementioned "Always The Same" is an approachable, radio-friendly track that features Jack Johnson-esque lyrics over spacey keys and guitar filler that allow James' vocals to resonate at the forefront. With pop goodness at its core, I smell the album single here. "Just Like Breathing" is again driven by backing keys and intermittent guitar work but only enough to spotlight James' lyrical delivery that contains just enough vocal rasp to evoke a young Joe Cocker. Title track "Just Right" opens to more effects-laden, spacey keys and bent note wa-wa guitar work. The draw of the track is the duet work of James and featured guest, Libby Hodges. The unison vocal lines of the chorus meld the two voices well and bringing Hodges' into the fold proved fortuitous and an unexpected extra member to the mix. It adds some intangible element that simply makes the track pop.
Just Right as an adjective keeps bringing to mind "approachable." The musicality is contained but honest and shows a bit of flare (The Spanish guitar vein that runs through "Better For You", the "beatboxing and scratching" intro to "The Dream Of Us" and string work on "I Will Be OK"). James has pure command of his prominent "instrument" as illustrated through his continuously confident vocal delivery and overall, the album has a very diggable amateurness about it. For a fledgling artist beginning to get his feet wet, I suspect a full dive into his talents is not far away. A respectable first outing and a solid foundation to build upon, for sure.      
by Chris West
[Rating: 3/5]