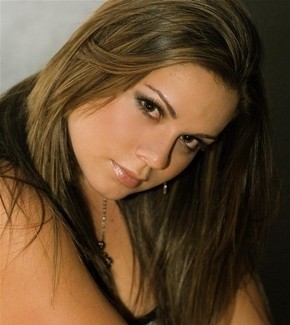 Another week is upon us and Stoli has another exciting & talented guest. This next female singer/songwriter has got it all from the looks, vocals, and ambition. Christen Marucci is coming out of Queens, NY and she recently released a new single, "Viper's Love" that shows that she can hold any note and can write a hit song as well. Although people are quick to draw comparisons we ask that you give her music a listen first!
Stoli: Where are we talking from today and what is up for August 2010?
Christen Marucci: Right now I'm in Astoria Queens, New York working in the recording studio. My focus has mainly been on finalizing my debut album and preparing for my up coming photo shoot this September. In my spare time I continue to write new material to use in the future as well as perform demo work for other clients.
Stoli: How have you been spending your summer and what new music are you working on?
Christen Marucci: Honestly, I've been in the studio the entire summer working on a variety of projects. We recently started producing other artists for One Mind Music in addition to writing for myself and the publishing catalog so I've been busy! I love the beach, unfortunately I haven't seen much of it this summer. However, I love what I do and don't regret being in the studio as much as I am.
Stoli: At what age did you decide to pursue music and what inspired you to get started?
Christen Marucci: My passion for music and singing started from a very young age. I would buy CD's of artists that I liked and sing along for hours with them. My favorite artists growing up were Whitney Houston and Mariah Carey, I would play their albums so often that everyone in my house knew the lyrics! I come from a very musical family where practically everyone sings or plays an instrument.
It wasn't until I got into high school that I became more interested in considering a singing career. I did a number of musical theatre roles and the idea of doing this professionally sort of grew from there. It wasn't until I was in my senior year of high school that I auditioned for my current producer, John Campos. John's label had partnered with another distribution company and was looking for a female dance artist, so I did the audition and within the first 20 seconds of the song John stopped me and offered me the deal. The song did fairly well and wound up on a number of European compilations with Cascada and a number of other known artists. That was my introduction to doing music professionally. Since then John and I have started our own publishing company One Mind Music Inc. and have built up a library of over thirty songs that I have personally written and recorded. I released my first EP single "Between You and I" when I was seventeen.   I've had some success with a number of my singles since then, and I am now getting ready to release my debut album "Damsel".   It's been an awesome journey so far!  
Stoli: With your looks and talent you could do acting or modeling. Have you ever considered that and what makes music so special to you?
Christen Marucci: Thank you so much! I would love to broaden my horizons and do a little of everything. My focus is on my music at the moment, however I have been looking into some modeling agencies to do some catalog work. In the modeling world I would be considered plus sized and I'm OK with that, I'm curvy and prefer it that way! Music is and always has been a source of expression for me. I love how it tells a story and people from around the world can relate to it. There is a genre for every emotion. Music can comfort you, relate to you and motivate you, that's why it's special to me.
Stoli: I love the new single, "Vipers Love." What does that song mean to you and what does that song mean to you?
Christen Marucci: "Viper's Love" took me out of my comfort zone as far it's racy melody and lyrical content. It was definitely fun to do! I needed a song like "Viper's Love" on my album to showcase another side of me. I know when people hear it they will immediately think it's sexual but I really wrote it to tell a story about a relationship that you're maybe in for all the wrong reasons and could be struggling to get out of now that you're so involved. I think my album is overall very relatable since so much of what I write stems from personal experience.
Stoli: In this digital age is it becoming easier to release a hot single via I-Tunes than having to record & distrobute a phyiscal CD?
Christen Marucci: I think the Internet has been a great source of networking especially for independent artists like myself. It is definitely easier to upload a single and promote it via Itunes, Facebook, Myspace etc. The Internet has allowed me to reach a larger audience with my music. I've been able to have some of my music licensed and included on several compilations because of the Internet exposure.   I do miss the days of hard copy records though. There was a thrill in buying each single and record, waiting on long lines for the release of your favorite artists' album. I used to love looking through the pictures and singing along with the lyrics that were printed in the inserts. We live in a fast passed society where the public wants their information faster and faster that's why ITunes works so well and benefits artists like me.
Stoli: When life gets rough what do you find that helps you get back on a positive note?
Christen Marucci: I find my best work comes from my worst days. It's ironic but true. Sometimes I find myself struggling to write when my life seems to be going smoothly. Singing always comforts me. My grandmother passed away back in September 2009, I was extremely close to her and it was a very difficult time for my family and I to lose her so suddenly to cancer. However, every time I sing a song that reminds me of her. I find comfort in the fact that through those songs she lives on. She was quite the talent herself, I think she would rather sing something to you than just say it! Needles to say since her passing I have written over a dozen new tracks and I believe she is with me every step of the way!
Stoli: You work with One Mind Music which is impressive. How did you hook up with John Campos and what do they offer your sound & style?
Christen Marucci: I met John under special circumstances. He had been looking for a female artist to perform on a few pop/dance tracks that he and an associated dance label had put together. He was basically giving up the idea when my Aunt and Uncle, whom he had known for years, suggested that he audition me. I might have met John once or twice before in my life but vaguely knew who he was. He was resistant to the idea of auditioning me for fear I wasn't all my family made me out to be. I headed down to the studio a few weeks later with nothing more on my mind than spring break and my senior prom. I was very calm, which is unusual for me I'm usually very nervous when I have to sing in front of someone I don't know. I sang the first verse of "Heaven" by DJ Sammy and he stopped the track and congratulated me. It will be six years this October since that day. John has brought out the best in me musically, I had no idea I was a songwriter till I started working with John. He knows my voice sometimes better than I do. Whenever I feel I can't hit a note he reassures me of what I'm capable of. It's very important to feel comfortable and excited to go to work everyday, I feel lucky to have that here.
Stoli: What are you looking to achieve with your music on a personal & professional level?
Christen Marucci: Personally, I'm just grateful to say music is my occupation. I look forward to my job everyday. I like that when I come into the studio there is always something new to do. Professionally, I have been doing this for so long I'm ready for my work to be recognized. I love hearing feedback whether it be positive or negative. I would love to hear someone famous sing one of my songs and love it as much as I do. That would be my greatest reward.
Stoli: Who are two female artists that you look up to and inspire you to pursue your passion?
Christen Marucci: It is really hard for me to narrow the choice down to just two artists! The two I would have to go with are Mariah Carey and P!NK. They are so different from each other in their style but they both posses a similar quality that I find to be so inspiring. They both have such emotion in their voice that you feel every word they sing. I love that they each take part in writing their own songs and that when you hear them perform live they sound just as good, if not better than the album. Lyrically I'm inspired by them, the way they are able to put a twist on an old topic is genius to me.
Stoli: What is coming up for Christen Marucci and where can we follow your music?
Christen Marucci: I look forward to my upcoming photo shoot, the release of my debut album "Damsel" and performing again! I have been in the studio so long I can't wait to get back out thereand promote my music. All updates and new releases will be available on www.Myspace.com/Christen2006!  
You can check out my music on ITunes, Napster, Jango.com,YahooMusic, Shockhound www.myspace.com/christen2005, Emusic, Amazon.com, Rhapsody.com, Lala.com, www.z100.com/new2/artists/i/299280 and most digital distribution outlets.