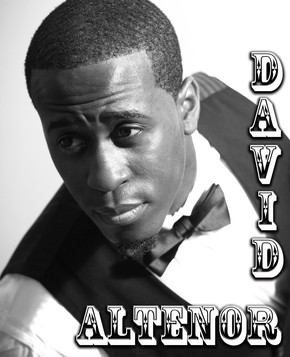 Who says that you cannot make music that is positive but yet still make it sound good in the clubs? My next guest is coming straight out of the metro Boston area  and he is doing just that. David Altenor is a man and a musician that is full of faith in himself and God. We caught wind of David after reading a Jimmy Rae review of his new album, 'The Dave Altenor Project' here on Skope. If you want to start your weekend or day  off on the right foot, submit yourself to the sounds of David Altenor!
Stoli: So where are we talking from today and how is your summer going?
David Altenor: Hi, I'm in my hometown Everett, MA and my summer is going really well!   Things have really picked up since I released my demo in July.
Stoli: At what age did you fall in love with music and decide you want to pursue music?
David Altenor: This may seem silly, but I spent a lot of my childhood playing video games and have always loved the music in the games. It wasn't until I heard the songs from School House Rock in the 5th grade that I began to feel a conscious passion for music. Finally, at the age of 14, I finally decided to start playing the piano and things developed pretty quickly from there.
Stoli: Do you do music full time or do you have a job as well?
David Altenor: Aside from my music project which is the newest thing for me in terms of music, I am currently doing music part-time and working with choirs and artists in the area as well as working at a renewable energy company as a financial associate.  
Stoli: Your mother suffered a stroke earlier this year. How are you doing with that and how has music helped you with the healing process?
David Altenor: Well my mother is doing a lot better now, which is a blessing.   I've really felt that music has been a great way for me to channel my feelings and emotions about my mother and my life.
Stoli: After you master a new song. How do you test that track out to see if its a hit or not?
David Altenor: When God inspires me with a song, I don't really worry about whether it's a hit song. It's more important that it carries a message that will inspire or uplift people, while expressing my love for God in a new and different way. I do have some close friends and people I respect musically that will take a listen to my song and offer their opinions and suggestions.
Stoli: You do everything from vocals to production. Is that by choice or do you just find it easier than dealing with multiple opinions?
David Altenor: I find it a lot easier to do everything because it's my way of giving my "all" to God in a very literal sense.   I also feel that God has blessed with me with the ability to do all aspects of the music process, for which I'm thankful for, and I'm using all the talent God gave to me to give back.
Stoli: You recently put out 'The David Altenor Project.' Where did you record that and where can readers grab a copy?
David Altenor: I made the tracks for my Demo CD at my home studio and recorded the vocals at http://www.split2nd.com/ with Mike "Cip", who's a good friend of mine.   Readers can purchase a copy of my Demo on iTunes at http://itunes.apple.com/us/album/the-david-altenor-project/id381700323. They can also find it on Amazon.
Stoli: I find your music to be very soulful & positive. How does your strong belief in God & faith inspire & influence the music that you put out there?
David Altenor: Thanks, I appreciate your support. My belief in God has everything to do with the music I make. I really give all the credit and honor to God because I know that all the music I make is God-inspired.   I'm very grateful that God uses me to channel His sound through me.
Stoli: What do you say to those record execs that just want to sign artists that want to just talk about guns, drugs, murder, and toxic subjects?
David Altenor: One thing I say is to really think about the future of this world and the children that have to grow up in this society.   I feel the individuals that have been given the power to make music must also shoulder the responsibility of making a positive impact in the world through their lives and music.   I pray that I can do that.
Stoli: I cannot stop dancing to your track, "Remember." When did you record that song and what is the message?
David Altenor: I'm glad you like that song!   I recorded it in April 2010.   It's a song about being blessed with gifts and material things from God and being grateful for what you have. It's also stating that God has all that you need.
Stoli: What is coming up for David Altenor and where can we follow your next moves?
David Altenor: There are so many things coming up and that I have on my plate. One of them is a National Competition that I'm a part of at http://www.dreambighustlehard.com.   In this competition, 10 artists from around the U.S are competing for a record deal with a major label and I'm representing Boston. You can follow me on http://www.facebook.com/davidisoffkey or my website http://www.davidisoffkey.com. I keep those websites updated with the latest news on my music ministry and project.
Thank you for the interview. I really appreciate it!