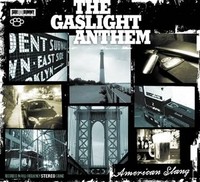 Being compared to Bruce Springsteen and the E Street Band can be a burden for any young band but The Gaslight Anthem is not just any band. The New Jersey quartet proved it was a force to be reckoned with when it released the fantastic album The '59 Sound two years ago.
Yes, that release was obviously influenced by the Boss but it was also inspired by other musicians such as Otis Redding, Tom Petty, and Mike Ness of Social Distortion. All of those influences had a profound effect on The Gaslight Anthem as The '59 Sound turned out to be as perfect as a rock album can be nowadays.
So, how does The Gaslight Anthem follow up that much respected album? Well, the band's leader and front man Brian Fallon has wisely decided to mix things up just a bit while also making sure he keeps the band's signature sound of catchy, riff-fueled anthems front and center.
As a result, the band's third full length release, American Slang, has a leg up on its predecessor as it sounds much more diverse. One of the best examples of this is the fine "Diamond Church Street Choir" which opens with an old-time melody that recalls a period when groups just sang on street corners.
Other examples of this variety include "The Queen of Lower Chelsea" which has a late era Clash reggae-rock vibe and "We Did It When We Were Young" which is an eerie, yet earnest ballad.
Those wanting to hear classic Gaslight Anthem tunes won't be disappointed though. "Stay Lucky" and "Orphans" are fast rockers that feature Fallon's raspy vocals backed by Ben Horowitz's propulsive drums, Alex Levine's surging bass, and Alex Rosamilia's boisterous guitar.
Probably the most interesting aspect to American Slang, however, is the change in Fallon's lyrical outlook. The songs here seem to be more personal and mature. They are still mainly working-class opuses but the songs' subjects are more adult as they struggle doing the right thing and being true to their principles.
"Bring It On" is the standout song in this regard as Fallon uses a brilliant chorus to illustrate a father's frustration with his partner who might be in love with someone else.
"Give me the fevers that just don't break/Give me the children you don't want to raise," he shouts, "and tell me about the cool he sings you in those songs/if it's better than my love, then bring it on."
But still, as good as American Slang is, it feels like something is missing. It isn't as passionate as The '59 Sound but it is very close. Also, the band's punkish background is slowly disappearing but that isn't so bad either. What the record probably needs is one or two more top notch songs, particularly since the entire album is less than 35 minutes long.
Nevertheless, it is great to see a band like The Gaslight Anthem evolve and grow more confident. Fallon does his best singing yet on this album and Horowitz proves he is one hell of a drummer also. And one can't find fault with Levine and Rosamilia's fine contributions either.
All four men put in such inspired performances that American Slang is bound to be one of the best rock albums released this year.
Author – Todd Sikorski
[Rating: 4/5]