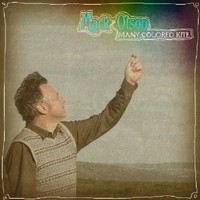 In the mid 80's, Mark Olson founded the Twin City band Jayhawks, who have often been described as an alternative, country/rock band.     I must admit, out of the tons (literally pounds anyway) of releases I receive, this is the first in years that made me draw comparisons at times to The Youngblood's, Peter, Paul & Mary, Neil Young, and Jefferson Airplane.   The call and response, and simultaneous vocals by Ingunn Ringvold help generate this overall vibe (that worked extremely well for Fleetwood Mac).   Jodie Holland and Vashti Bunyan also lend their vocals to the disc.   The instrumentation throughout is basic, relying mainly on acoustic guitar.   Percussion and other overbearing stuff like strings are used sparingly. This treatment is unique in itself.   Essentially, It's folk rock revisited.  
Little Bird Of Freedom, which is the lead off song, reminded me of the late 60's early 70's folk rock genre.   Morning Dove Is an acoustic ballad with just Mark and guitar.   The title song Many Colored Kite is a basically instrumented ballad, while Bluebell Song thrives on the balanced male/female vocal treatment.   Beehive introduces some strings, in a mellow ballad.   This track would work in a movie love story as a backdrop to, whatever the couple is doing at the time (fill in the blanks).   Scholastica brings up a Neil Young audio reference, must be an influence somewhere along the line.   Wind & Rain and More Hours are ballads that like most of the disc are storyteller platforms.  
For whatever, or for various reasons, this disc is a relaxing moment away from just about every other stylized form of music.   For a songwriter, strangely enough, this release conjures up some forgotten melody paths from the past, which can be a good kick-start for fresh writing inspiration.  
It's different, and a laid back earful that maybe we all need from time to time.   If you're a Jayhawks fan of course, you basically have to have it!  
By R.M. Engelman
[Rating: 3/5]