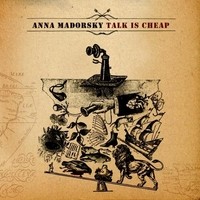 I had the pleasure of reviewing Anna Madorsky's last album Incantation.   The previous record was more of a story-telling narrative with a full range of characters and the whole nine yards.   I even went so far as to call Incantation "Modern Age Narrative Pop".   Completely switching directions now, Madorsky has created a piece of work that centers around a faltering relationship.   No made up characters needed here because Anna Madorsky is the center of attention as she spills out her soul to you.  
Madorsky was born in St. Petersburg, Russia however she has lived in many spots around the U.S. such as: Austin & Houston, Texas, Long Beach, California, Tennessee and Seattle.   She now lives in LA where the musical juices are boiling at an all time high for Anna.   With deep appreciation for classical & Russian folk music along with pop radio coming at an early age for Anna, it's no wonder that she has become a solid music artist.   A culturally diverse & musical upbringing has set the stages for Anna Madorsky to thrive in today's music world.
The CD starts up with a very cool style right out of the gates with the title track Talk Is Cheap.   It seems as though Anna's voice was meant for this type of song playing to the tune of punk-pop/rock.   Madorsky actually took on many roles during the making of this album including co-producer & sole writer.   Anna also provided: lead vocals, guitars, piano, keyboards, Rhodes, synth, noise samples, B3 organ and backing vocals.   What she likes to refer to as 'dream punk', Talk Is Cheap covers it all and Anna Madorsky makes sure of that.   The overall theme & tone of this record was actually quite dark and sad.   What amazed me the most was how Anna could sing these painful songs in such a delicate manner.   Also, the words on some of these tracks will just tug at your heart as you listen to a female artist pouring all of her emotions out to you.   Madorsky is not holding back anything and she is not hiding from anyone here as she proves that Talk Is Cheap.   The point here is that Anna Madorsky isn't just talking the talk; she's walking the walk.   What impressed me even more so was that fact that you can tell each and every lyric spoken meant something and had a direct purpose.   Anna brought her lyrics to life by way of her emotional delivery/performance and in my book that makes her a true lyricist.   But don't take my word for it, check out these gut-wrenching lines for yourself like on track seven "Marking Time": "Until you're done with all your crying       this liquid umbrella is your eye       You carry the sadness through each doorstep       and in my due process mark your time       and my due process marks your time       Marking the hallways of your time       Before I speak I ration out my breath       otherwise I'd be ripped to shreds     Why be on when I'd rather be off?"   Wow!!!   Are you not blown away by those words because I know I am.   You can actually feel the hurt & sorrow coming out of Anna's mouth as she gives to you her heart & soul.   I would say that Anna Madorsky is not only a gifted lyricist but also a wise poet.
By the end, I feel that Madorsky's musical & artistic abilities are second to none and she has proven herself on this new record.   My only drawback is that the album was a little too depressing at times.   I have always known that Talk Is Cheap but Anna Madorsky has helped me realize the true force behind that statement.   Powerful stuff goin' on here people and if you don't believe me then I don't what to tell you.   For more info, SKOPE out www.myspace.com/annamadorsky.
By Jimmy Rae (jrae@skopemag.com)
[Rating: 3.5/5]