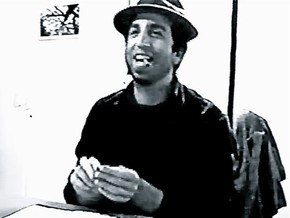 Are you ready for the man, the myth of eccentricity they call SteveShot?   If so, brace yourself because he, his image and his music are a hell of a lot to consume all at once.  
You have to take in this whimsical artist one note and one word at a time, so you can really hear every single shred of unpredictability.   SteveShot is the alter-ego of a guy named Steven Rothenberg from San Francisco, California and he is ready to unleash his super powers for all of you concerned citizens out there.  
[youtube yzmXpvO1lHk nolink]
Steve has been writing songs and playing guitar for almost 25 years now yet he is a new-born pup when it comes to the business aspect of it all.   The San Fran musician is ready to learn more about the biz as Mr. Shot takes a stab at music stardom.   The BigShot is attempting to take over the world by storm with his unorthodox charm.  
Steveshot "Adieu" MP3